Curator
Ananda Zhao, Dhaneshwar Shah

General Consultant
| Zongde Deng

Art Consultant
Bill Yang , Suhong Xiao, Jincheng Su, Ling Zhong, Shunlin Chen

Organizer
Culture Sower Global Cultural Media

Support Organization
International Professional Exchange Committee of China Trade in Services Association
China Jiaomo Jiaocai Art Research Institute
China Urban Expert Network
American Academy of Calligraphy & Painting Art
Chicago Art Forum
Institute of social responsibility and Chinese culture of Peking University
GMI Art Investment
Academic support
Chicago arts and Culture Association

Executive Company
Beijing Timepiece lifestyle Brand Management Co., Ltd

01
Preface

Voice of the Times – Global Contemporary Art Exhibition gathers contemporary artists from 9 countries to explain their understanding of the times from different artistic languages and forms, and presents exotic painting patterns from different regions.
What kind of era is this?
An era of information explosion, an era where the past, the present and the future meet. As contemporary artists, they assiduously absorb the traces left by the past times, and explore the echo of the times as they explore the course of human evolution; At the same time, they are more based on the moment of growth, to feel the pulse of this era; Just staying in the past and the present can not meet the internal needs of contemporary artists. Look up to the stars of the times, cross regional barriers, and drive the "information machine" of this era; To present themselves, to release themselves, and to interpret this era with their own works.
02
Exhibition Hall
Dhaneshwar Shah
(India)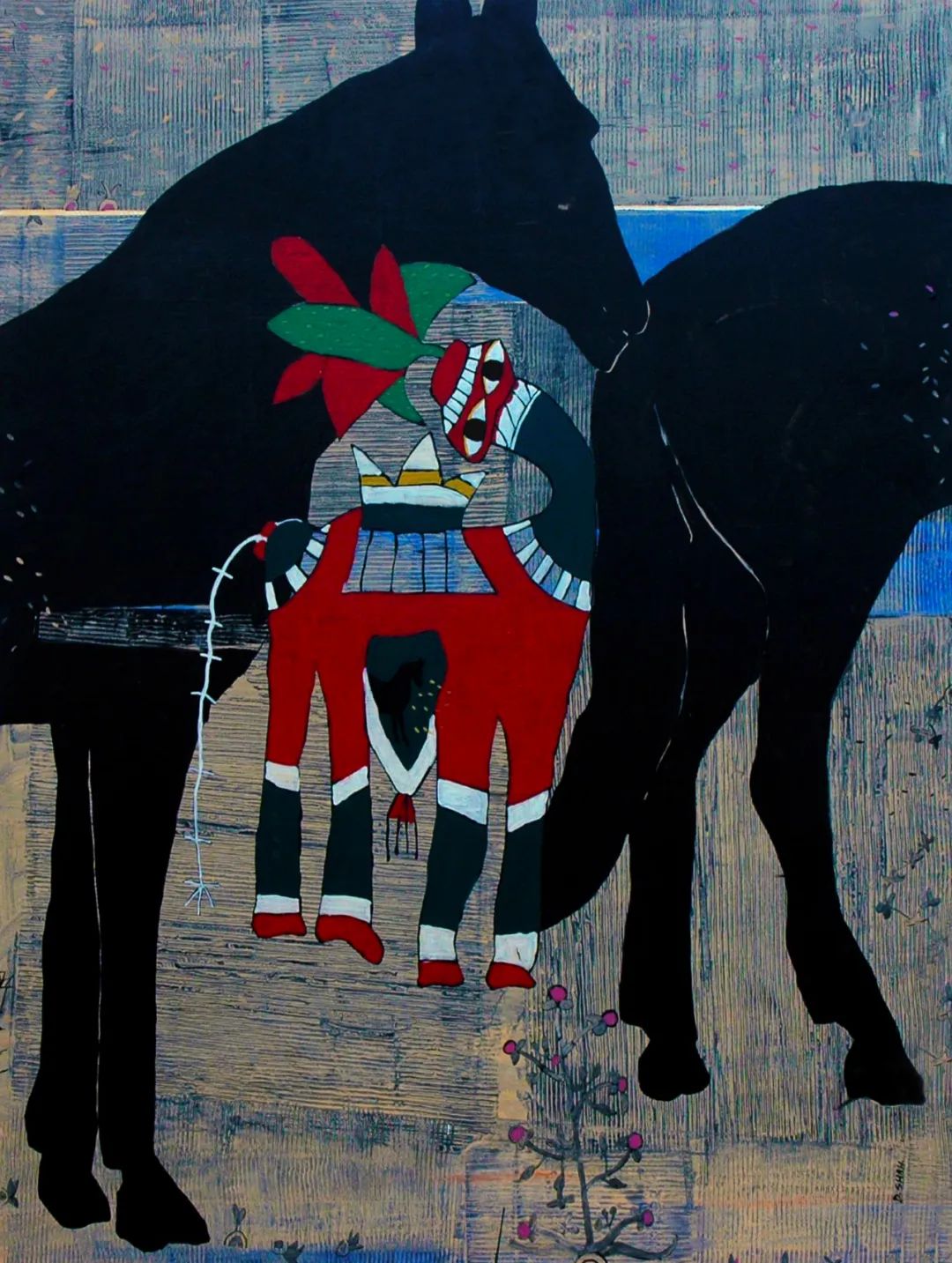 Horse in Black Acrylic on Canvas 121 x 153cm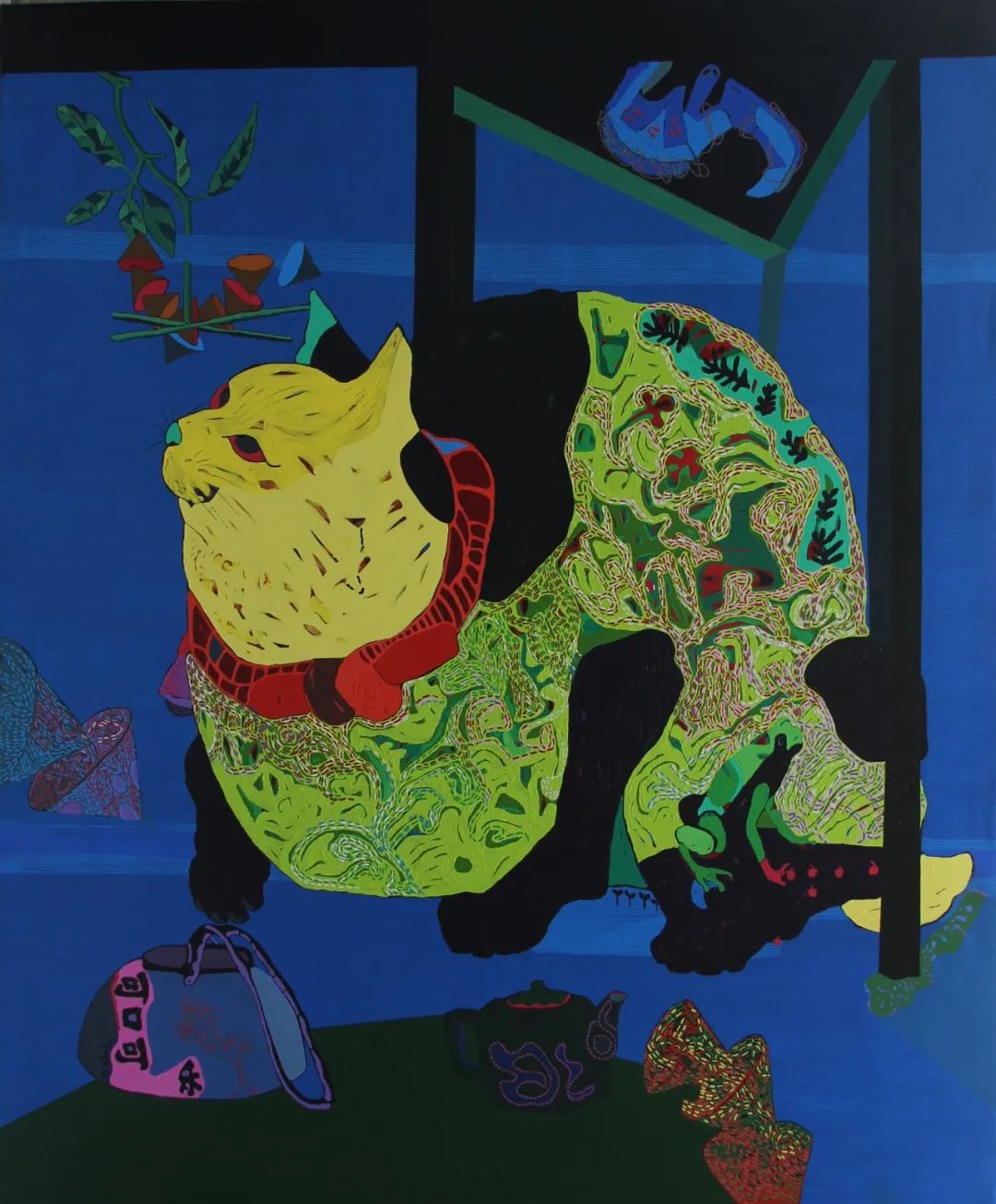 Cat with Coca Cola Acrylic on Canvas 121 x 153cm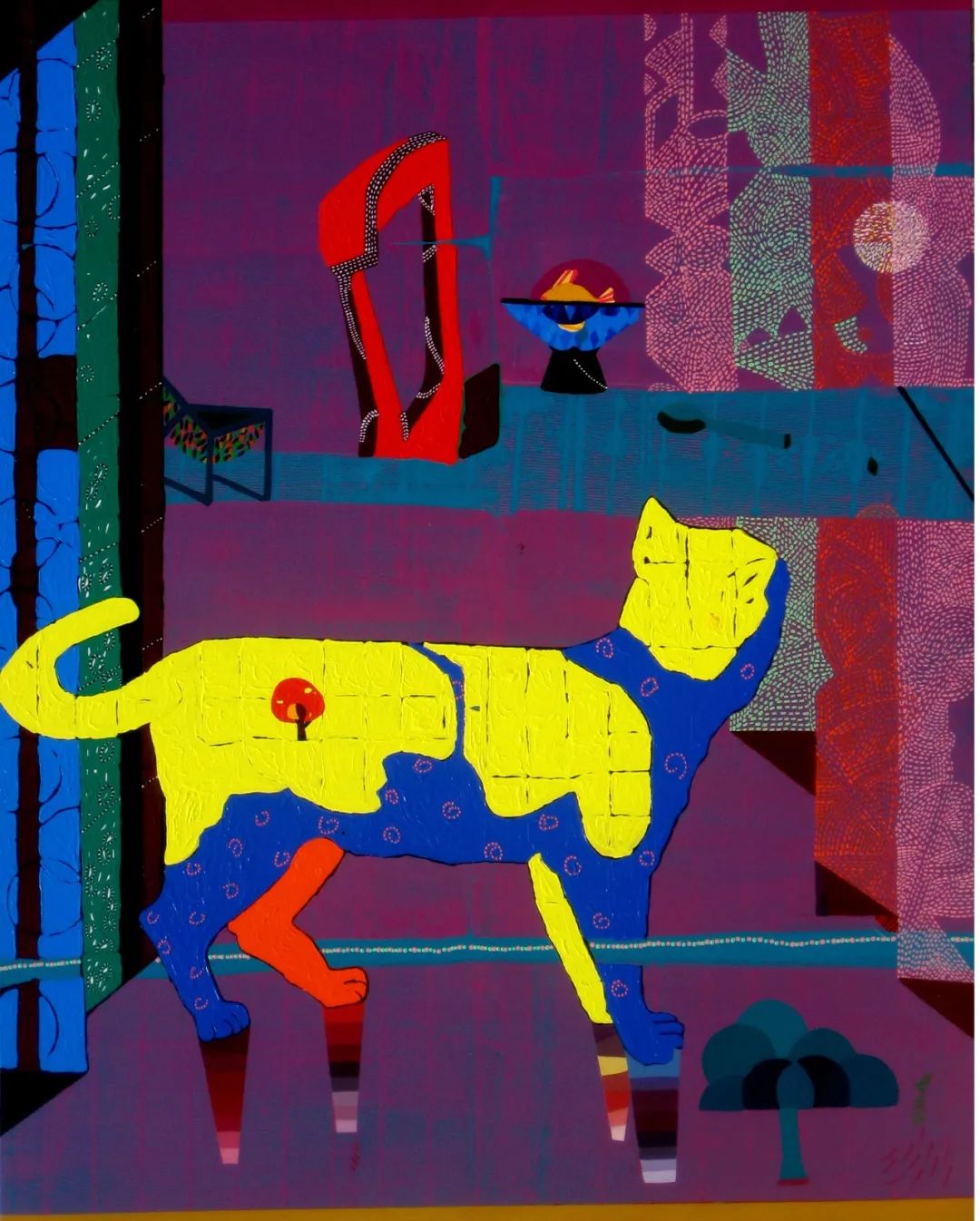 Cat with Yellow Acrylic on Canvas 121 x 153cm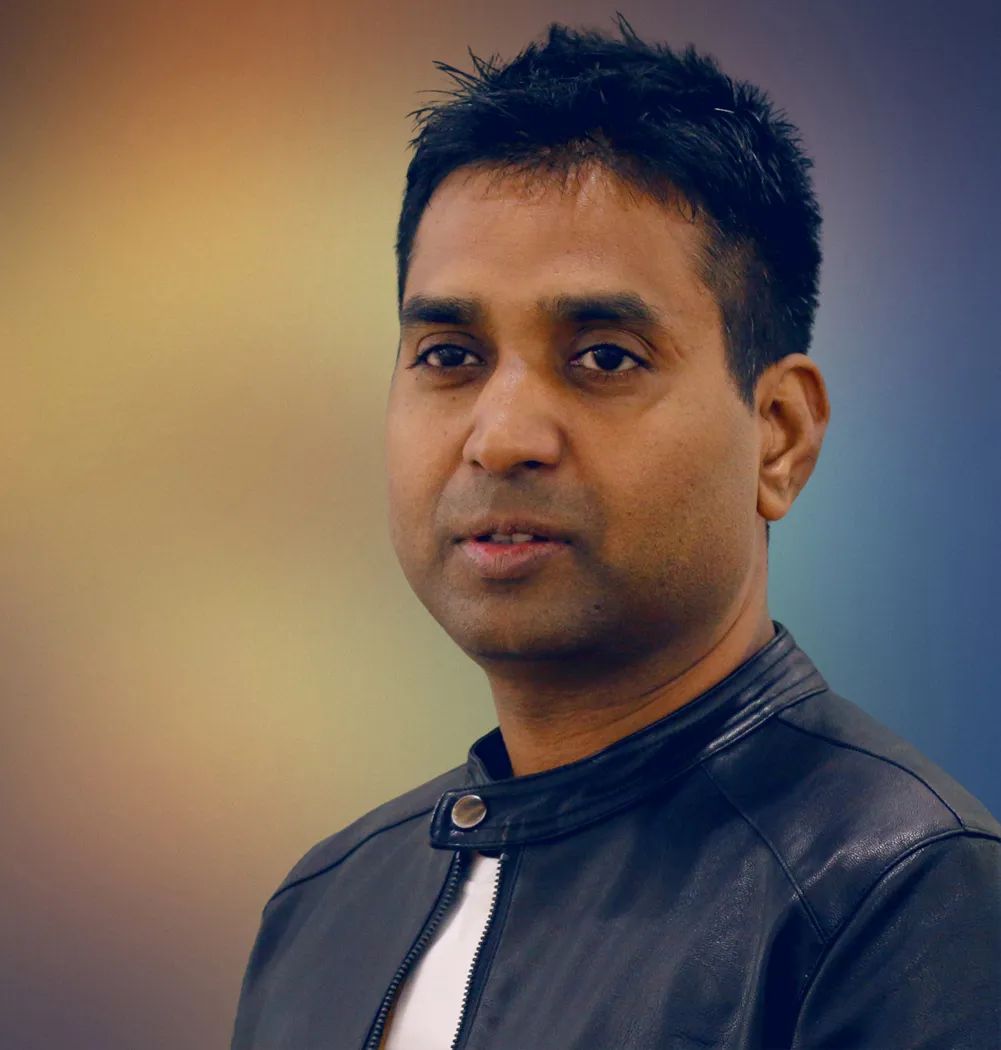 Dhaneshwar Shah (寿天) is a visual artist, curator, and researcher, born and based in New Delhi, India. He is currently a doctoral student at Wuhan University of Technology, China. Advanced research in inter-media art was completed by the China Academy of Art, Hangzhou, China. Master and Bachelor of Fine Arts degrees were earned at the College of Art, New Delhi, India. His art practices are of an exploratory nature, attempting to understand what constitutes an indigenous or tribal cultural identity, as well as its relationship to nature and animals. While his artwork scientifically illuminates issues of indigenous, tribal, and racial justice, animal ethics, and environmental concerns, it also attempts to find a solution through his creative impulse to reshape and renew culture and history. He is using art as a powerful tool to raise awareness about the negative effects of globalization, industrialization, and urbanization on animal life and indigenous identities. Indigenous people have a variety of secret myths, images, languages, expressions, media, and techniques that have cultural and historical value. He spent time with them to better understand and investigate these issues in their environment. He considers my practice to be multidisciplinary, including painting, sculpture, installation, and video art genres. He preferred to use text, photography, and video to capture this experience and preserve it as a future treasure for the next generation. Following that, he began to create artwork using a variety of aboriginal elements, philosophy, color, techniques, and mediums, as well as a wide range of surreal animal narratives, with a contemporary sensibility. This can be seen in his artwork through a combination of dotted lines, thick outlines, bright and flat colors, humor, repetition of forms, forging a distinct language and techniques. He frequently encourages viewers to explore aboriginal identity and cultural practices with him. He has been honored with several prestigious national and international awards, fellowships, and residencies. Last year, he participated in the Geumgang Nature Art Biennale in Korea. He has contributed to a number of significant research papers that have been published in major journals.
Giorgio Gerardi
(Italy)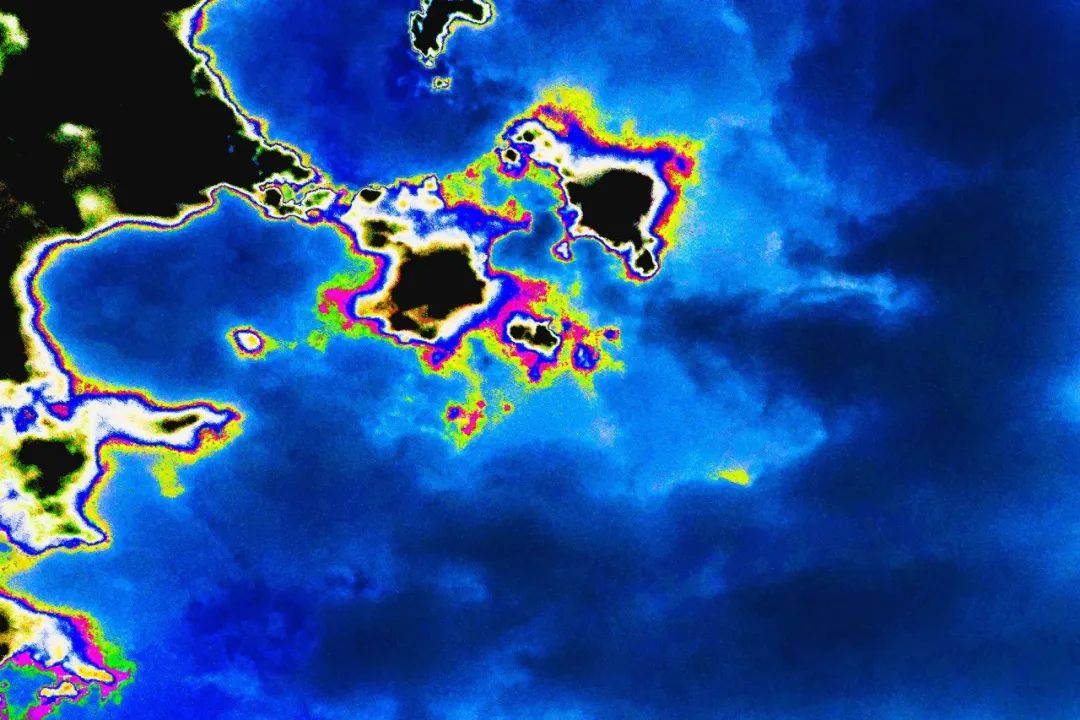 12 August 2022 11.50 (v.18 detail 1)150x100cm photography 2022
12 August 2022 11.50 (v.18 detail 2) 150x100cm photography 2022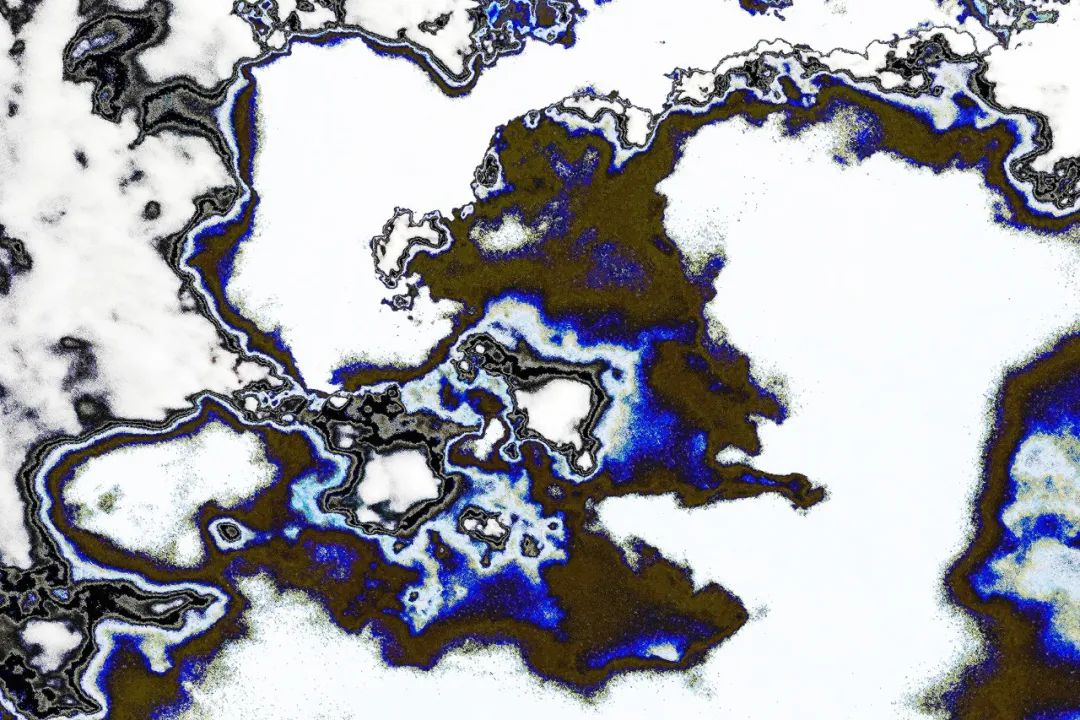 12 August 2022 11.50 (v.44 detail 2) 150x100cm photography 2022
The future will be like the past, a continuous becoming, like clouds, which are a subject that has always fascinated me; they are something that changes constantly, to remind us of the continuous becoming of reality. They are something that has no shape of its own, but changes moment by moment, in ways that are always different and unrepeatable. They are light, elusive. They cannot be grasped, they cannot be touched, they remain something indefinite, almost unclassifiable.
The images that I present are part of the "clouds" project, a project that I started in July 2019 and that I have developed in several series (images and videos), and this is one of the last.
As for my other works, I start with a single photograph, and I rework it with digital graphics programs, looking for details that otherwise get lost in the whole of the representation.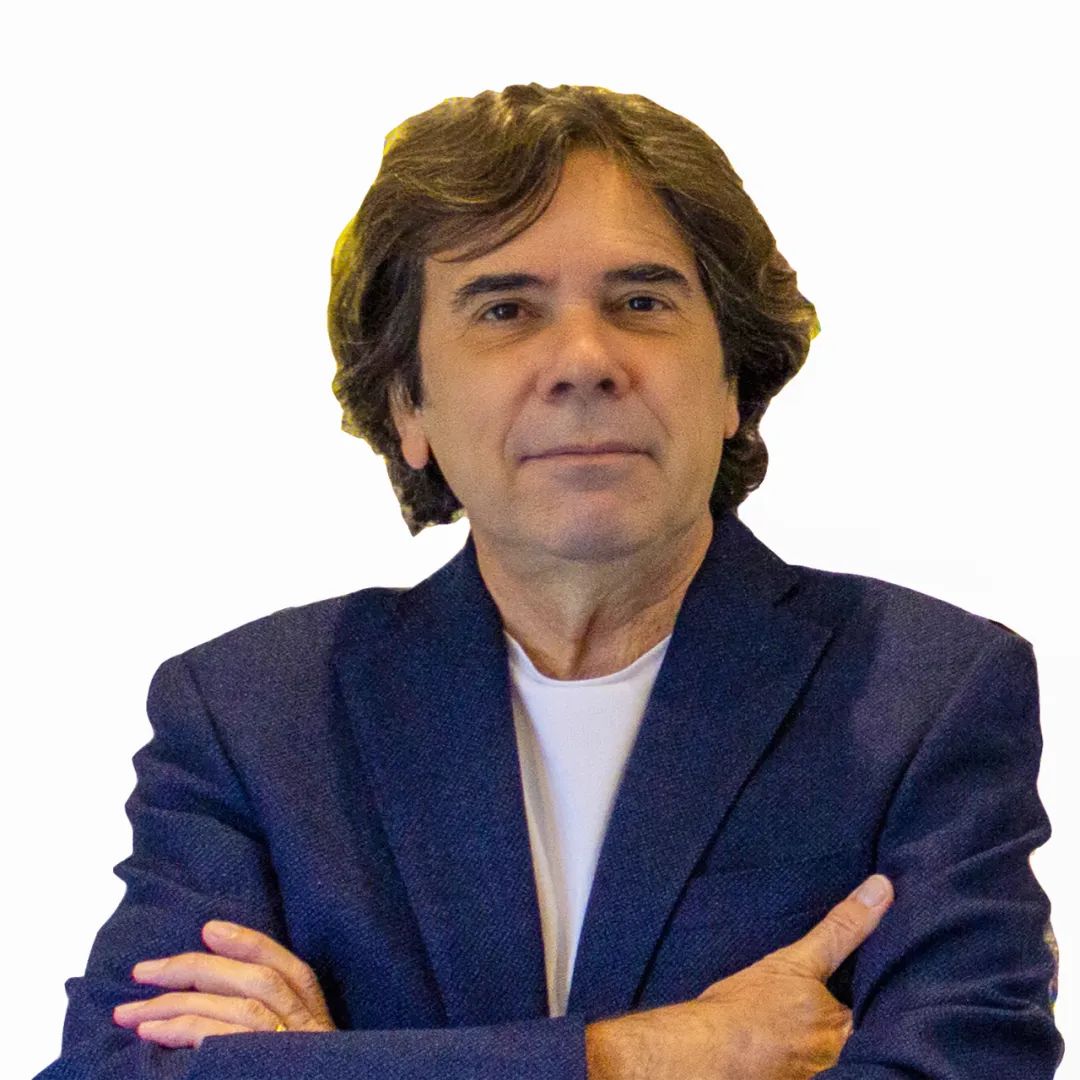 George Geraldi lives in Favaro Veneto, Venice, Italy. At the age of 20, he began to learn art by himself and began his photographic exploration. He Loves the avant-garde art at the end of the 19th century and the beginning of the 20th century, as well as various schools and conceptual art of minimalism. The reason why these art schools attract him most is that they pay attention to the analysis of visual media, not only to present reality as we are familiar with the history of art and photography. In recent years, George has paid attention to the details of his surroundings: clouds, leaves and daily objects.
Hanny Widjaja
(Indonesia)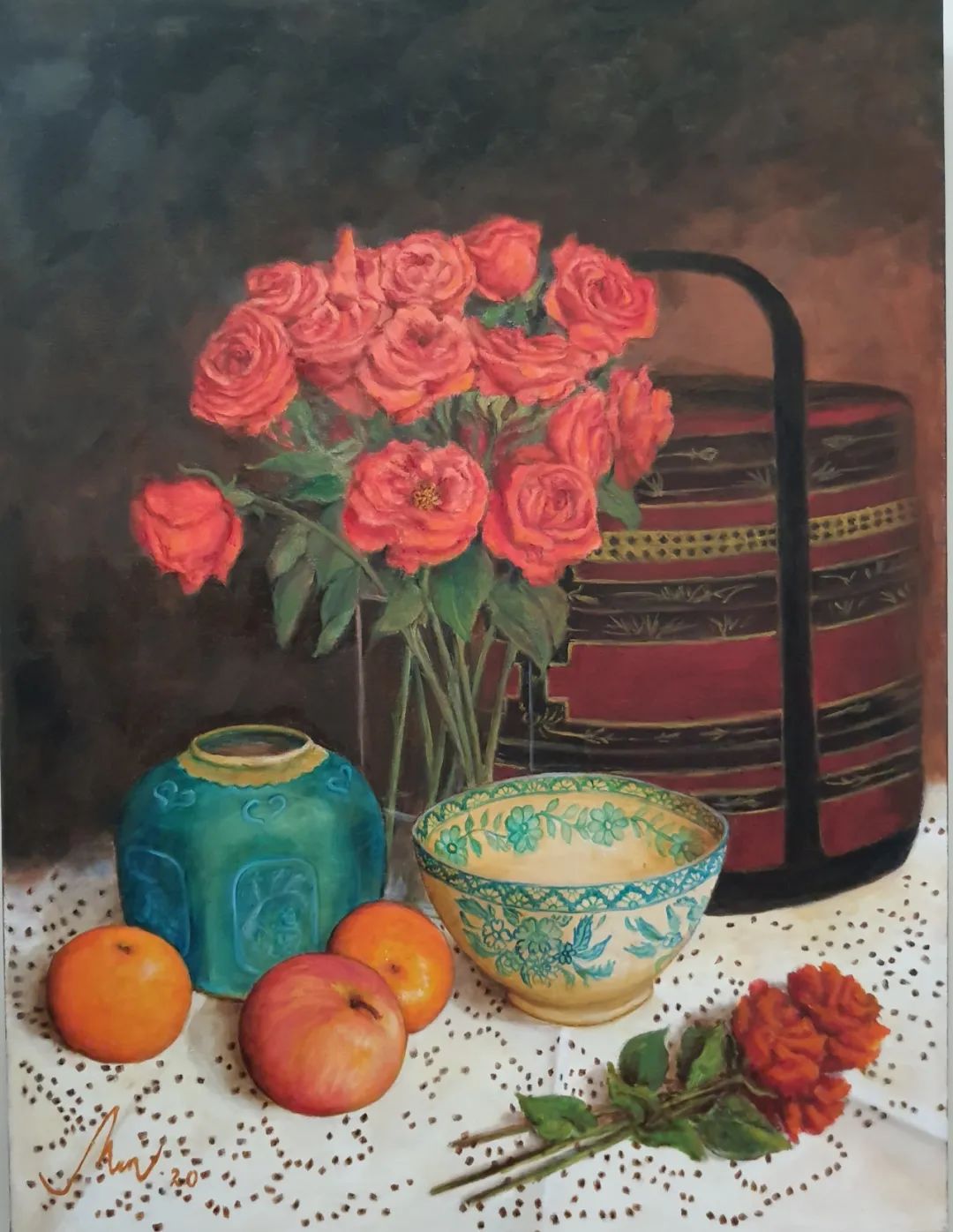 Roses and Antique Bowl oil on canvas 80x60cm 2020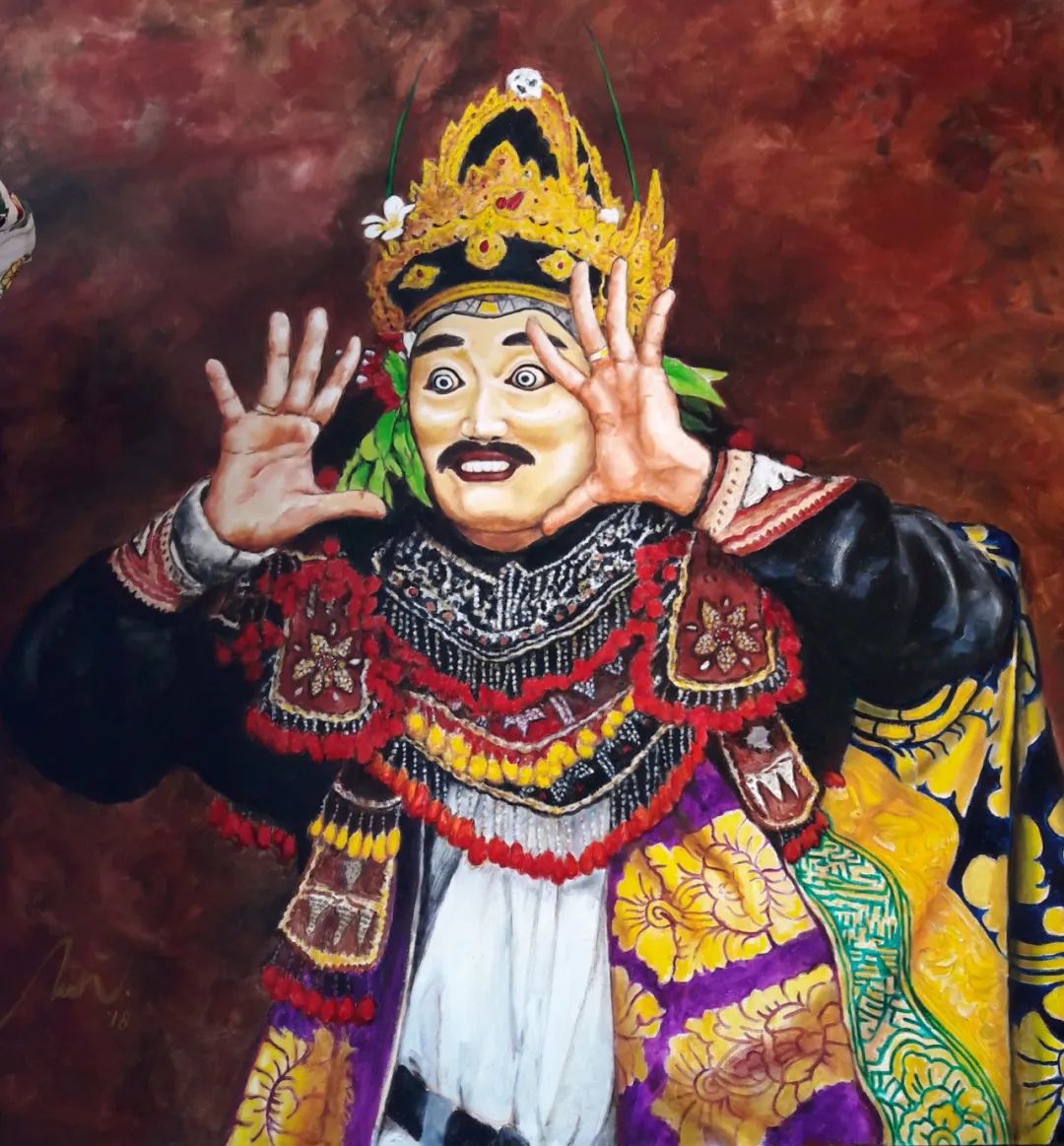 Balinese Mask Dance oil on canvas 100x100cm 2018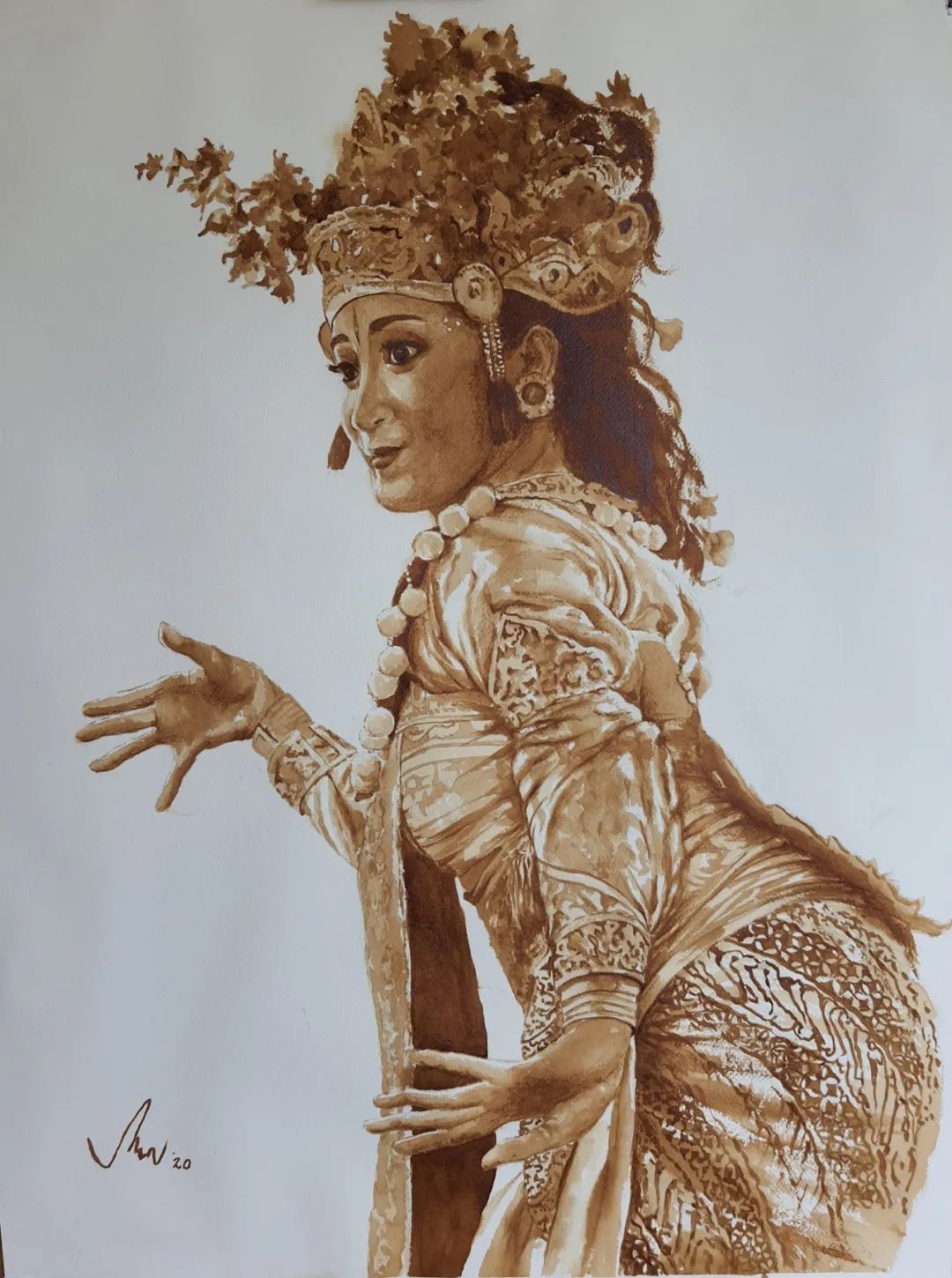 Legong Keraton Dance coffee on paper 75x57cm 2020
Born in Bandung 1954, she have loved drawing ever since her childhood. Painting for her is an expression of her amazement of the Creator, which is why she prefer to paint objects of nature such as animals and landscape in realism, usually utilizing oil paint, pastel, watercolor, or gouache. Despite her preference to realism, she have explored abstract as well in her twenties.
Attended an art and culture school in Bandung in 1973, she had never really concentrated on painting until 2002 and since then, she had attended many exhibitions in Indonesia such as Jakarta, Bogor, Malang, Bali, Jogjakarta, Solo and abroad such as, Edmonton Canada, Incheon Korea , Taichung, Taipei, Taiwan, Suzhou, Shanghai , Nanning China and Kuala lumpur Malaysia, Tirana Albania Her solo exhibition was titled "Save Our Heritage" at Hotel Salak Bogor on June 8 – 15, 2008 and at American Club Jakarta in June, 2009. In March 2009 she got an honorable mention in Indonesian Heritage Society's First Art & Photography Exhibition "Image of Indonesia" in Jakarta for her painting "Kampong by Ciliwung River" and she is one of the finalists of Art Revolution Taipei2019 and 2020.
Jensen Moreno
(Philippines)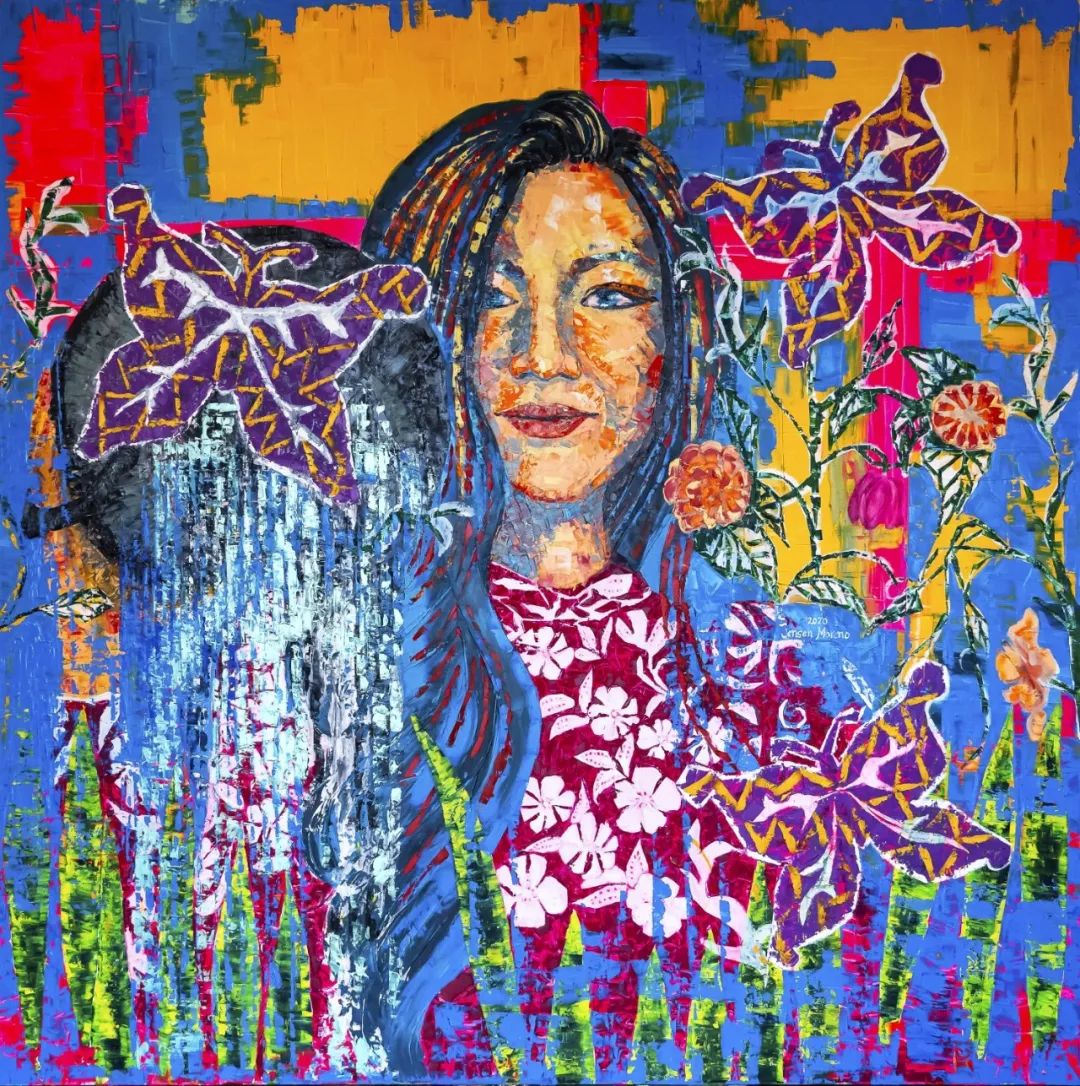 aquarius Oil on Canvas 80x80cm 2020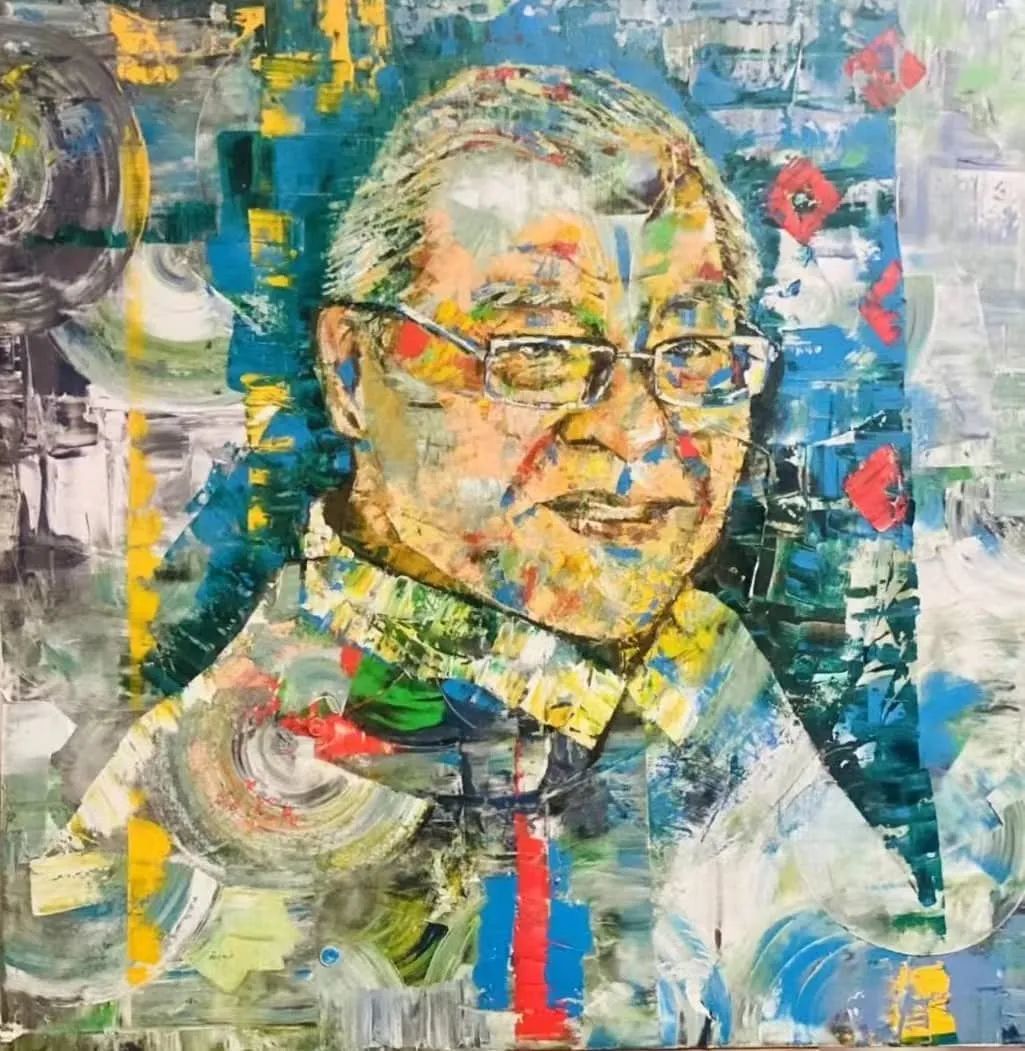 AMBASSADOR Oil on Canvas 80x80cm 2022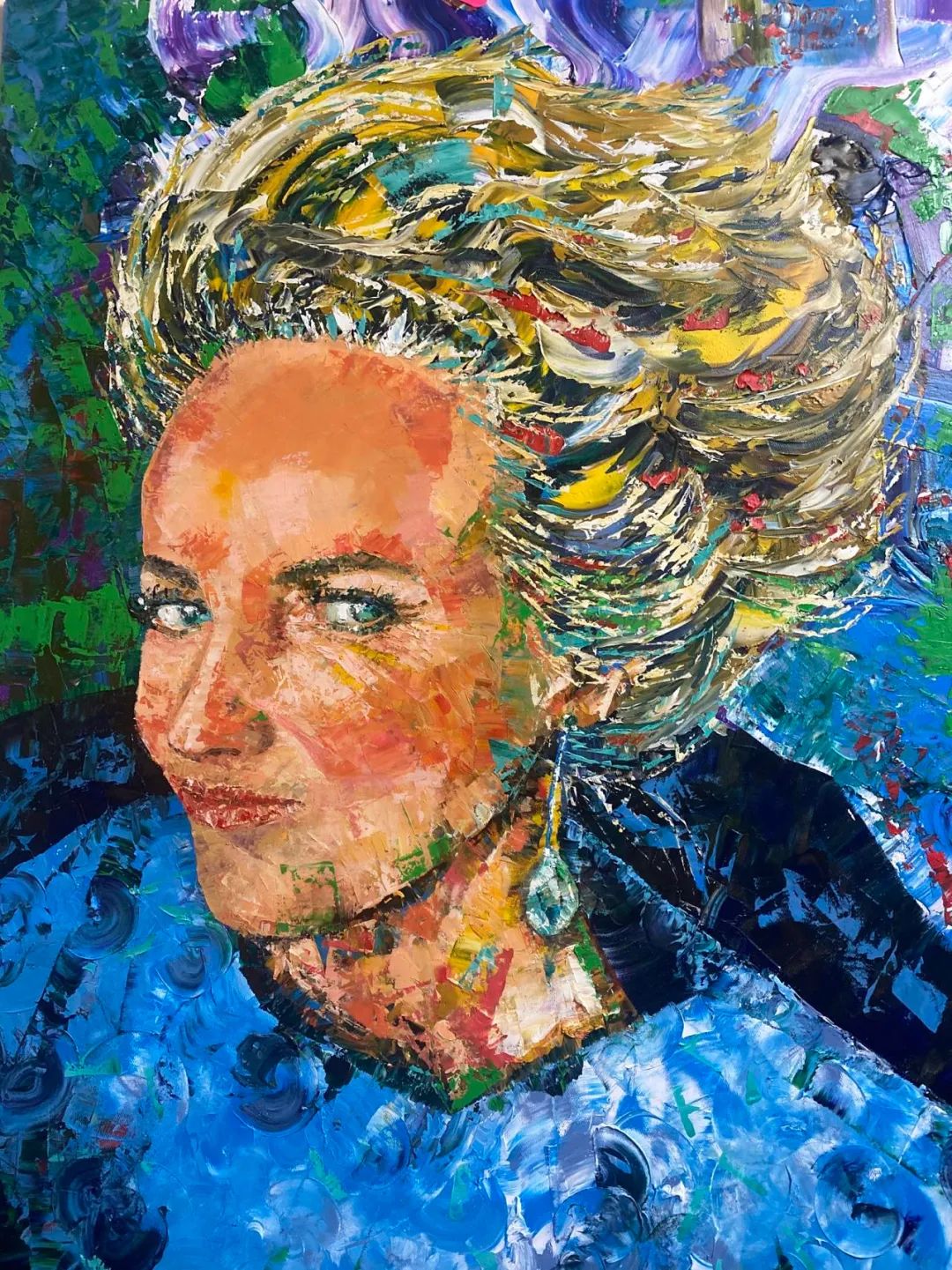 catherine de france Oil on Canvas 80x100cm 2022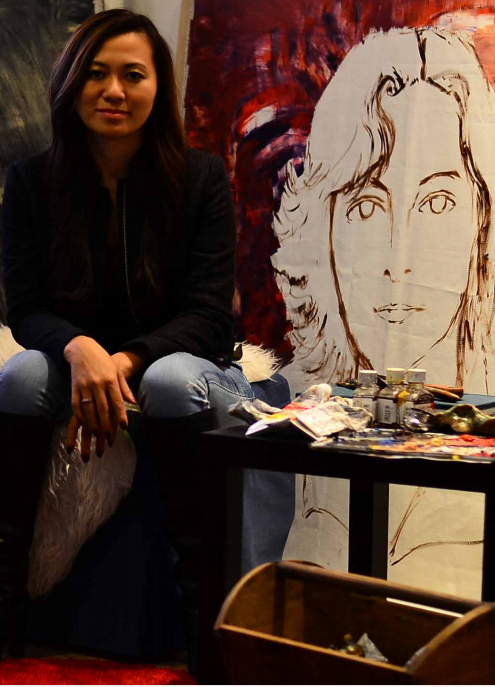 Jensen Moreno,International Contemporary Artist, Art Teacher, Jensen Moreno Art Design Company and the founder,designer,art event organizer and art director of Jensen Moreno Fine Arts.

Jensen is a Filipino artist based in Beijing. Jensen received recognition and international art awards from Hong Kong and Italyand was nominated as one of the TOP 20 Most Inspiring Contemporary Artists of the world by WCA.She now works as a full-time art teacher and recently was awarded by the International Youth Painting Expo with Excellent Art Teacher Award.
Lena K.Kelekian
(Lebanon)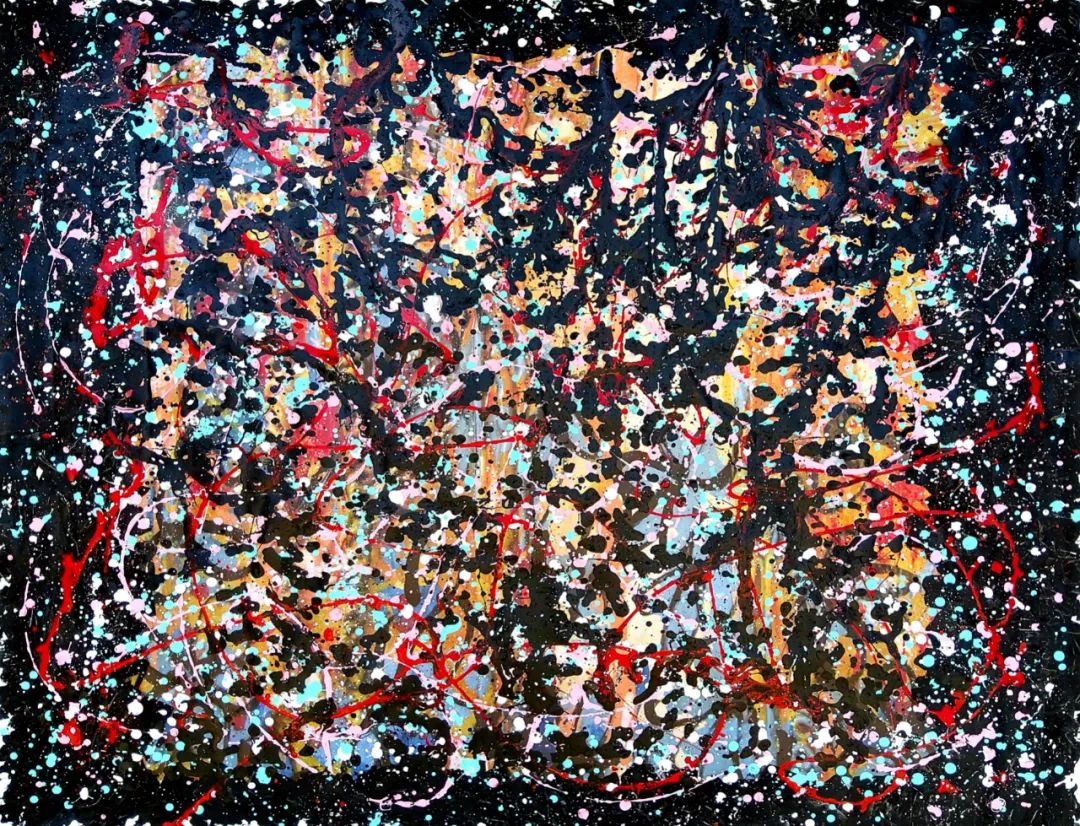 Unexpected Constellation 95x125cm 2019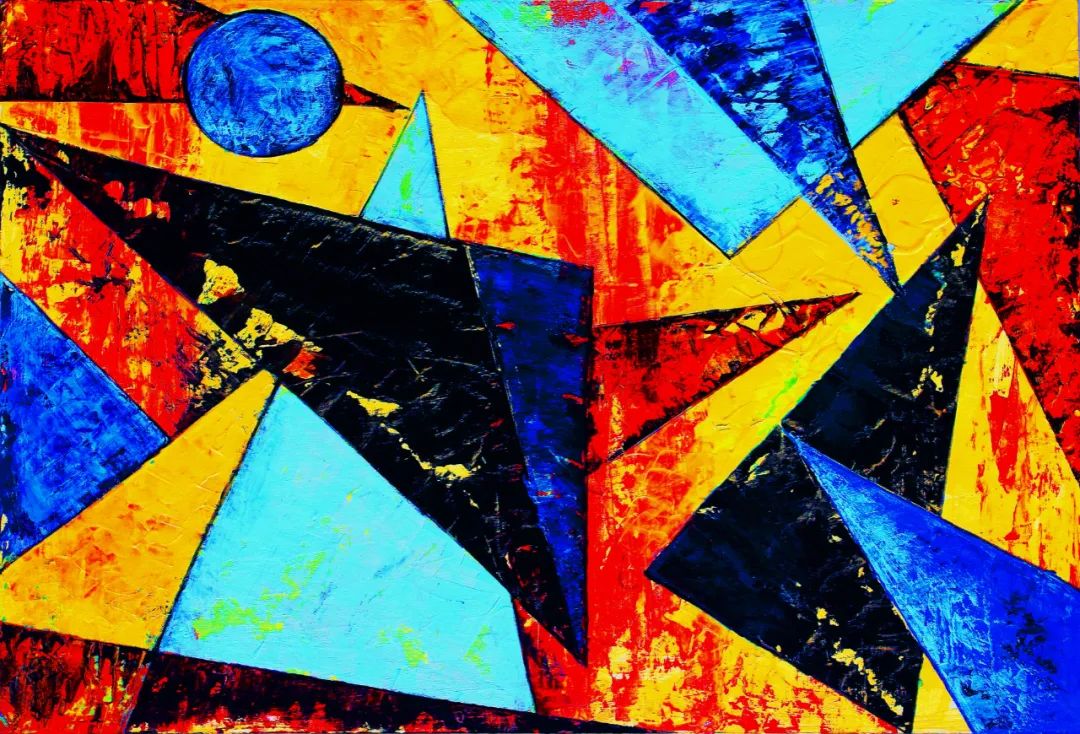 UP TO THE MOON 85x125cm 2019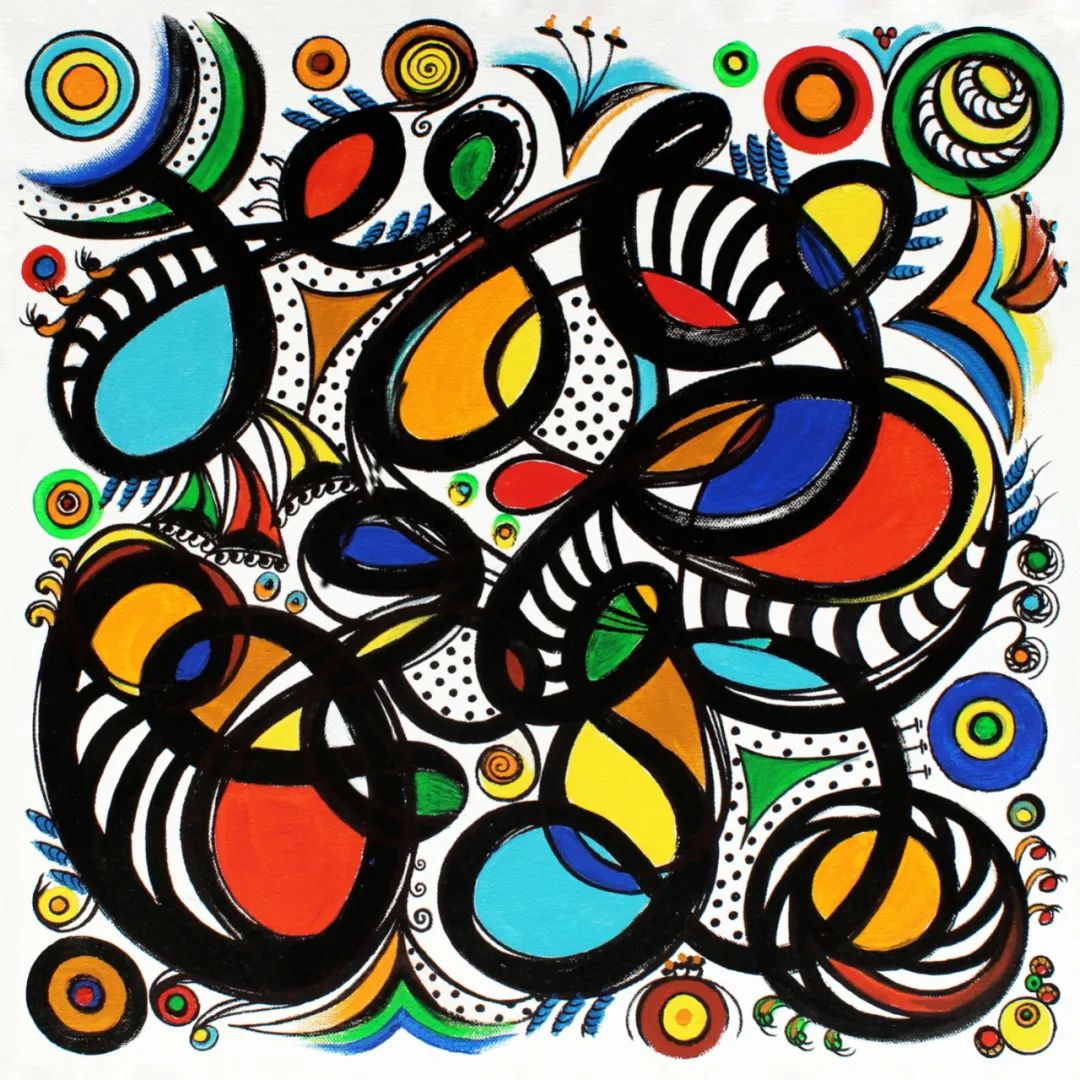 Intertwined Ecstasy 50x50cm 2018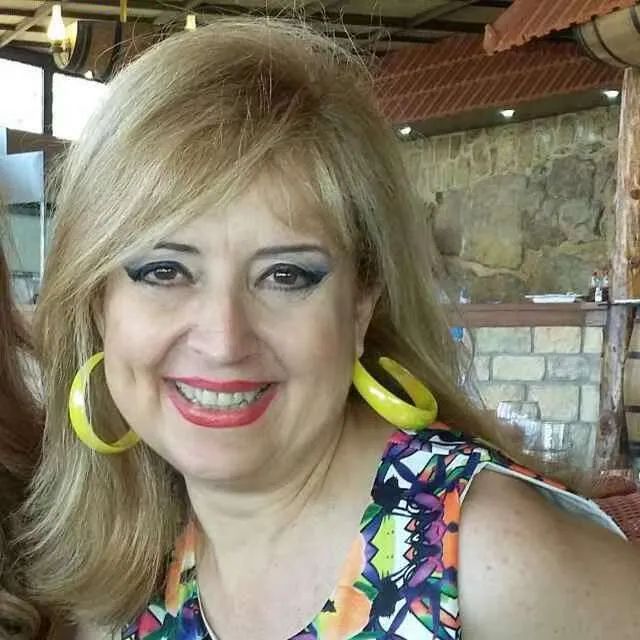 Lena k.kelekian,BS, DST, PhD.
Lebanese / Visual Artist / iconographer / restorer /art therapistGeologist / ceramicist / environmental designerGallery owner / curator of international biennales & exhibitionsUniversity lecturer on Byzantine art history & natural pigmentsWinner of the 2008 Beijing Olympic gold medal and Torch for the Olympic Fine ArtsWinner of the 2012 London Olympic gold medal for the Olympic Fine ArtsRecipient of the IOC 2014 Olympic Trophy of 'Art & Sport' for Lebanon
President / Founder MEADOWS (Mediterranean Endeavors Advancing Development of Widespread Sustainability)MOFAA
President & Curator of Exhibitions of the Meadows Olympian Fine Art Artists MOFAA
President & Curator of Exhibitions of the Meadows International Fine Art Artists MIFAA
Mike Petrakis
(Greece)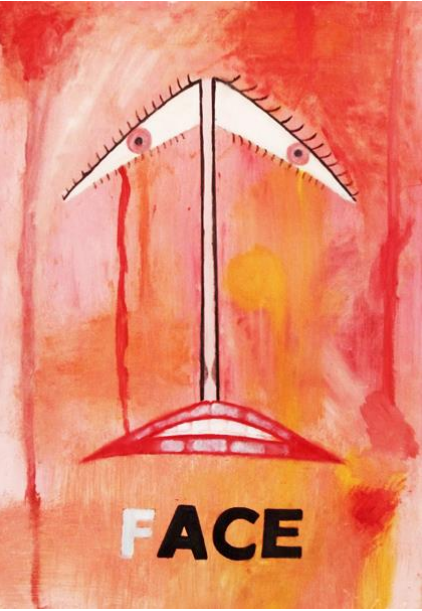 'fACE' Oil on paper 50x40cm 2013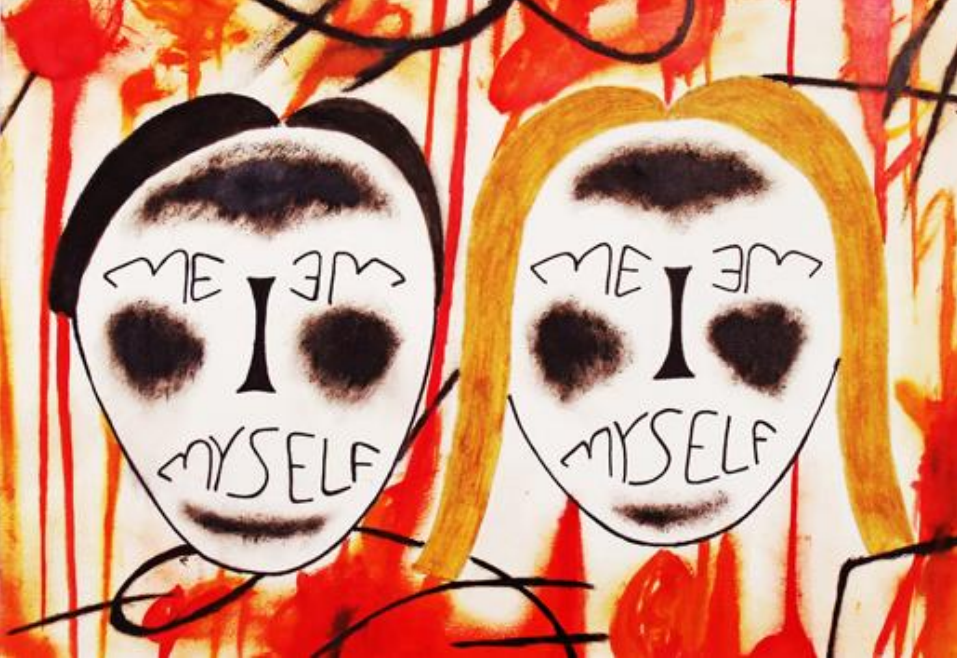 Me, Myself & I Oil on paper 40x50cm 2013
DemocrARTcy
'Is beautiful to have an artwork to decorate your room -space, but is more beautiful to have an artwork to decorate your mind and soul as well…'
My art is inspired by a wide range of images and notions, from objects to words, coming from the massive world urban culture of previous and contemporary times. The modern world is illustrated more emphatically, the means used being the basic principles of consumerism, politics, lifestyle and, of course personal experience.
According to my artistic beliefs, Art ought to be active and innovative, without a trace of repeated, static patterns. Art ought to be revolutionary, inspiring, awakening, urging people to follow it.
"'Fine artist is, to have your own and unique style, is to have your trade mark.'
The usage of popular icons-images, words, subjects-matters and concerns that affect every human being worldwide, are combined in a way that affects each and every person.
'Every human's enemy is his/her own self, so he/she has to fight till last breath…'
I want to redefine the meaning, the existence and the presence of the icons, words and symbols, opening a dialogue through our entity, nature and the configuration of humanity. Also urges us to realize our life, to create ourselves the space, time and to adapt it to our own perception.
Icons illustrate their space in a new dimension and <language>, words are independent clauses and paragraphs, baring their meaning showing what is hiding behind them, also symbols misinterpret their explanation with the center of all these, The Human….
'In life one must not be just another person, but another entity…'
Words are the connected links of two or more meanings, of two or more explaations and messages.
My Icons remapping their appearance, accompanied by the words and in the same time happens the opposite, showing them in a different progress, in a different existence, in a different <message>, redefine, reproduce and regenerate their value.
The viewer who is looking at my work, I want to get into the philosophy of my art and conceptualize more in the hidden messages. At the same time the <voice> of my creations having an obvious message keeping the secret combinations of the visible and the unvisible.
'Conservatism is the permanent world war to humanity…'
。My aim also, is to give a new and fresh interpretation at our urban world and outside of it. As well as to bring in <life>, the nowadays <aseptic> use, of them. (Icons, words, symbols, etc.).
The words <inside> my works are not just represent the title of the works, are the continuation of the pictures…
Within my expression style, negotiate in a way, the submission of all the <products> I consume at my personal and social life, bringing them on the front again through my idiosyncrasy…
As an Art Critic said: <Mike Petrakis's art has the geometry of Russian Avant Garde, forms of the Modernism, the messages and the substratum of Surrealism, the recognizable of the objects, images, icons as well with the expectation impact of the Pop Art.
Redefine and reconstruct the objects and the icons as DADA did, the value and the power of the silhouettes like Abstract Expressionism, the execution and the gloss of colors of the Impressionism>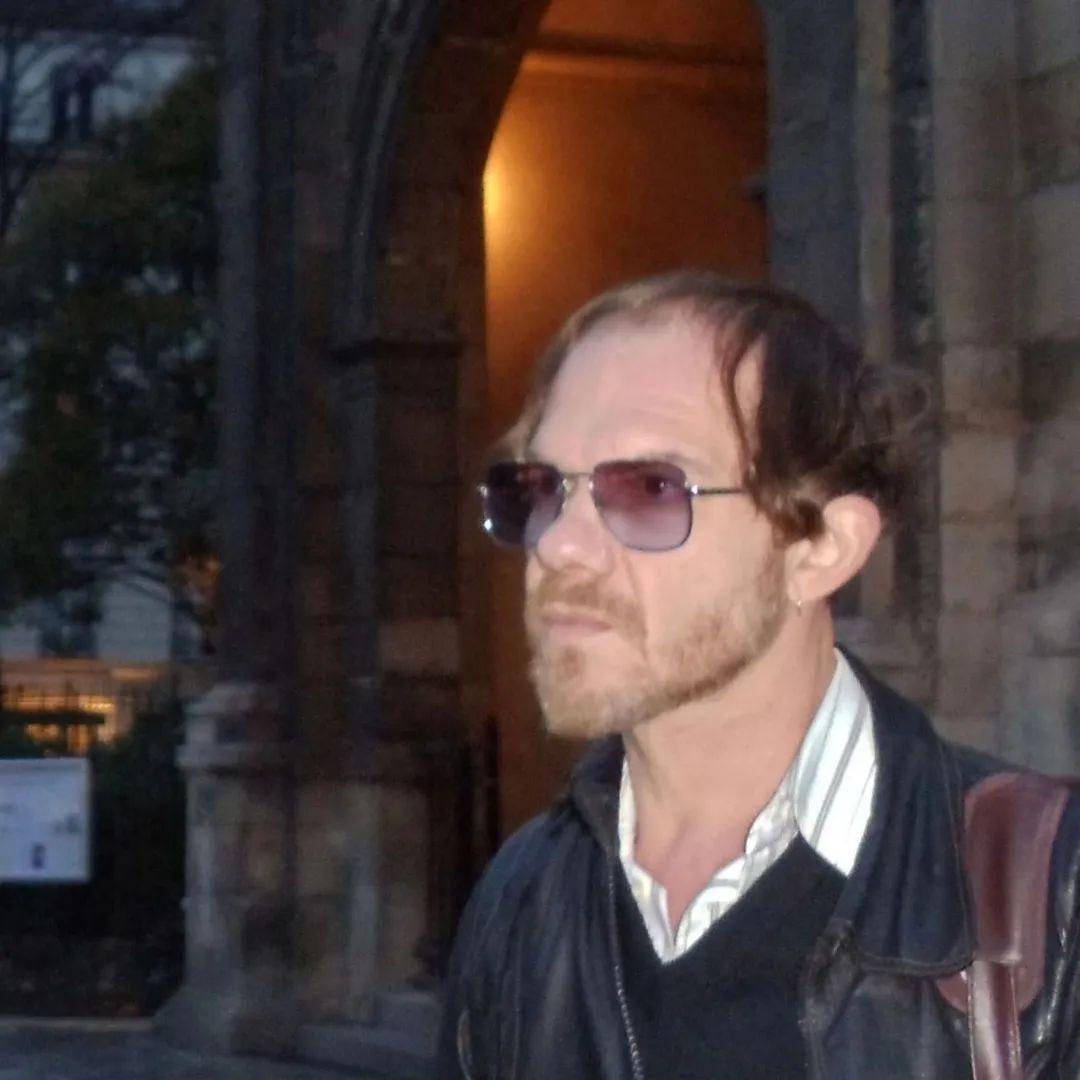 Mike Petrakis is a contemporary conceptual artist. His art is characterized by secret gems and mind teasers that he has planted for you to find. He challenges you to look twice at his surrealistic work, to be rediscovered.
His philosophy is that "Art should appeal to a wide audience of all social tiers; should be seen by as many people as possible in order to form part of the cultural discourse of a society". His mission isn't to cynically trash the whole of society along with its signs and symbolism; instead, he manages to reopen the debate on the associations we sometimes automatically make with various cultural icons.
The aim of his art – philosophy, is to react to all the pre-established cultural images – icons and to recycle them in such a way in order to change their utility and valor, towards all consumers. Also to allude to the corruption and corrosion, to the words, icons and symbols, which we consume in our everyday life, in attempt to redefine them.
His aim is, to free you from any fixed concepts and ideas acquired as a result of brainwashing. You won't fall prey to another, new brainwash; however, you might decide to stop ramming down your throat the old, fixed interpretations as the only one possible.
You will soon discover how his philosophical, artistic expression has multilingual, multicultural extensions and diachronic values, with hints on modern concerns affecting our future, through the position of humanity across our existence, connected with our reaction – attitude –treatment to nature and technology…
 Paz Viola
(Uruguay)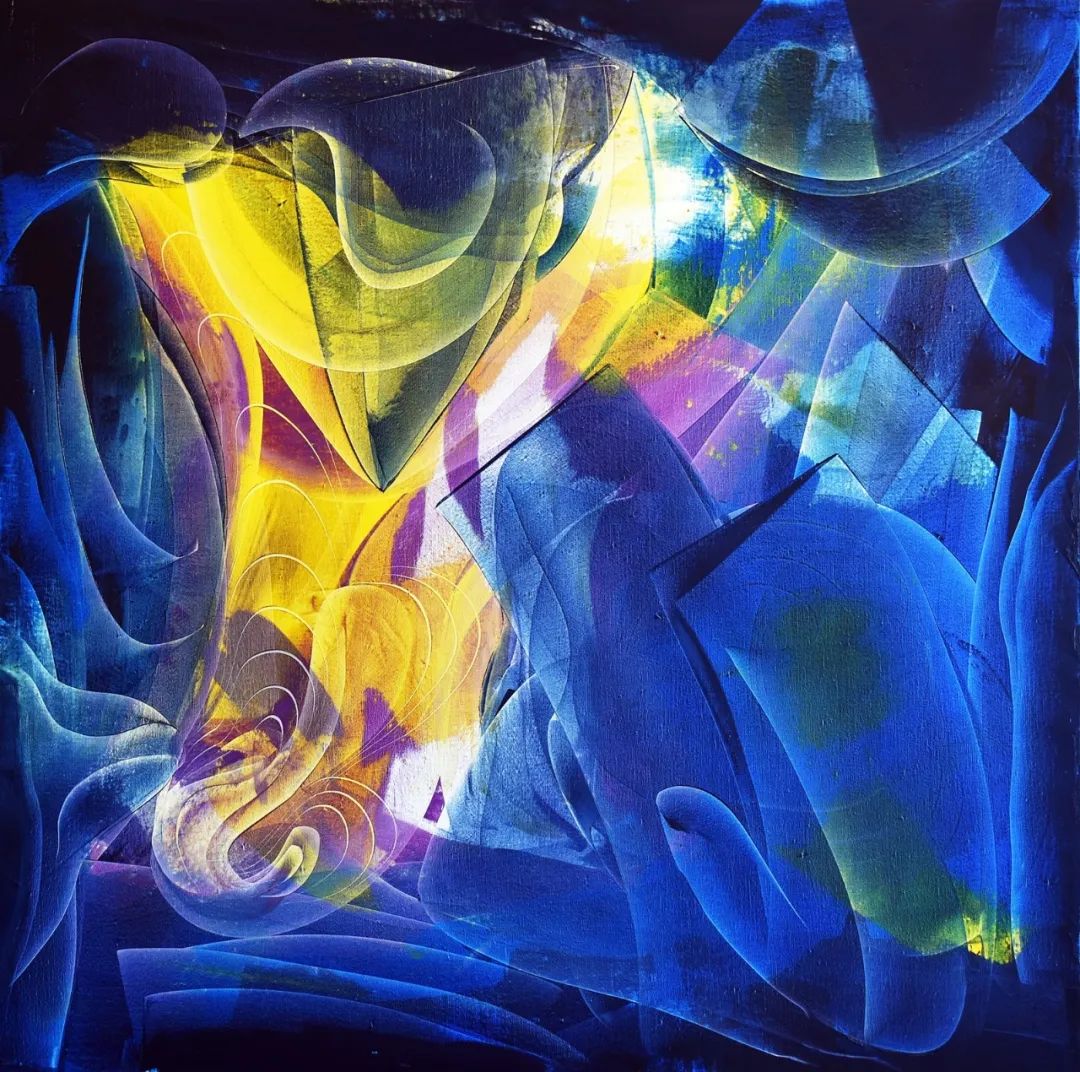 the light of hope 120 x 120cm oil on canvas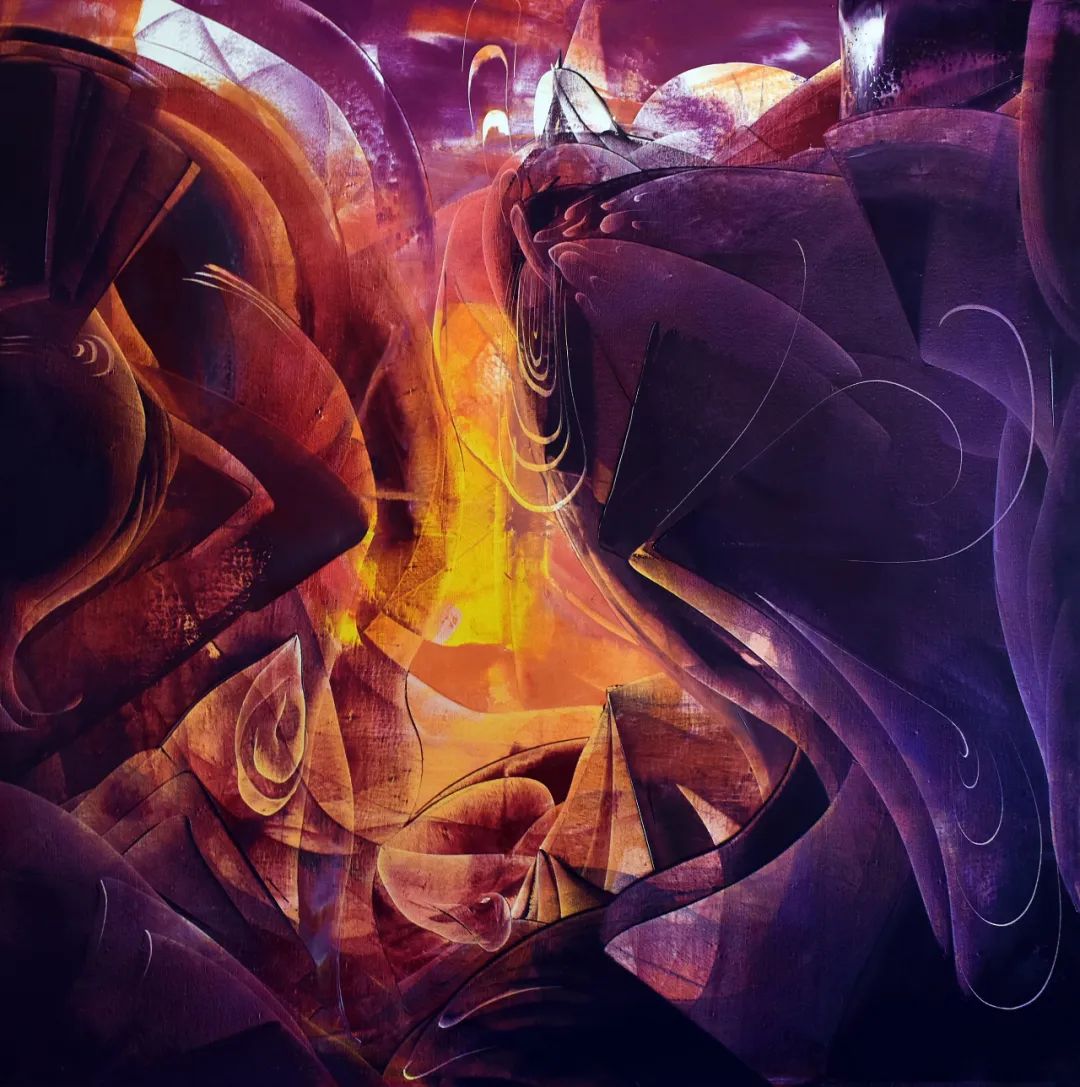 Top of glory oil on canvas 120 x 120 cm 2021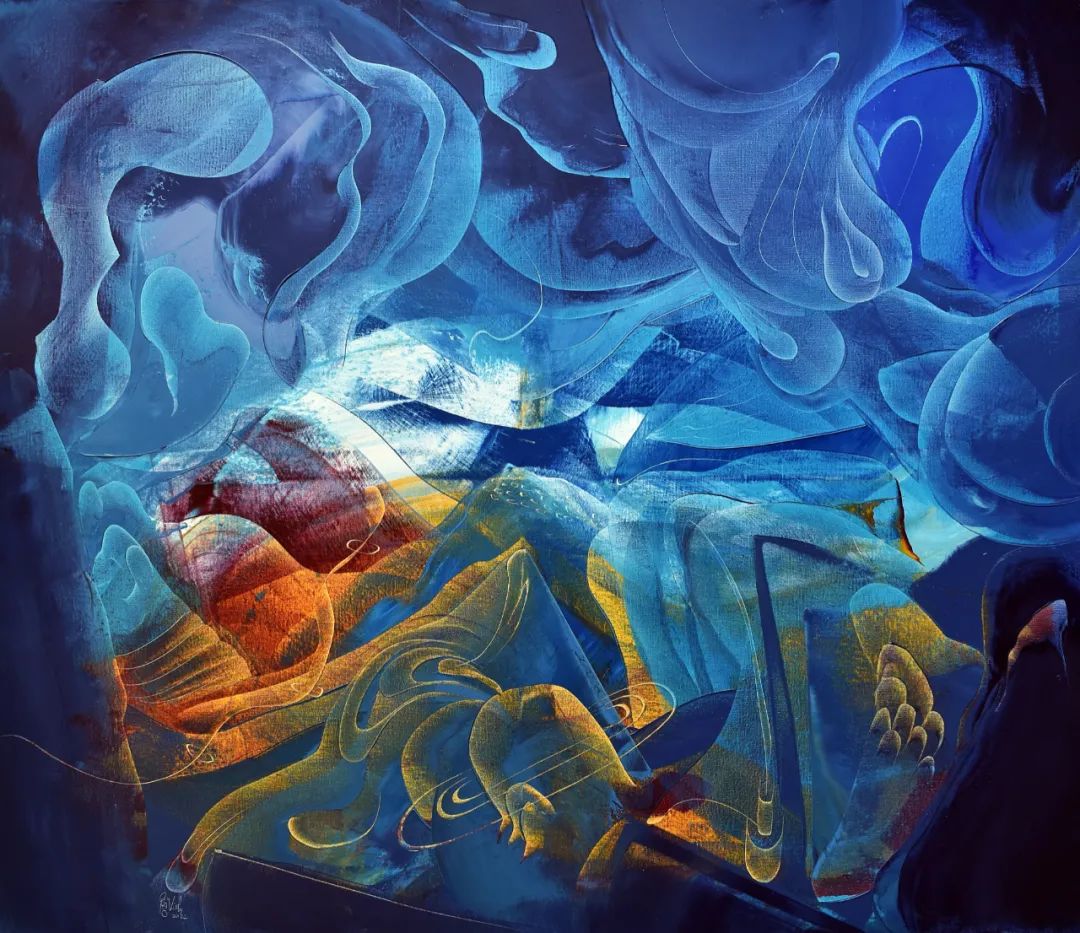 Untitled oil on canvas 140 x 120cm 2022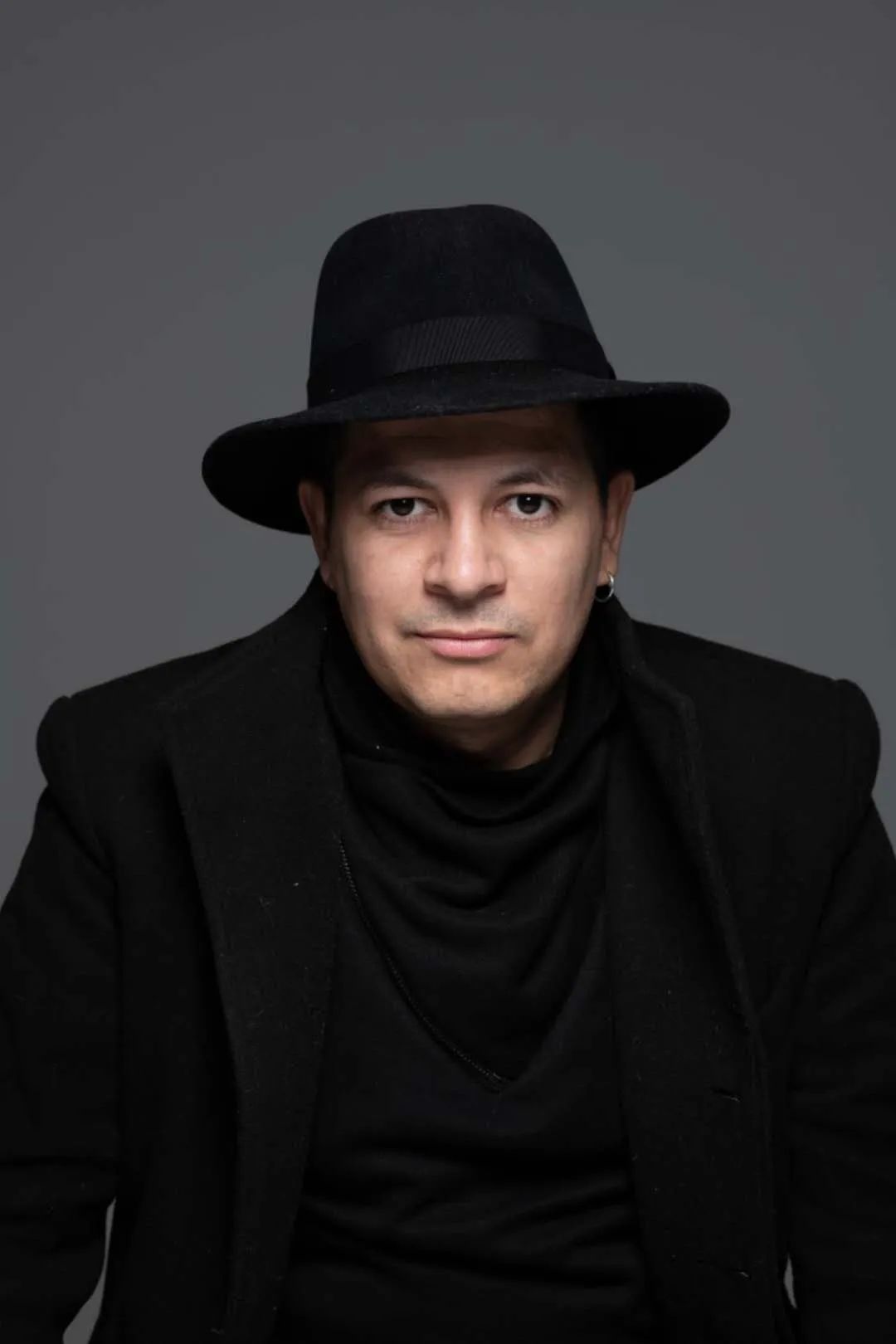 Paz Viola, contemporary abstract artist.was born in Camero.Uruguay in 1985. He loved painting when he was young. He began to try plastic arts at the age of 7 and participated in various art competitions at home and abroad.At 14. Paz Viola began to participate in group shows and individual shows nationally and internationally in galleries and museums in Uruguay, Argentina, Chile,United States,Italy,among others.His work have been featured in doctoral studies programs in art in universities in Chile, Mexico, Argentina and Spain, and are frequently featured in magazines and art books, among which are Latin American Plastic, Art Annual Review, High Impact: the Art of Visual (New York)as well as books in Venezuela, Spain, Argentina, UK, France, etc. Museum and Shenzhen Dafen Art Museum, and exhibited in the Chinese Art Palace, Beijing Art Expo.etc. Since he settled in Beijing in 2019. he has held two solo exhibitions in China. His works have been collected by Beijing Jintai Art.
In Paz Viola's view, art is the embodiment of self and the extension of artist's spirit or subconsciousness. It is stored in the purest self space without touching. Paz Viola's works draw on the color and memory of South America.and derive from the pulse of inspiration: a little bit, a little bit, everything comes into being. I draw, so I am. Paz Viola tries to show the imaginary realm with his works, reflecting the constant struggle and quest of human hearts,and the game between good and evil, light and dark. Abstract techniques are designed to present the residence of the self. One step forward is to enter the eternal light, and one step back is to sink into the endless darkness. This realm of mind is unique to painters, common to all humaning, and it is what painters want to share with everyone.
Siyanda Xaba
(South Africa)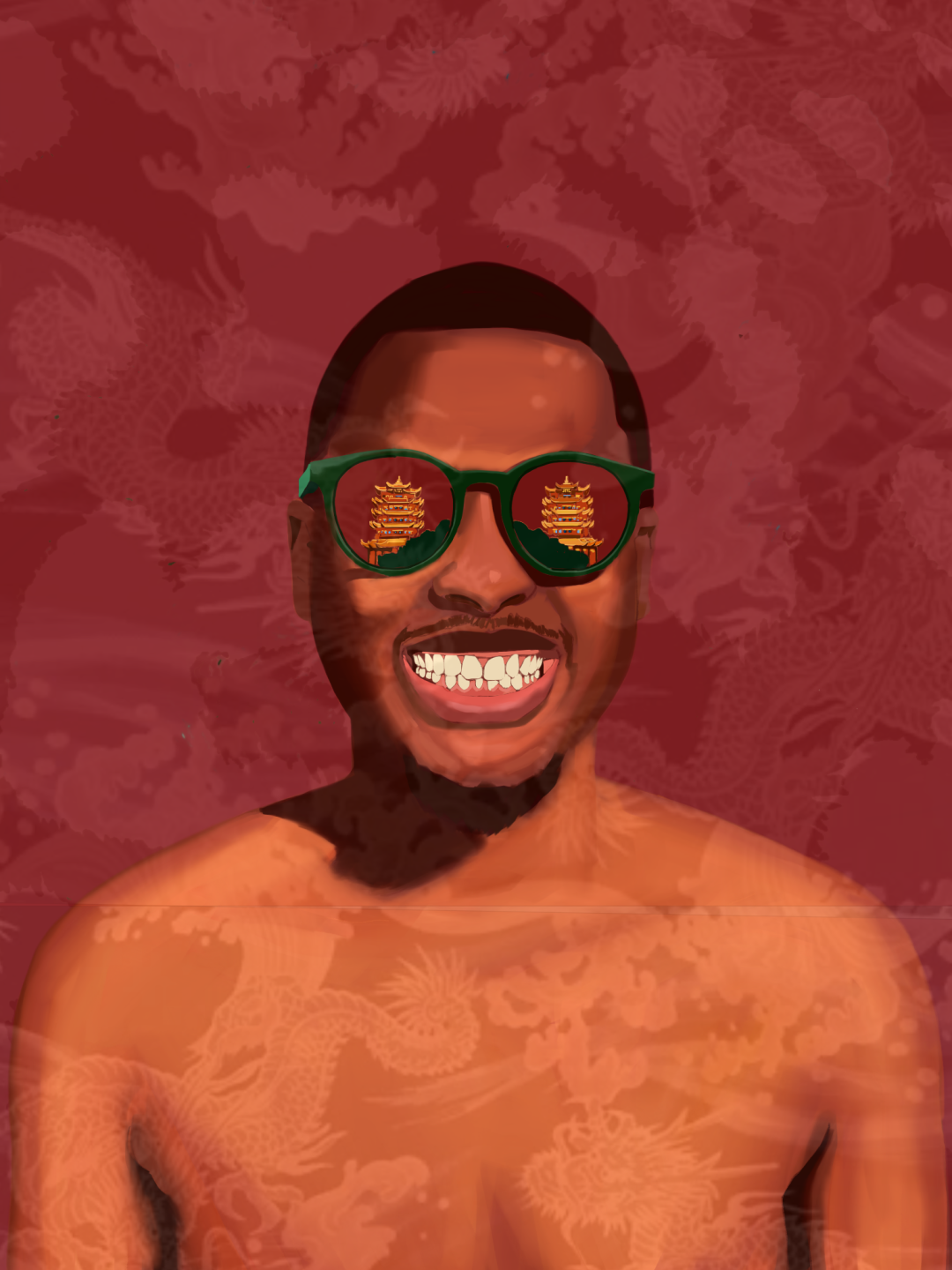 Wuhan Digital drawing 2021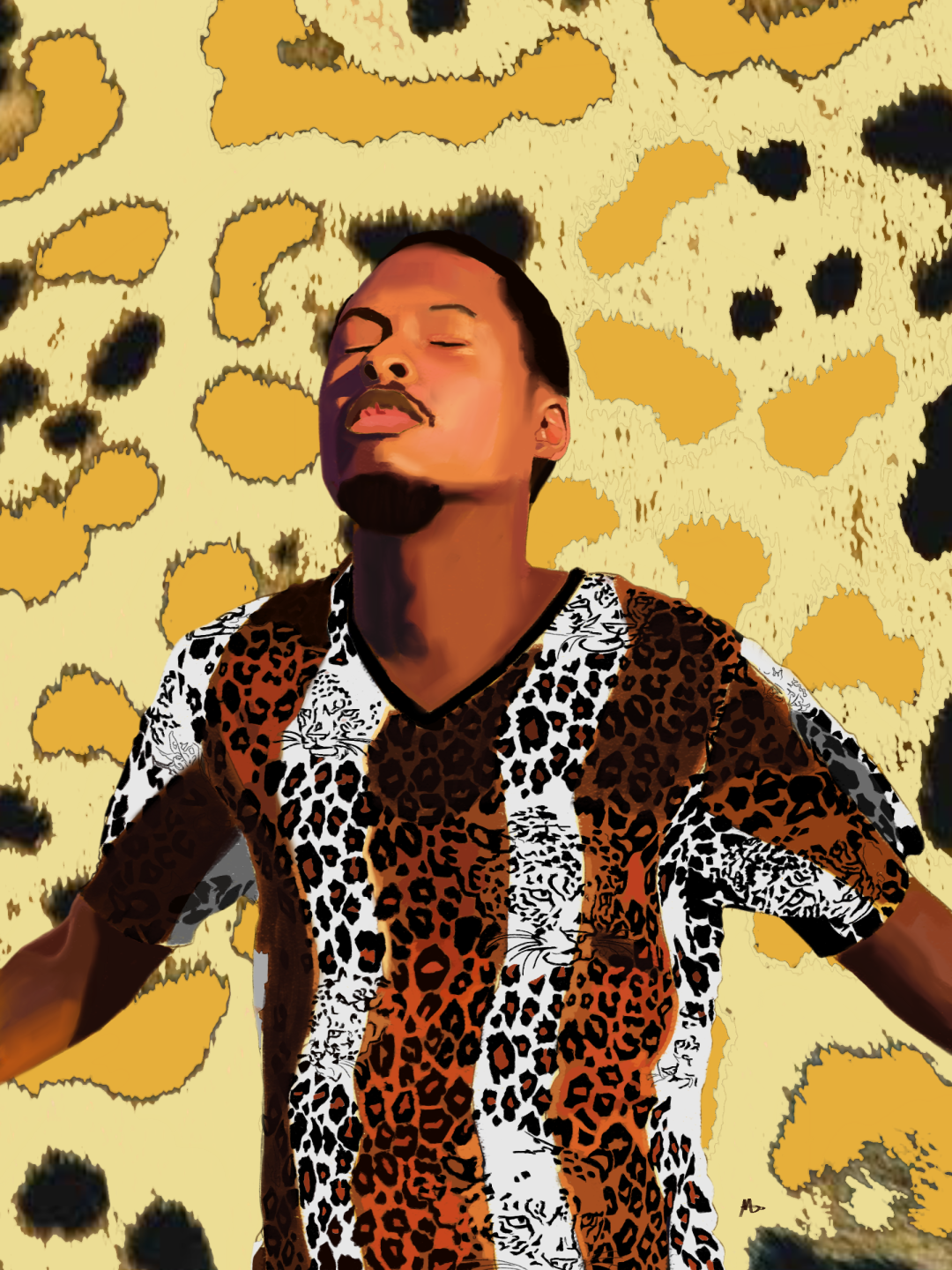 Zulu man Digital drawing 2021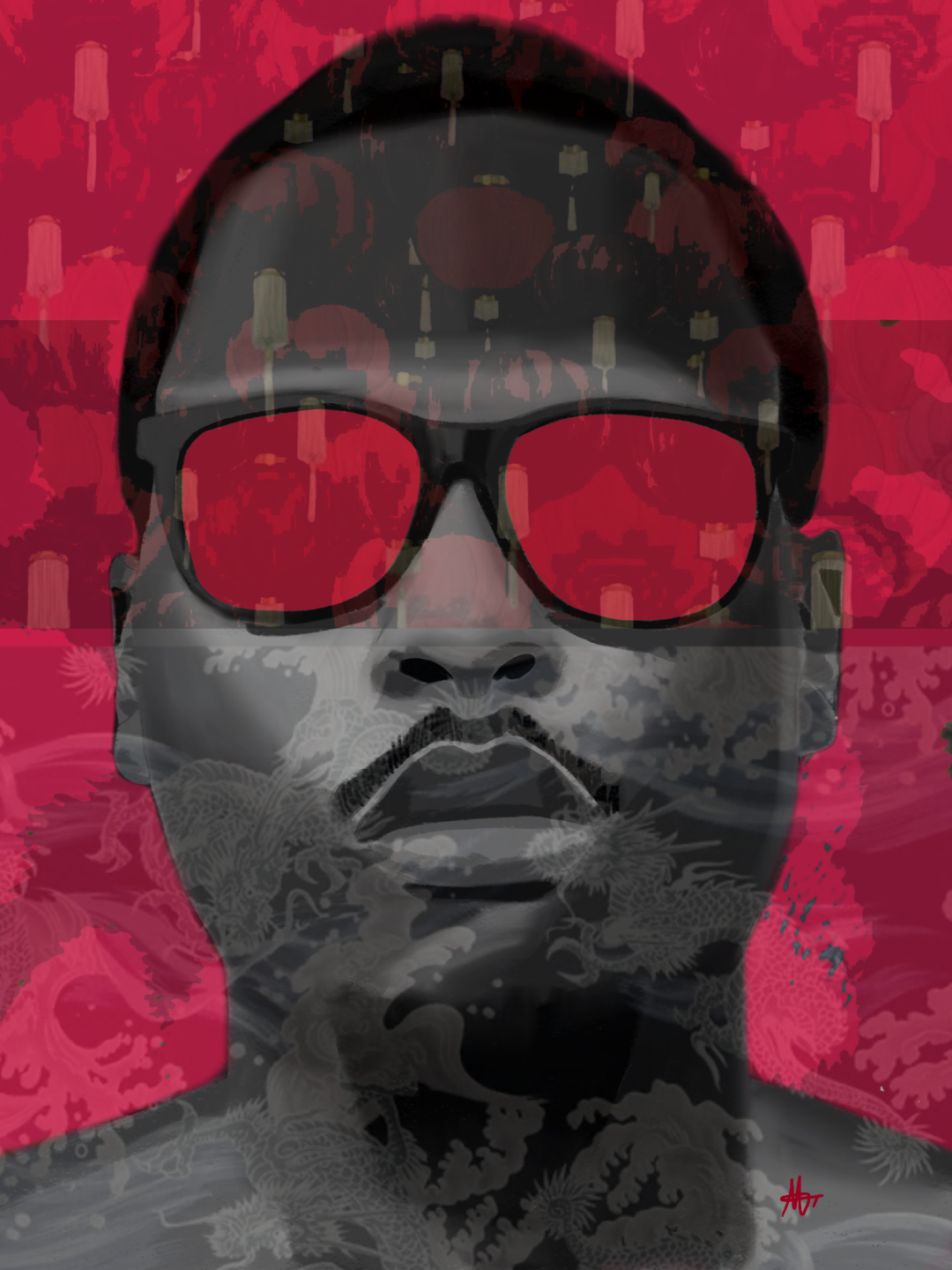 Abundance Digital drawing 2021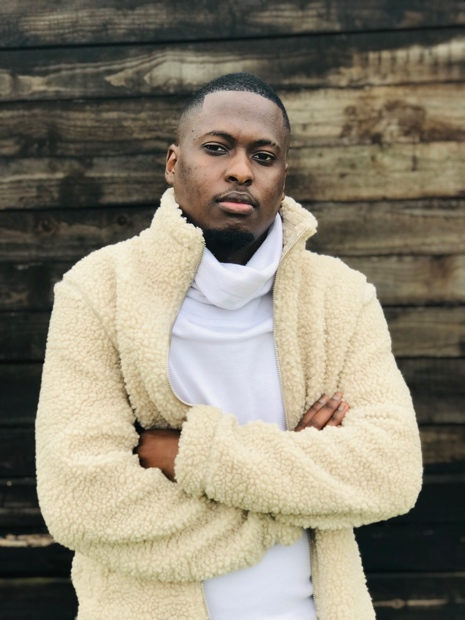 Siyanda Xaba is a South African artist and a scholar from a small town in Empangeni, in KwaZulu-Natal. He has a Diploma in Fine Art, a B-Tech degree in Fine Art, and a Master's degree in Design Studies and is currently doing a PhD in Design studies. Siyanda Xaba has participated in various exhibitions such as "New Chapter: One Belt and One Road International Art Exchange" (2019), "Pandemic Self Portraits, USA Festival" (2020), The 6th CAC International New Contemporary Art Exhibition (online) (2021). Much of his work engages identity politics, particularly ethnic and racial identities. Xaba uses 2- dimensional media such as painting, and digital art to express and unpack the intersections of race, power, and identity in the contemporary context.
Sunanda Khajuria
(India)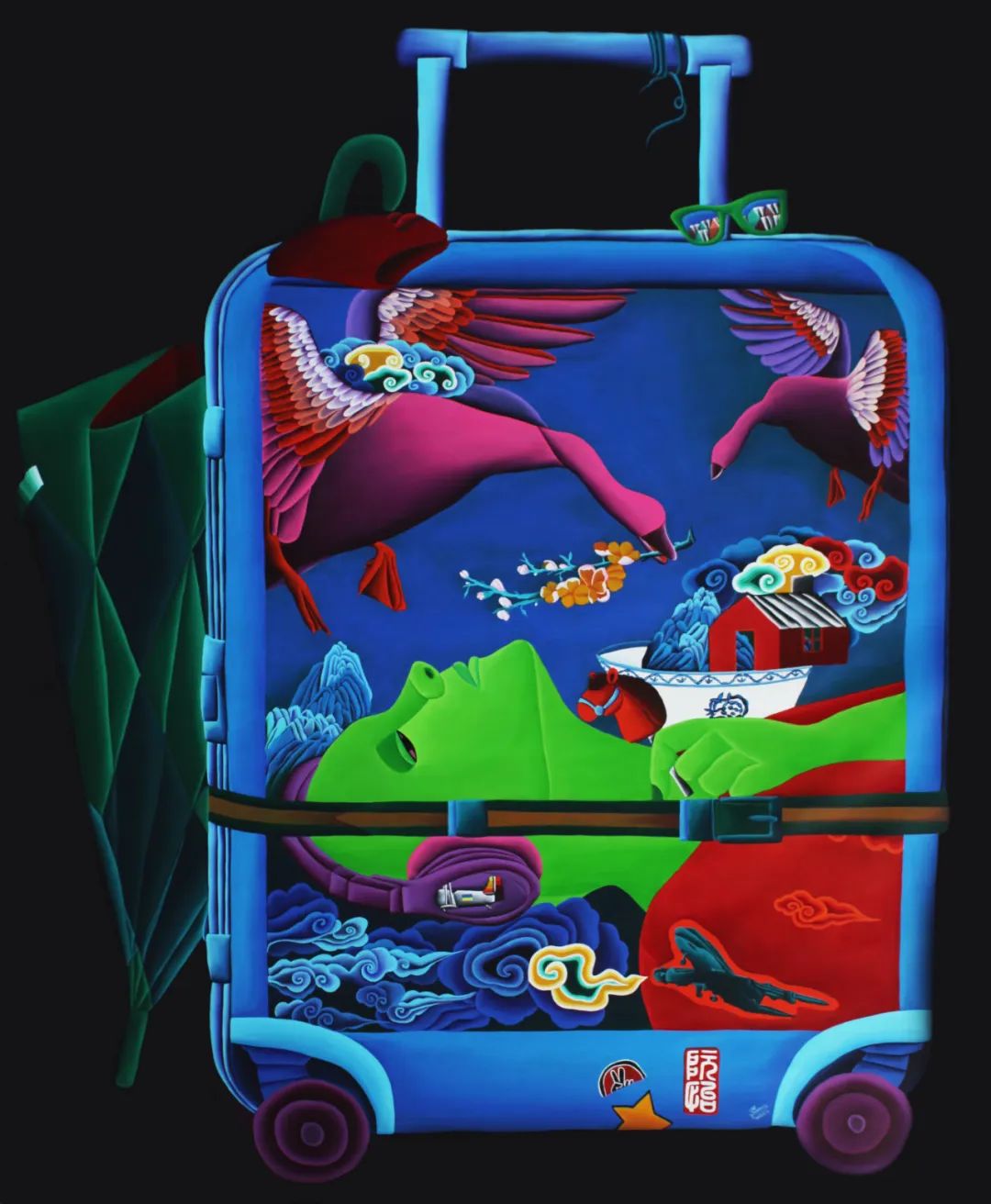 Box of Memories Acrylic on Canvas 153x122cm
The Forgotten Journey Acrylic on Canvas 153x122cm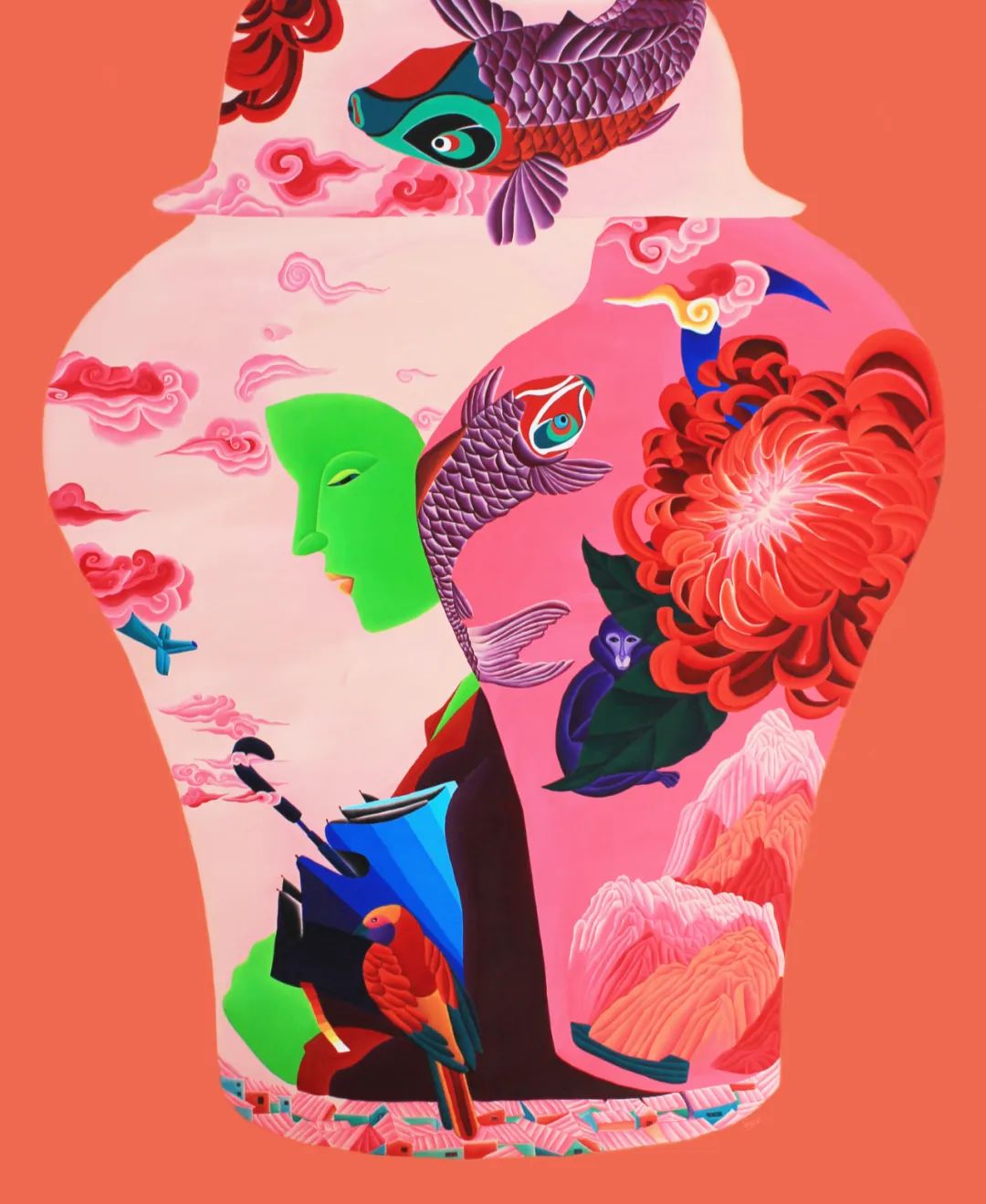 The Wild Flower's Dream Journey Acrylic on Canvas 153x122cm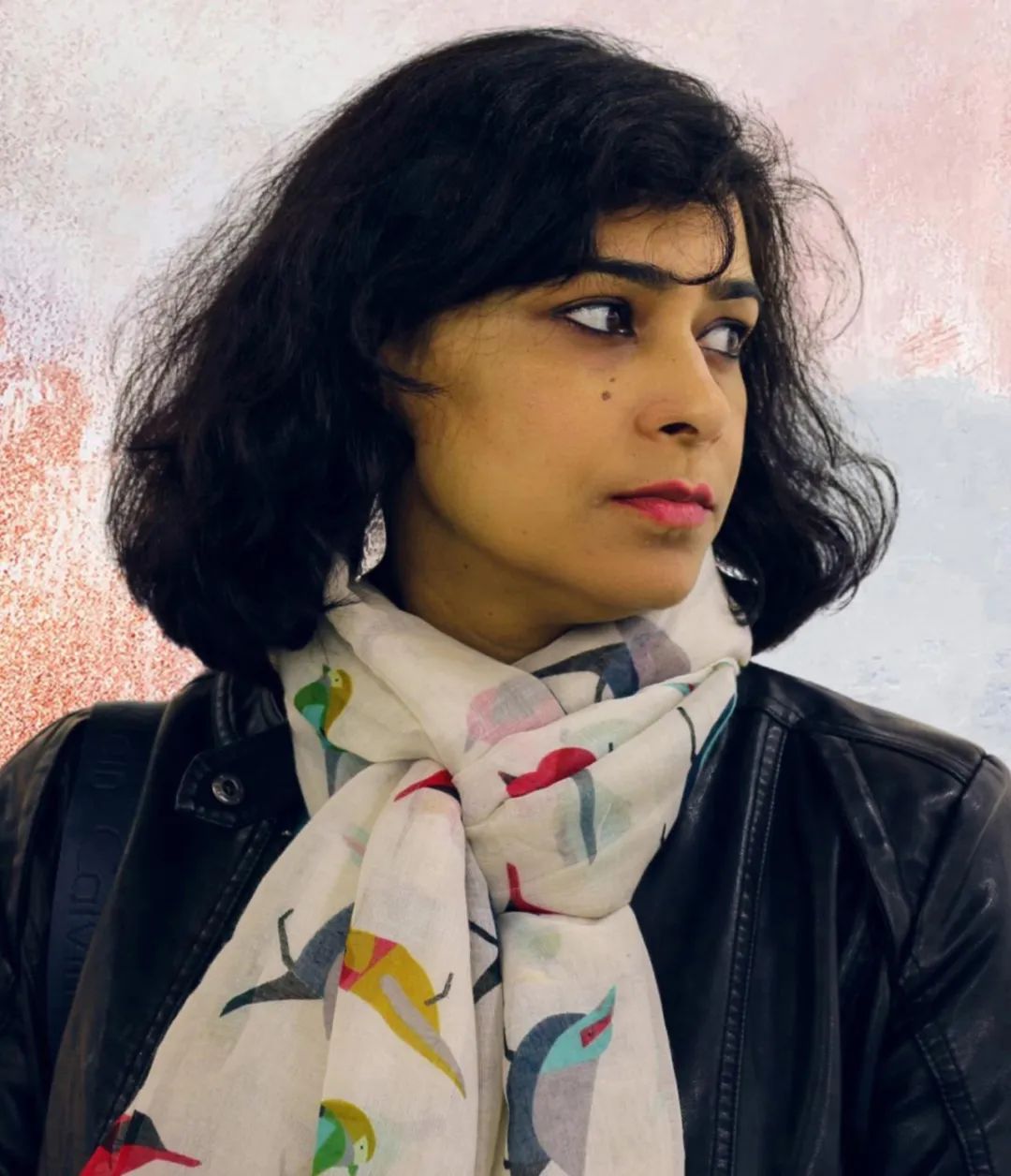 Sunanda Khajuria (Ruan Yi) is a visual artist and researcher who currentlyreside in Jammu, India and China. She is currently working on her Ph.D. at Wuhan University of Technology, China. Her Master of Fine Arts degree was earned at the College of Art in New Delhi,India. Subsequently, she went to the China Academy of Fine Art in Hangzhou, China, for an advanced research programme. As a visual artist and researcher, she uses her artwork to investigatewomen's issues, feminist expression, images, and identities in popular culture and art history.

Shunlin Chen
(China)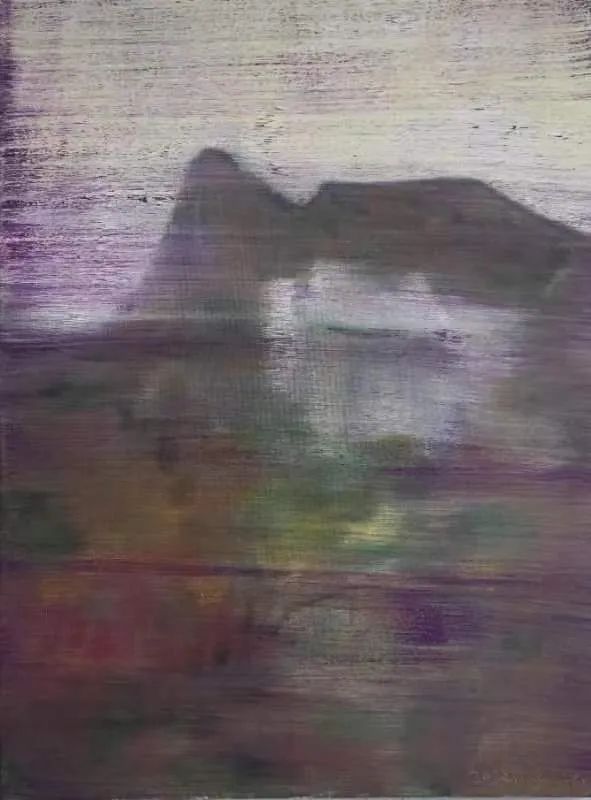 You, Me, His heart "Holy Mountain" series Oil on Canvas 60x80cm 2021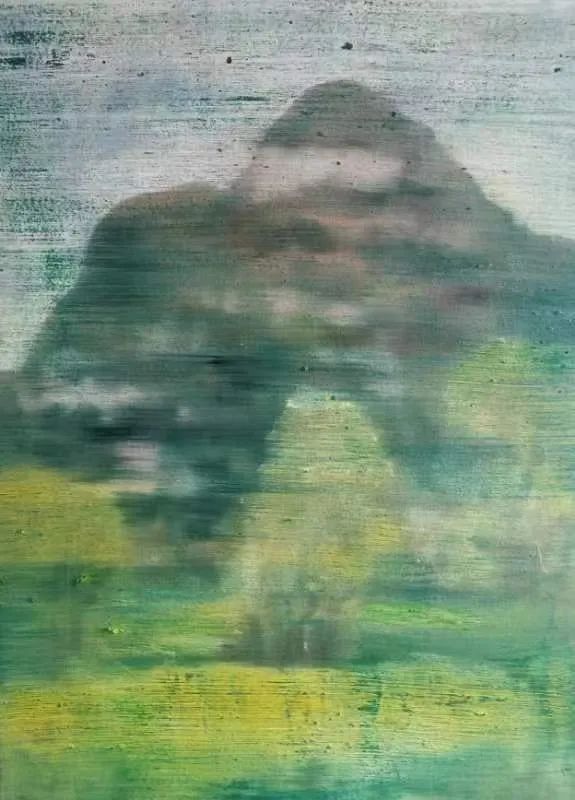 You, Me, His heart "Holy Mountain" series Oil on Canvas 60x80cm 2021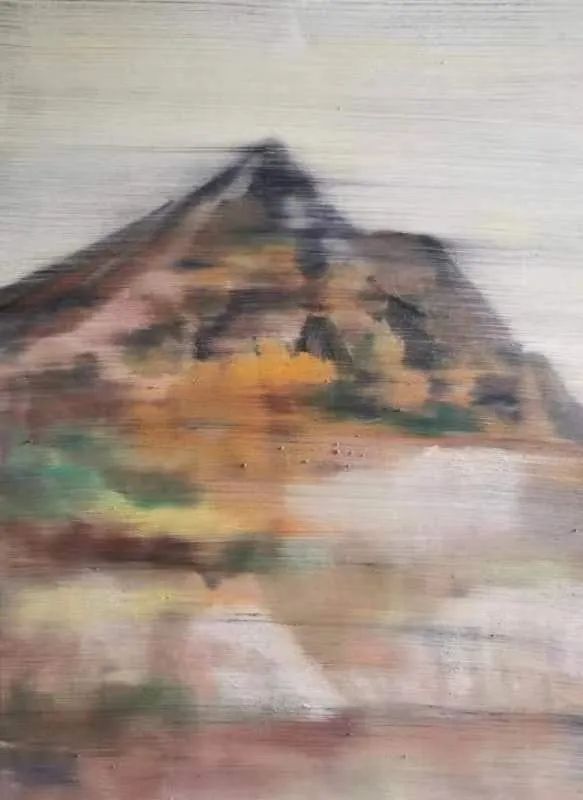 You, Me, His heart "Holy Mountain" series Oil on Canvas 60x80cm 2021
Holy Mountain
My hometown is in the mountains
I grew up with the mountains
Often in my dreams
But the mountains shine in the dream
That's where art goes
The holy mountain dissipates with clouds of smoke
The implication is that fame and fortune are leaving together
Lay it down so you can go to the holy Land
The high ground of art
I've been waiting for you
Another world
The highlands of the world
Higher than human thre-dimensional space
Something on the other plane
Like the spring of man
The sound of birds singing and the smell of flowers
The pursuit of all generations of literati
Far more than any desire or spiritual appeal
The world was stripped of men and women
You, me, and him to the dust-free golden mountain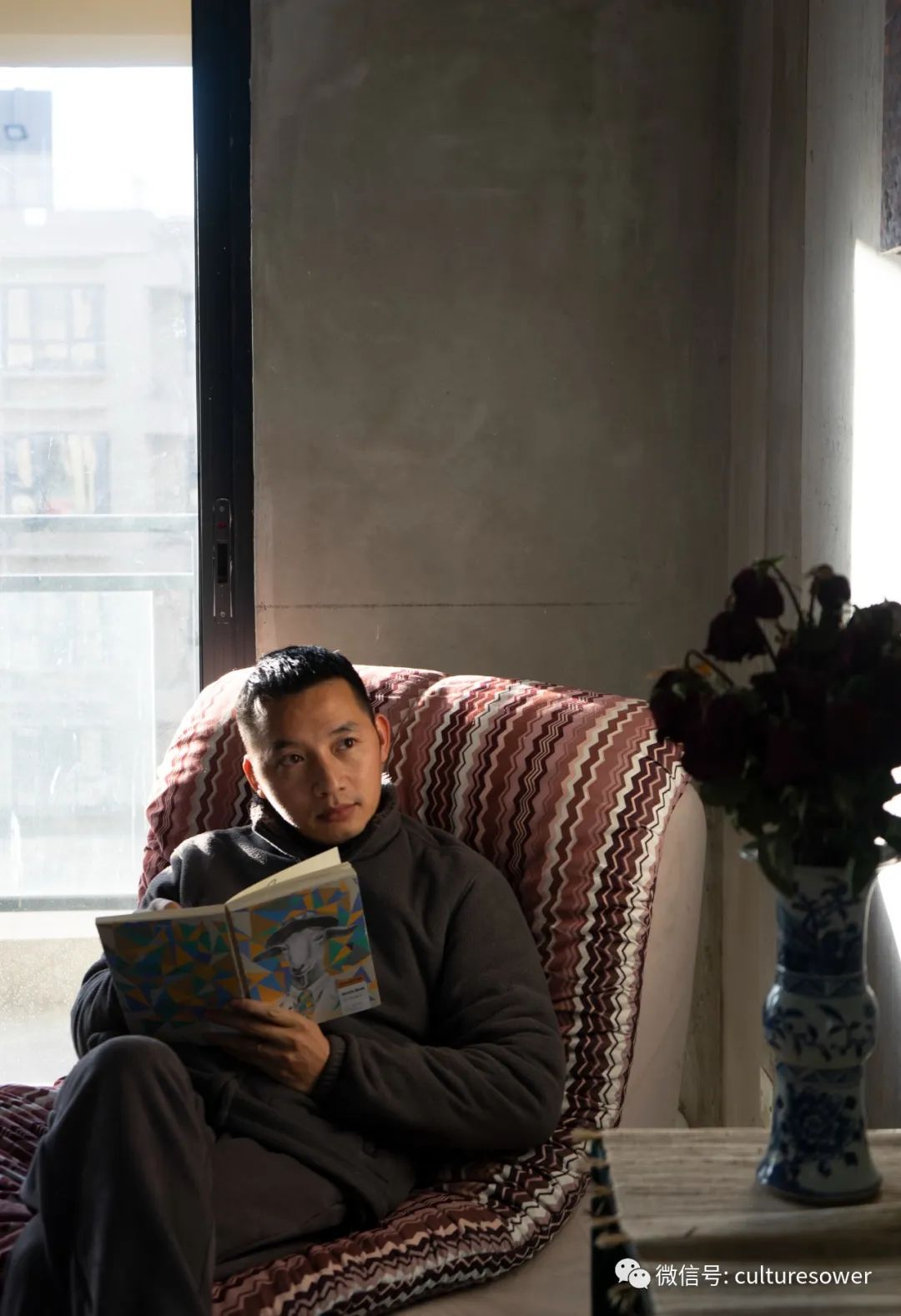 Shunlin Chen was born in Xinren, Guizhou Province in 1985, he now works and lives in Guiyang, Guizhou Province.

In June, 2022, He was employed as a visiting professor of "new ink painting" at the Royal Victoria College of art, Canada;
In March, 2022, he was invited to participate in the online academic exchange meeting of "Chicago International Art Forum";
In November, 2021, The new ink painting "oleander and book" series, in which the new ink painting "love" won the international art exchange certificate issued by the ambassadors of Russia, Britain, France, Mexico, Maldives and their cultural centers;
In May, 2021, he established the "Chen Lusheng Art Museum (wangche) study base" in Kaiyang County, Guizhou Province with the former deputy curator of the National Museum and the curator of the Museum of the University of Science and Technology of China, and concurrently served as the deputy curator.
Ye Deng
(China)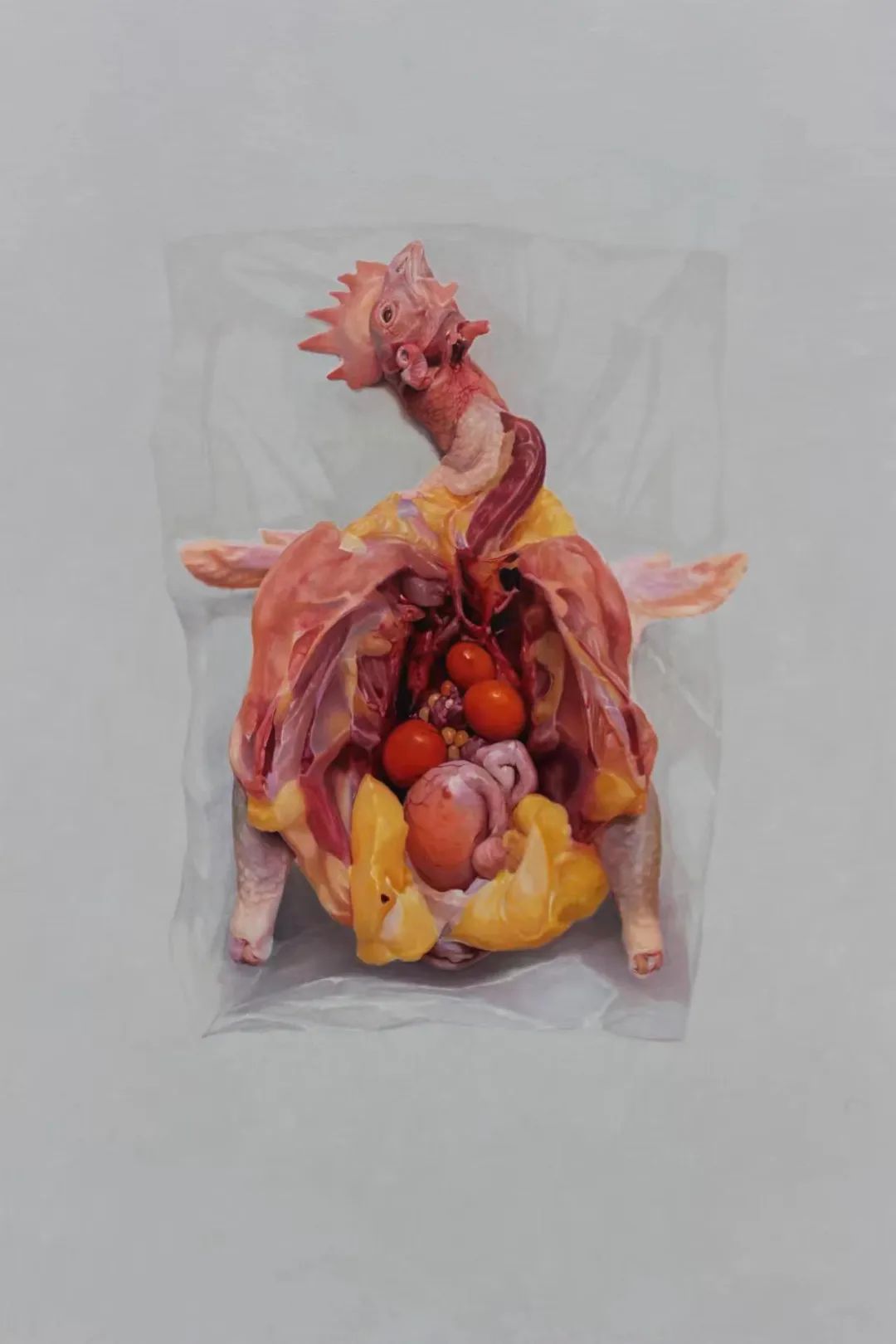 "Safe Food – Chicken" canvas oil painting 120x90cm 2021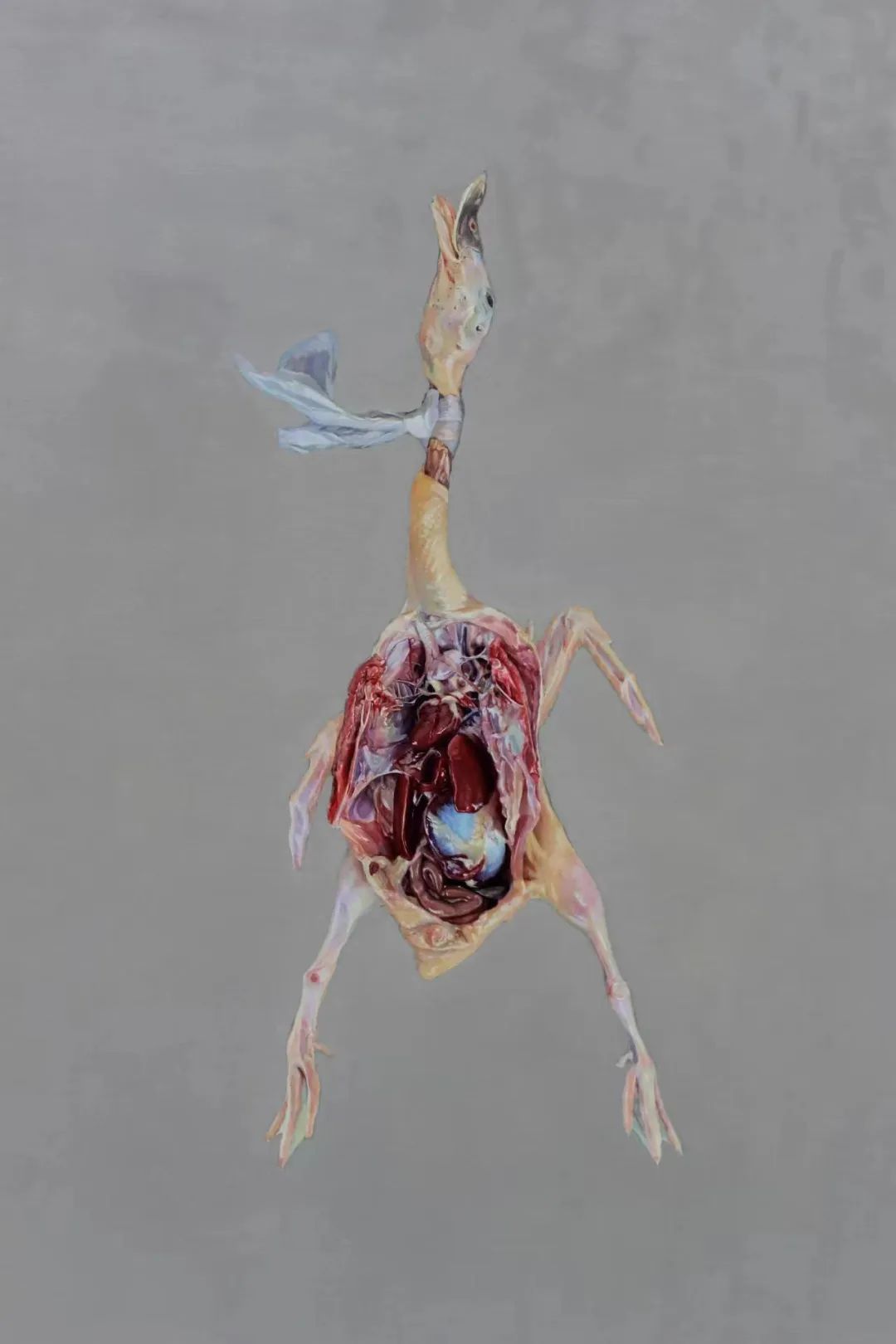 "Safe Food – Duck" canvas oil painting 120x90cm 2021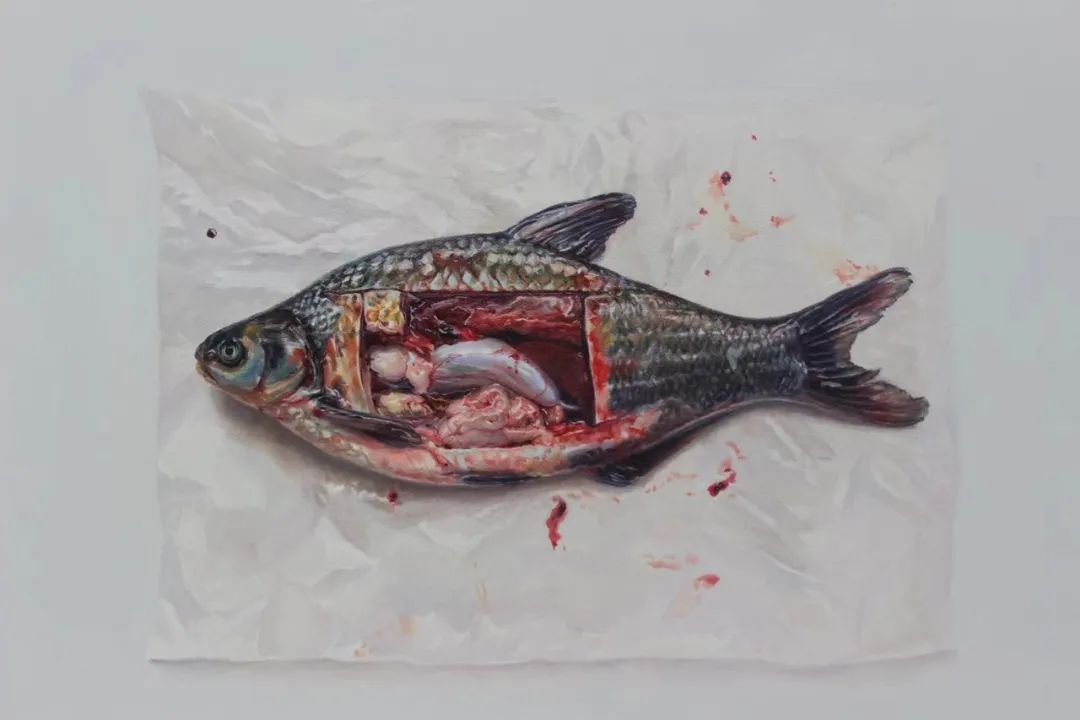 "Safe Food – fish" canvas oil painting 120x90cm 2021
These three works are one series. I want to express a kind of helplessness through these dissected foods. This helplessness is not only the helplessness of people, but also the helplessness of everything. The current food safety is very serious. How can we solve this problem simply by being transparent and open? This is just the appearance that we can see, and the things behind them may never be felt. Sometimes we are all fooling ourselves, and this helplessness may only go on quietly.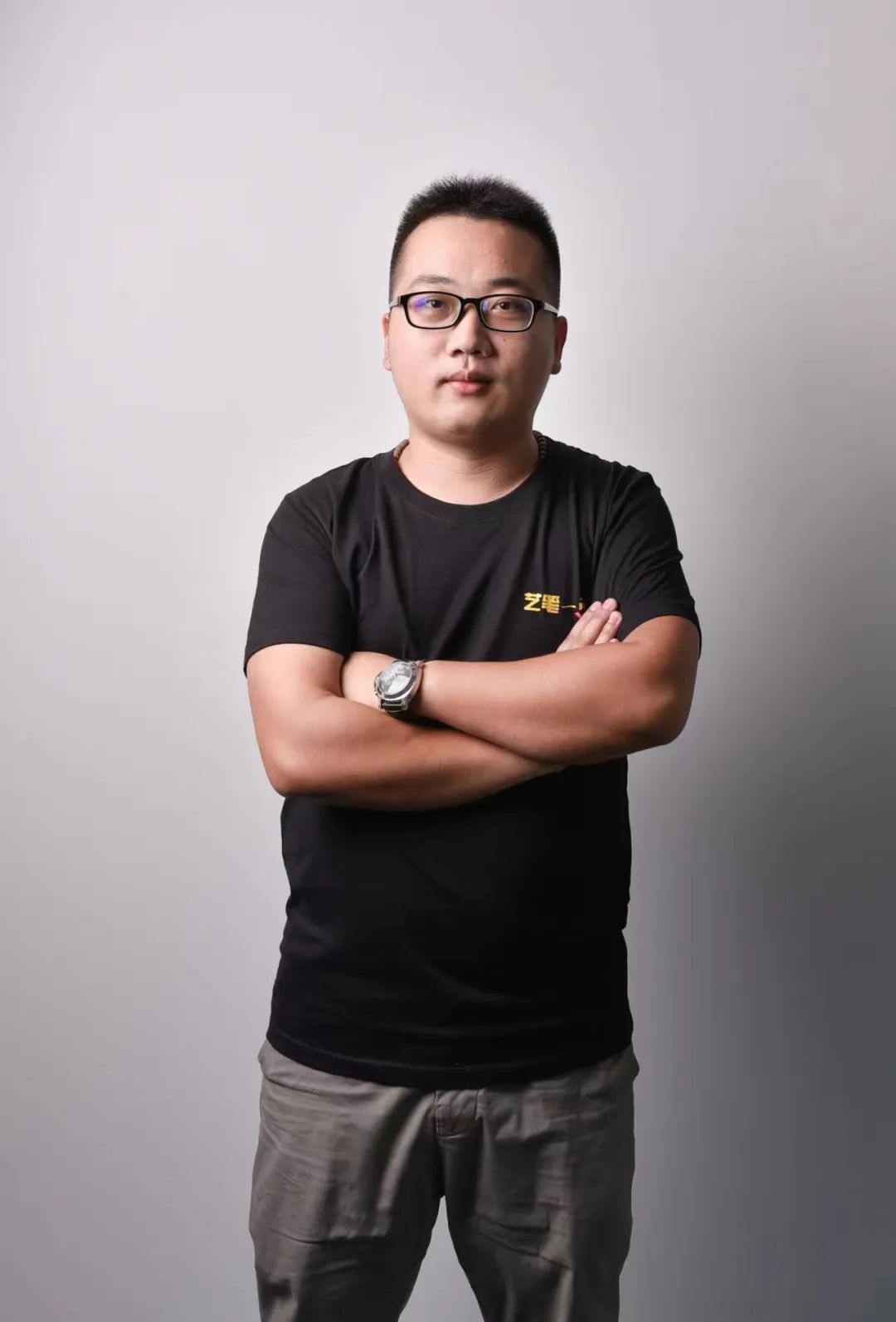 Ye Deng, born in Wuhan, Hubei Province, graduated from the Oil Painting Department of Hubei Academy of Fine Arts with a master's degree.

Exhibition

2008
Bronze Award of National College Students Calligraphy and Painting Competition

2009
Celebrate the 60th anniversary of the founding of the People's Republic of China, "I and my motherland", the bronze prize of the National College Students Calligraphy, Painting and Photography Competition
The First Bank of Communications "Art Star" Art Exhibition
Second prize of Hubei Academy of Fine Arts sketching exhibition
The third prize of the fifth joint exhibition of students' works of the Oil Painting Department of "Youth Sailing" of Hubei Academy of Fine Arts
Joint Exhibition of Teachers and Students of Oil Painting Department of Hubei Academy of Fine Arts

2015
Excellent Award of Hubei Academy of Fine Arts Graduate Work Exhibition

2017
Special Prize of Shishou City Cultural Art Exhibition

2018
The first prize of calligraphy and art in the 40th anniversary of the reform and opening up of Shishou City, Hubei Province

2020
Works Exhibition for the 100th Anniversary of Hubei Academy of Fine Arts
The First College Students Art Expo (Wuhan)
Fine Arts Exhibition for the 100th Anniversary of the founding of the CPC in Jingzhou City, Hubei Province
"Wind Direction II" National Oil Painting Exhibition Excellent Works Award
The works of national excellent art teachers won the National Top 100
Awarded the Silver Medal of Artistic Creation by the China Five Star Association of Art Education
Works Exhibition of the 7th Hubei Art Festival

2022
"Narration Visual Tea Classic" Art Exhibition of 100 Contemporary Art Works
China Russia Joint Exhibition "Times: Contemporary Art Exhibition"
"Inheritance and Development – China Sketch Contest"
The Third Hebei Youth Art Exhibition

Dingdian Fusu
(China)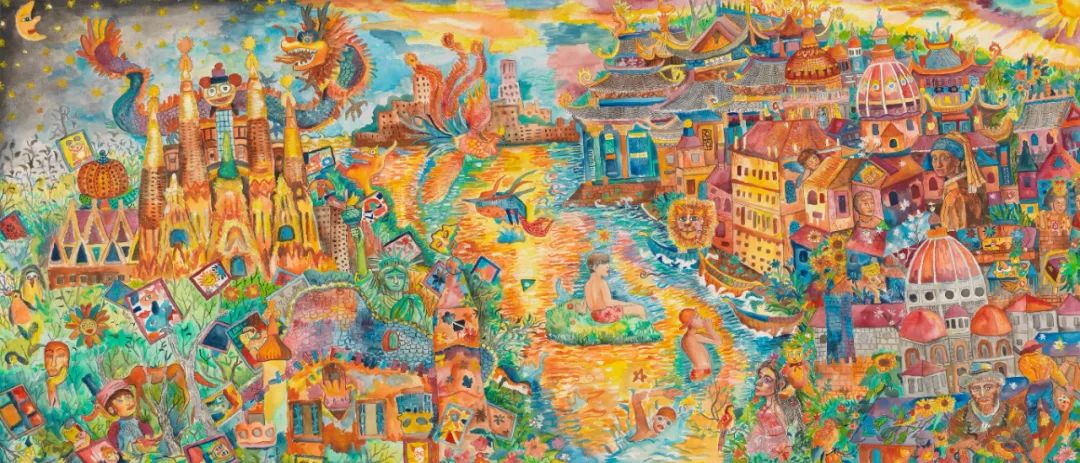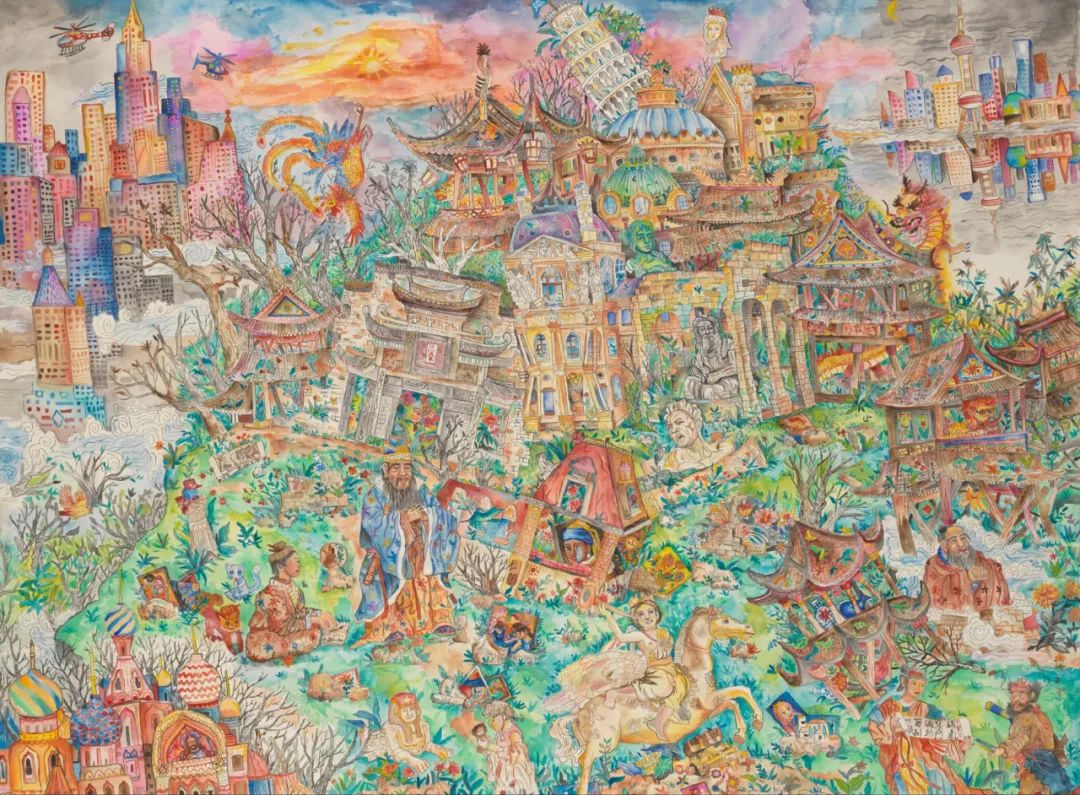 The echo of Times – Glory of Past
There are too many immortal legends left in history. Those cultural relics tell about the glory of the past, and their dazzling is enough to light up the way forward for mankind. These great ideas and creations should be remembered, and should become a ladder of faith to pave the way for a better future. I present the combination, extraction and improvement of great masterpieces from ancient and modern times and at home and abroad on the screen. The significance lies in that each culture, legend, history and creation is unique and valuable and should not be forgotten over time. For example, Sanxingdui, Oriental Gardens, Spring Scents, Fairy Couples, Plateau Customs, and Green Mountains and Green Waters reflect the beauty of different cultures. Every culture is incomparable, no matter how small it is, it is meaningful and should not be forgotten. The painting "Dream of Shangri La", which I combine great masterpieces from ancient and modern times and at home and abroad into a picturesque blueprint, is intended to praise the era when a hundred flowers bloom and a hundred schools of thought contend. Because only in such an inclusive and creative era can the world enjoy great progress and prosperity. The Lost Shangri La is a poem that is eager to remind people that we should not lose our way in this modern society, which is full of temptations and lust for profits, and sink into the whirlpool of secular, fame and wealth. We should have faith and never forget our original intention. Wish to leave a pure virgin land for the soul! In fact, I want to pay tribute to not only those great people and masterpieces. More eager to pay tribute to the kind of spirit hidden in every great creator, such as creativity, pioneering spirit, inclusiveness, independent thinking ability, humanistic spirit, dedication, love and healing power… These great spirits and creations do not recognize national boundaries. They can break all barriers, heal and influence people. There is no doubt that these creators have similarities. They are very pure, after exploration and research, after the baptism of life. I will do my best for the beautiful present and future of mankind with love. Their great contributions have brought people wealth and cross era progress, which is worth remembering and learning.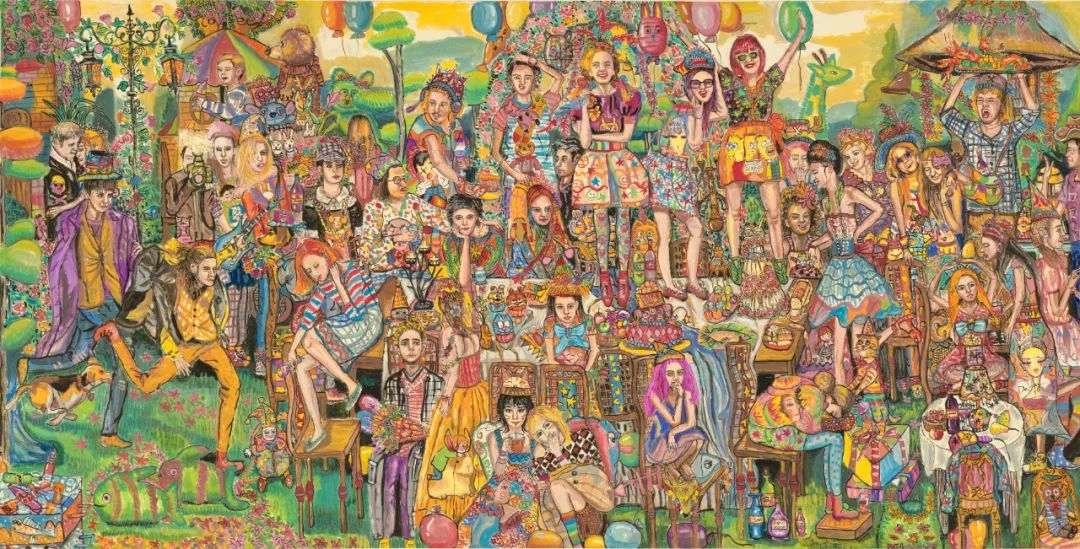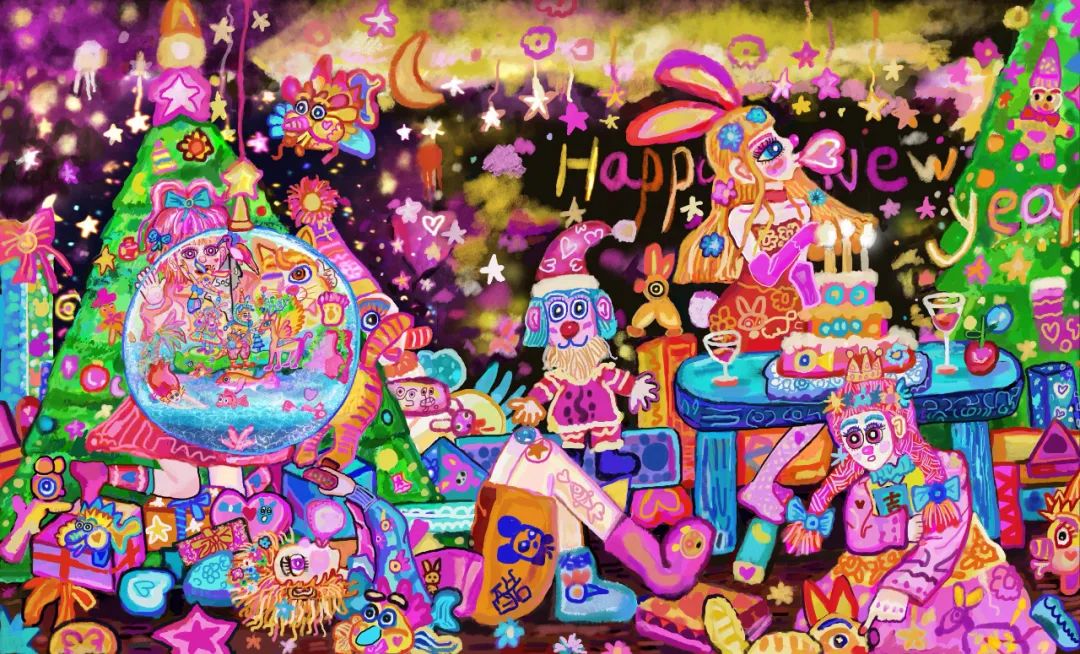 The presence of the times -boundless life
Youth is growth, is to find a destination in the boundless. The time is coming to focus on life, and write life into poetry and music. Let the ordinary become extraordinary. Let our stories radiate romance.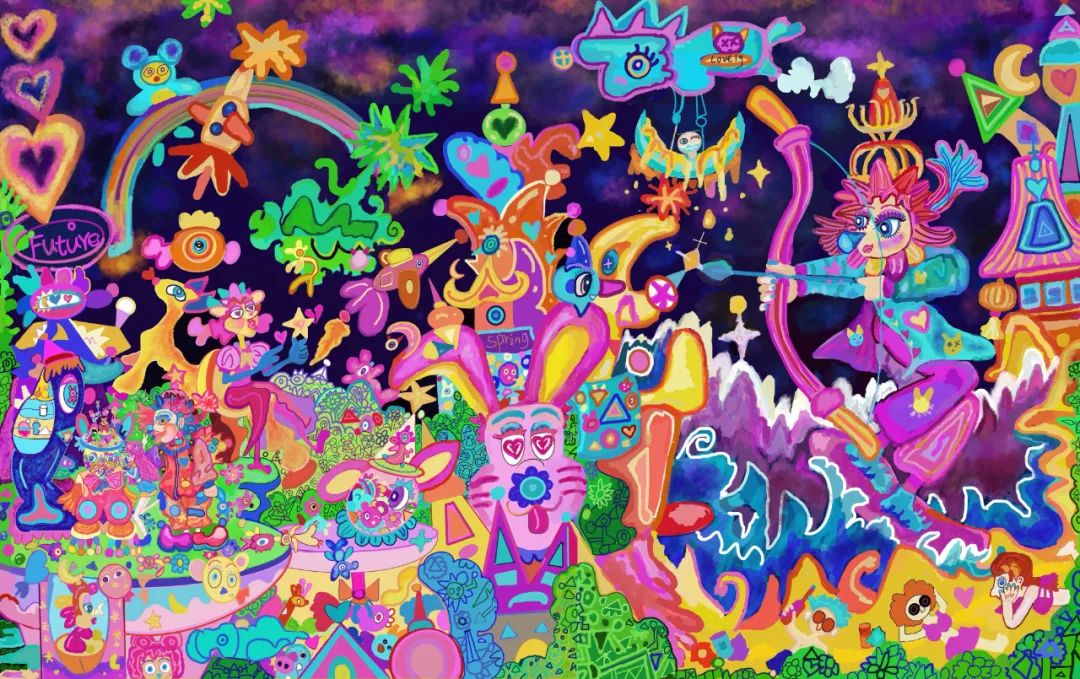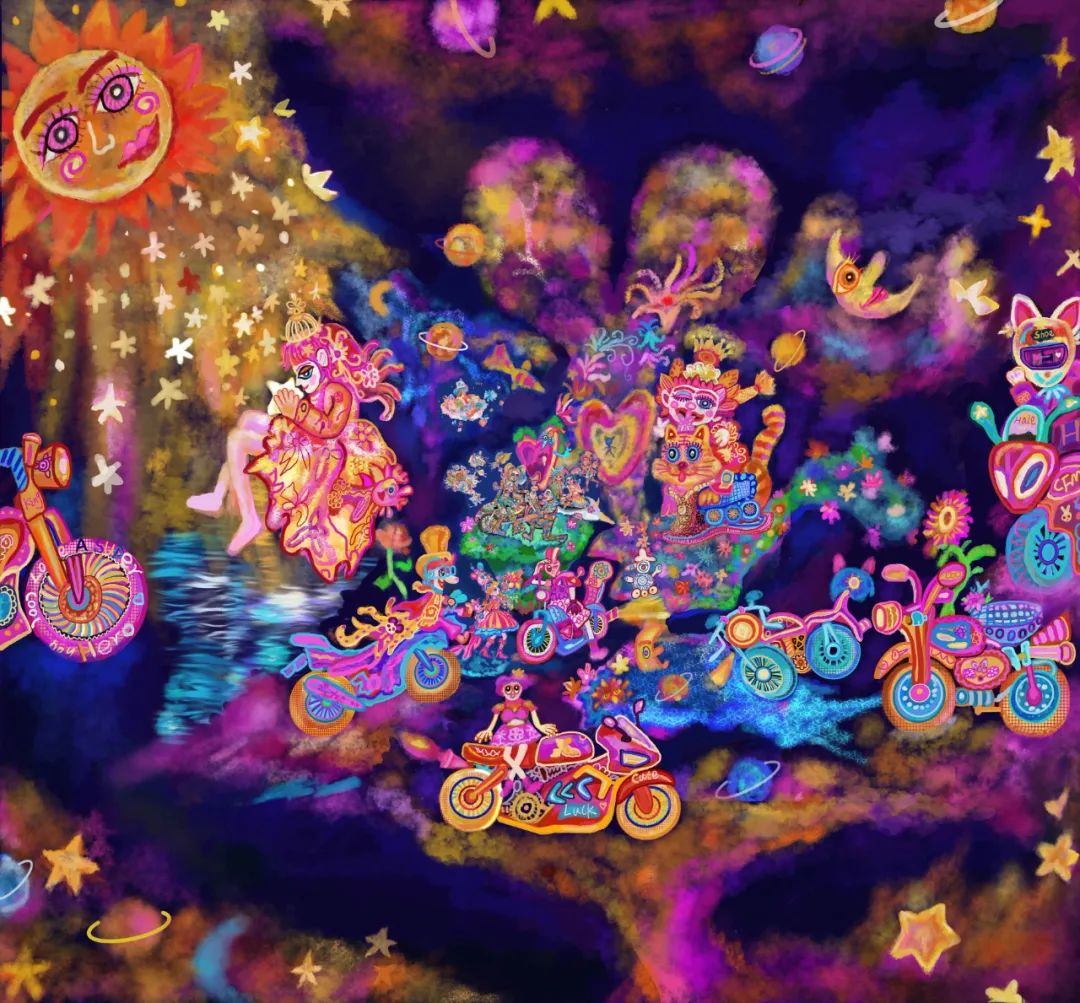 Looking Up to the Times (Virtual World of the Metauniverse) Fantasy the Other Side
In the future, everything is possible. Fantasy can also become reality. Each partner in the dream, even the playmate in childhood fantasy, can meet in the virtual future time and space. These pictures contain my original IP and fantasy world, which are my unlimited imagination and imagination of the future.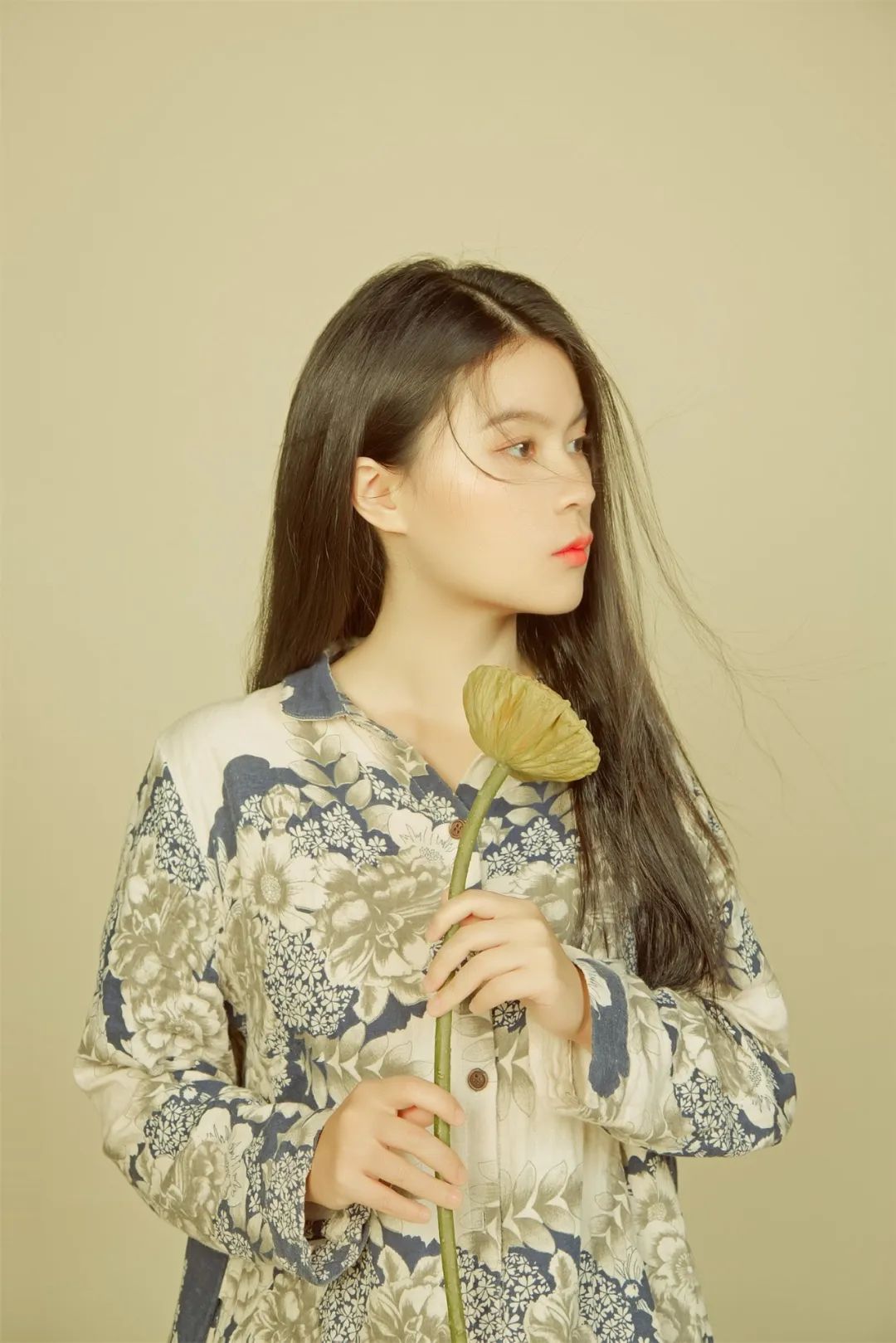 Dingdian Fusu was born in Chengdu, Sichuan Province in 1991. After graduation from the Affiliated Middle School of Sichuan Academy of Fine Arts, she was admitted to Sichuan Academy of Fine Arts and graduated from Sculpture Design. She is a membership of Chongqing Fine Brush Painting Society, a freelence artist and writer. The Sichuan Fine Arts Publishing House published the personal painting collection Heart Journey, and the Sichuan People's Publishing House published the monograph Art as a Companion (under editing). His works have participated in the Joint Exhibition of Fine Arts Works of Seven Provinces and Municipalities sponsored by Sichuan Provincial Department of Culture; She has been selected into various painting exhibitions sponsored by Chongqing Federation of Literary and Art Circles, Artists Association and Fine brushwork Society for many times; In 2018 and 2020, Chongqing Xiexin Art Museum and Zhuhai Boundless Art Museum respectively held the Ding Dian Personal Works Exhibition "Xintu" as a public welfare activity; In 2020, the work "The World of Pandas" was selected as one of the "Chengdu Images" and displayed in the shopping center of Tianfu Square, the city center of Chengdu. She has won various awards from CCTV, provinces and cities, and the Excellent Works Award of the 8th Hiii Illustration International Contest for many times.
Mingqian Li
(China)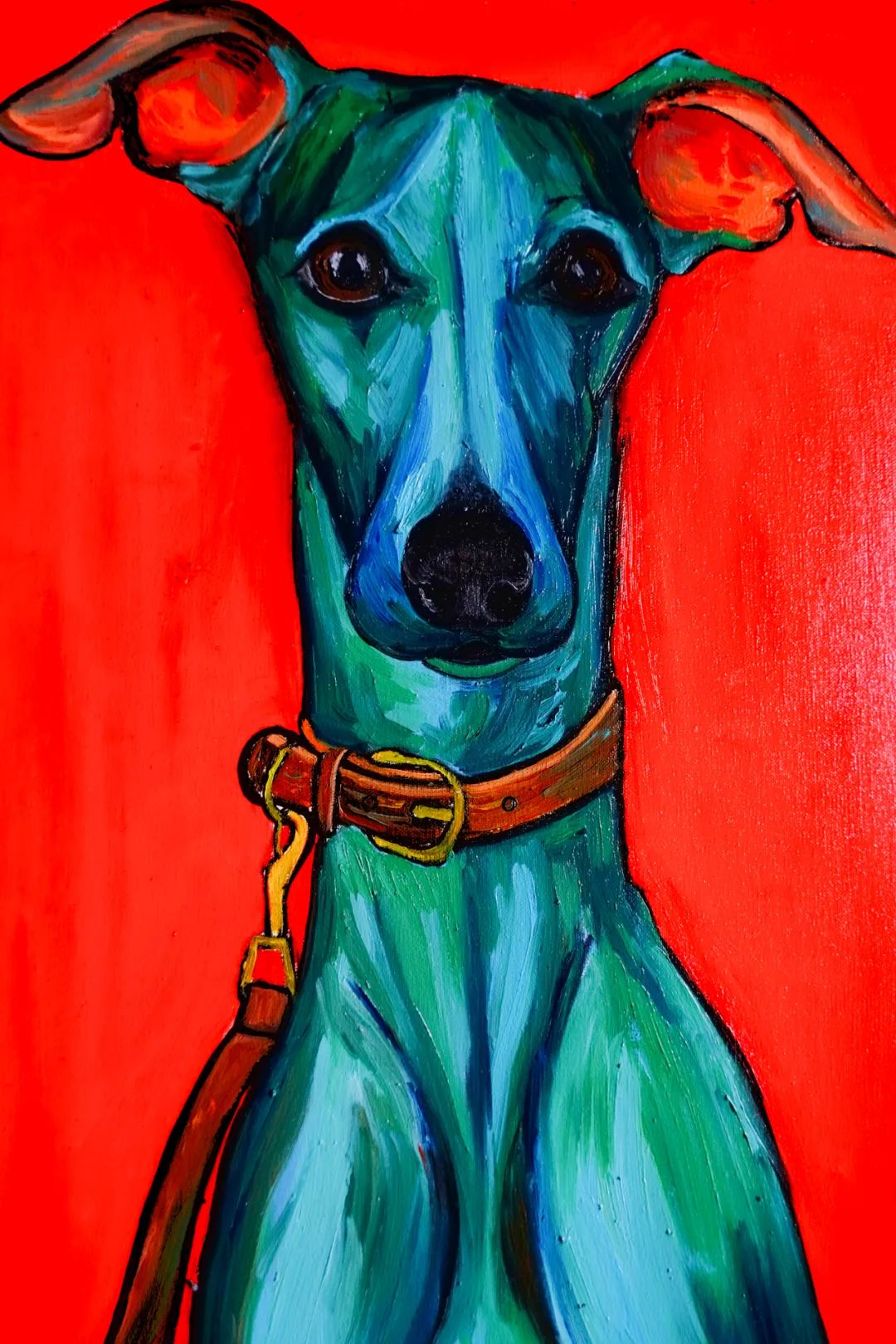 Green dog Oil on Canvas 60×40cm 2022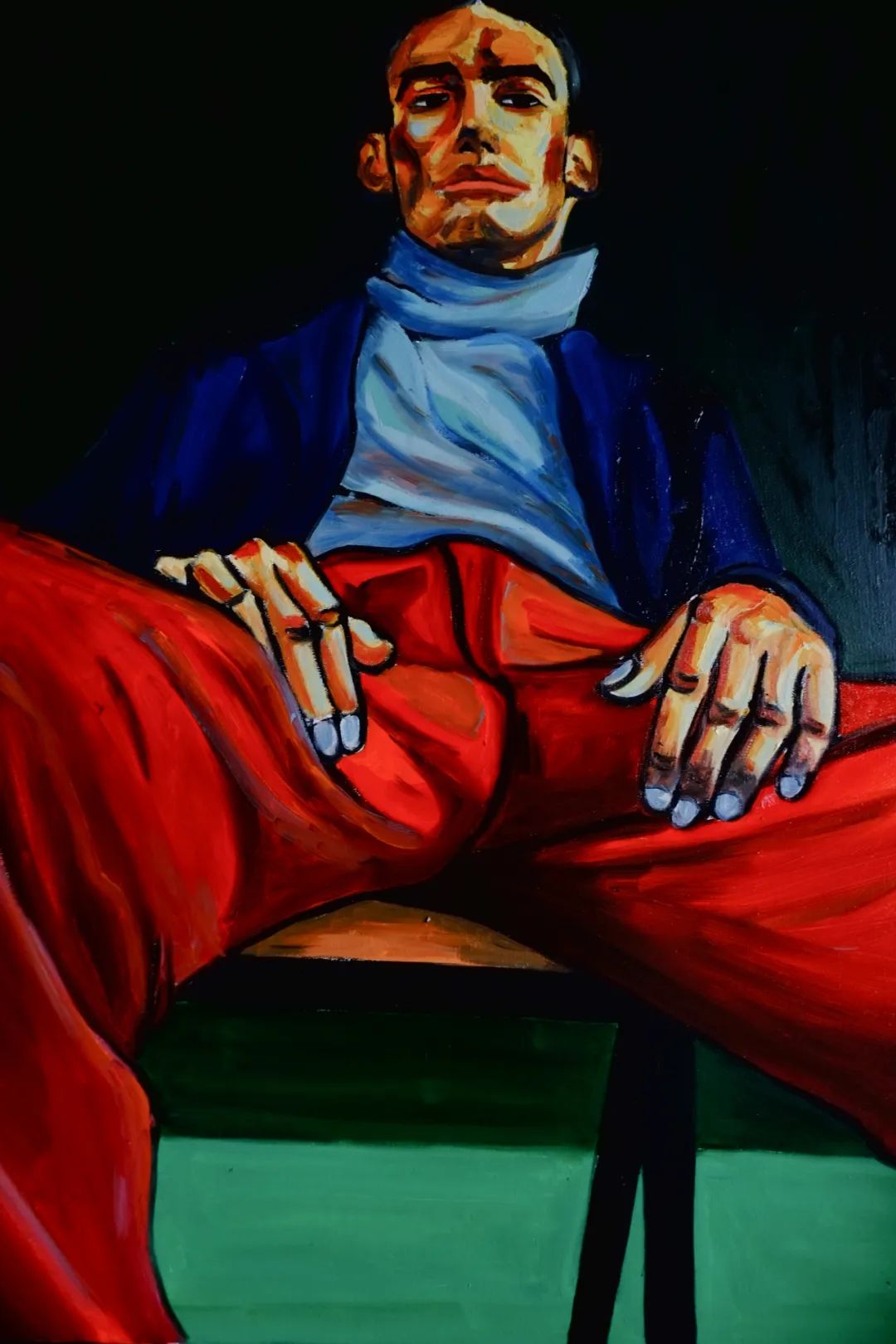 Sitting person Oil on Canvas 70×90cm 2022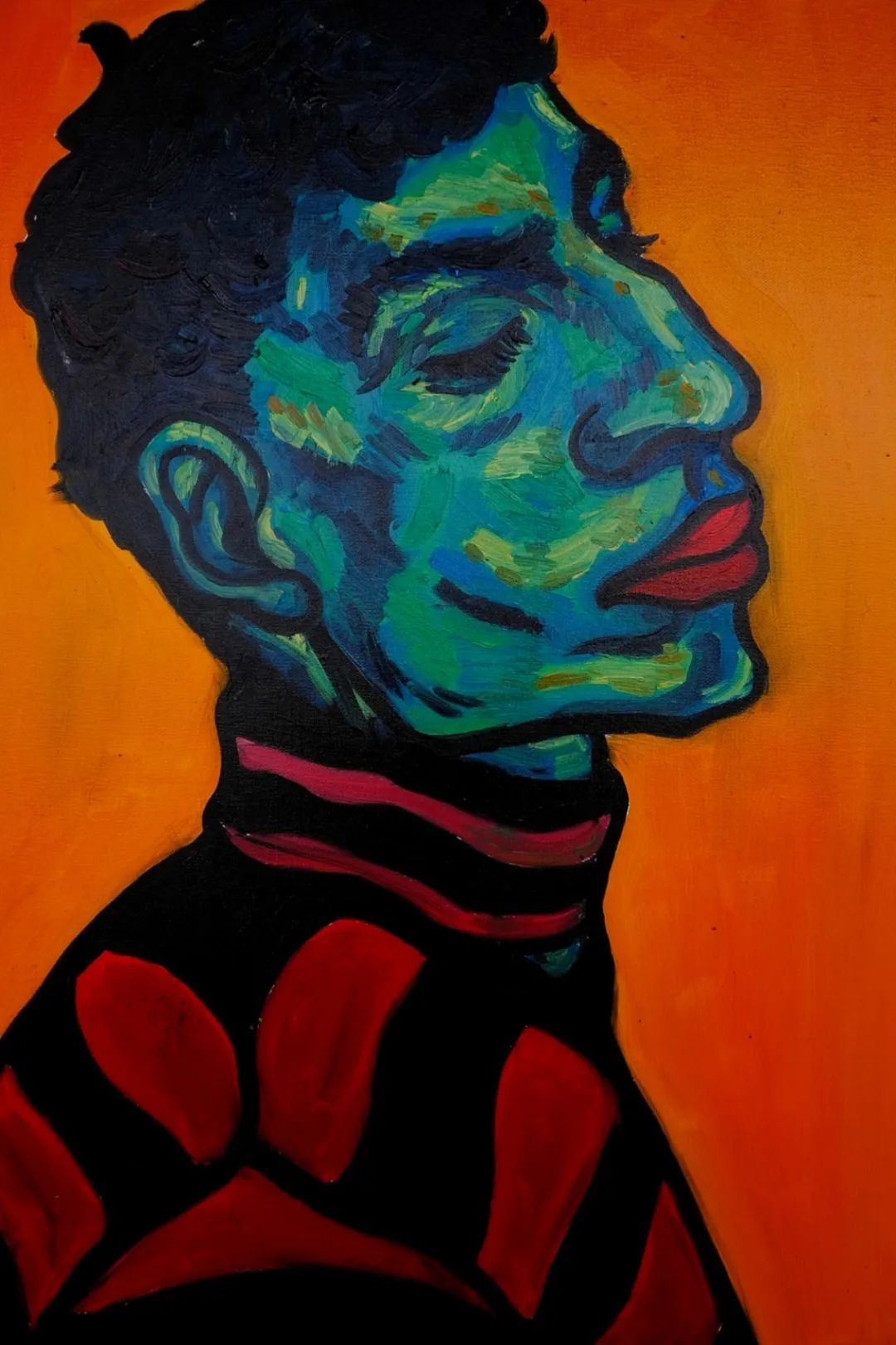 The Man with His Eyes Closed Oil on Canvas 70×90cm 2022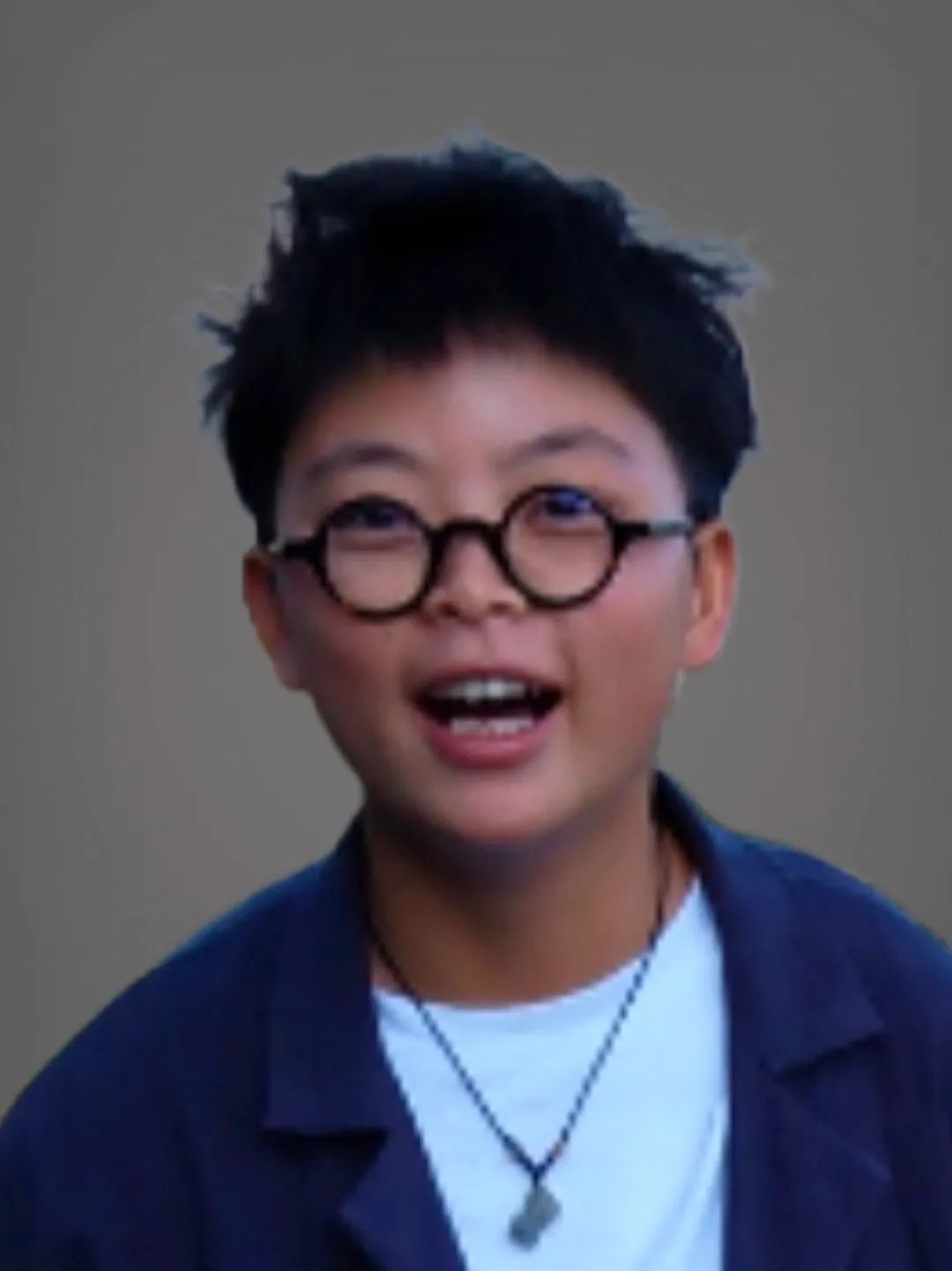 Li Mingqian,Chongqing native, a pure wild painting lover, a marginal group of art, wants to spend his life searching for "the literary and philosophical nature of color" and the most extreme "quietness" that color can embody. A kind of quietness under the absurdity of life, a kind of primitive static of everything in the world. It is not the visuality of color forms, but a perception, an undefined emotional perception.
What comes out of the stillness is emptiness, and the air seems to be something other than something.
Yongqiang Li
(China)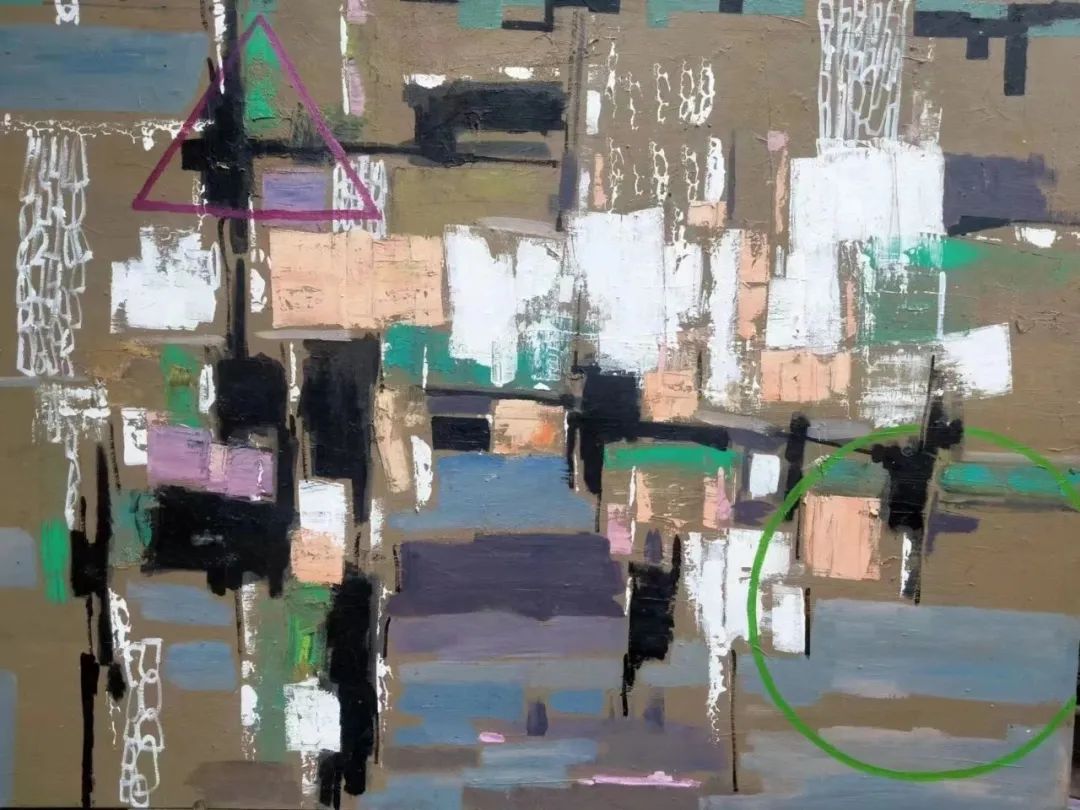 City series-Epidemic Oil on Canvas 160ⅹ120cm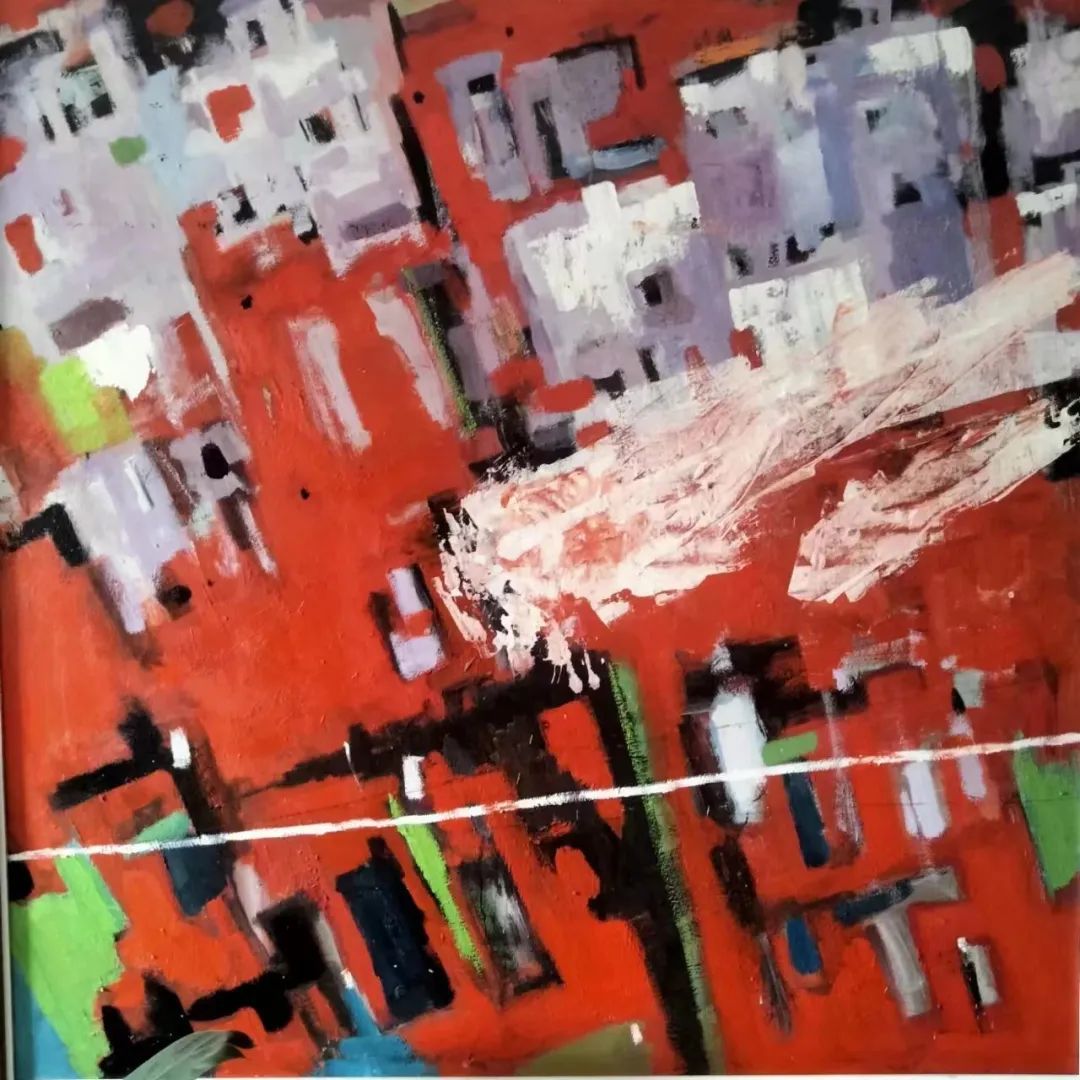 Epidemic Oil on Canvas 150ⅹ150cm
Wind and Moon Oil on Canvas 160 x 100cm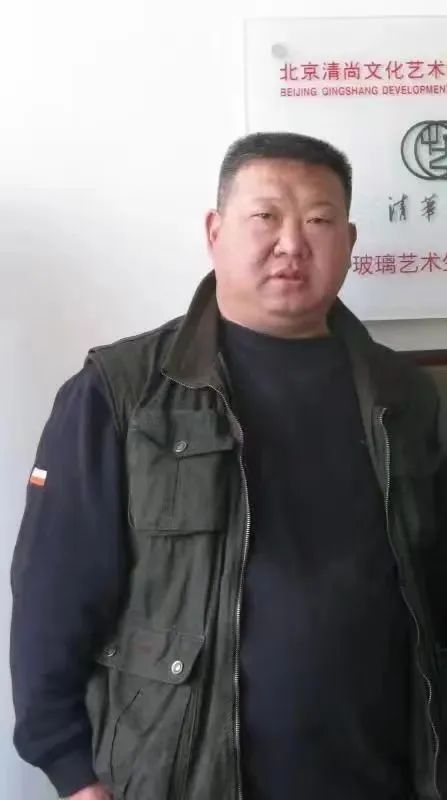 Yongqiang Li born in 1971, Jinzhong Shanxi,Membership of Shanxi Oil Painting Academy. Painter of China Art Platform Oil Painting Academy, membership of China Art Platform. He graduated from the Art Department of Jinzhong University in 1993.
Exhibition

1993
Provincial College Exhibition

2008
National Oil Painting Exhibition (Shanghai)
2017
"People Say Shanxi is a Good Scenery"Shanxi Oil Painting Exhibition

2021-2022
International Artists' Fine Art Exhibition of Oil Painting and Propylene (online).

2022
"Making Voices – The Voice of Artists' Freedom" Global Art Online Exhibition culture Sower Global Cultural Media Beijing, China
Jing Li
(China)
The music drama of "MEET" originated from a case of depression in Beijing Anding Hospital in 2022. It was first performed at the 27th Courtyard of Interior Ministry Street, and later performed at Prismatic Theater Festival and Wuzhen Langyuan Art Artist Residency. The play abstracts the intimate relationship into POE's poem "The Raven", triggering a meditation on life. It divides the self and ID through musical drama, LIVE HOUSE, improvisation and other means. The stage presents many "upside down dreams". In the form of dystopia, the participants can see the reflection and microcosm of their own life and the surrounding life, and ask questions in this special era, are we pursuing a good life under the discipline of snobbery, or is it what we really want?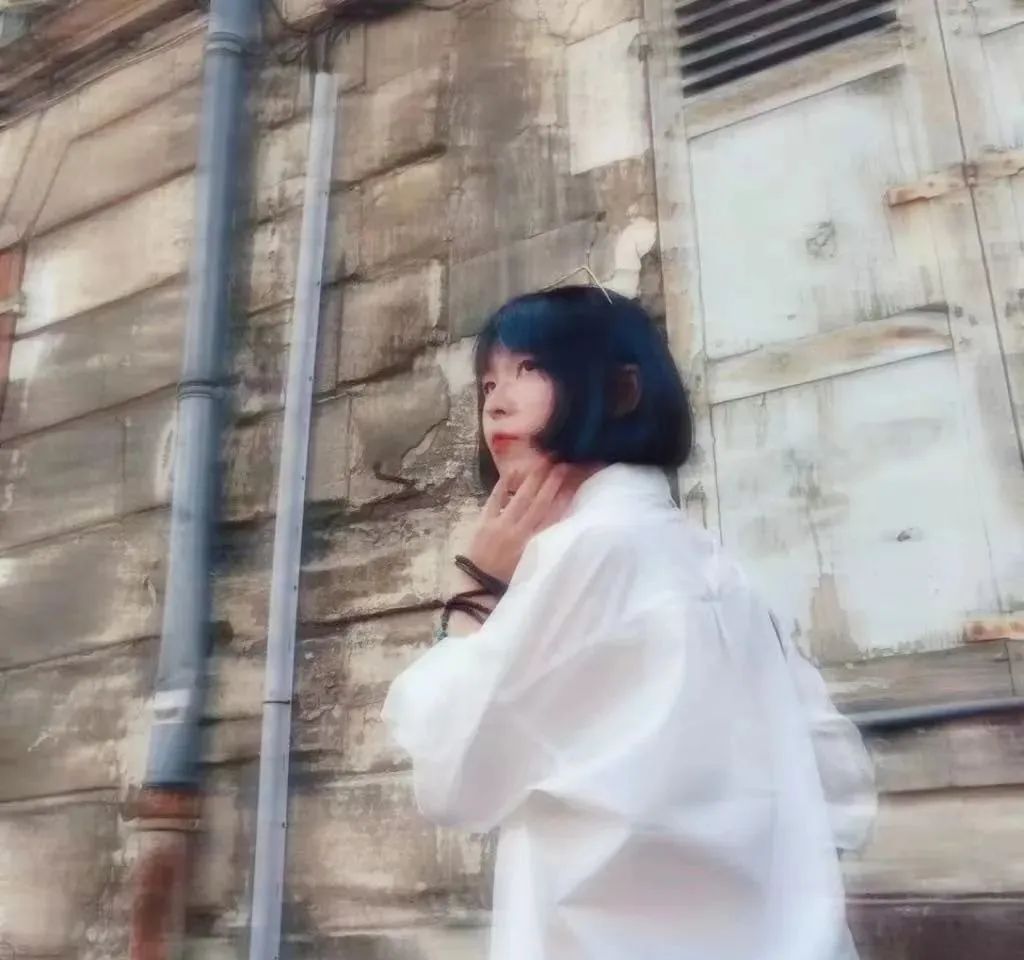 ARCSU, LEE
Drama Director, producer, freelance artist
Founder of Wormhole Theater Company
Director of Luxury Group and International Art (Switzerland) Committee

During her travels in France, Italy and other countries, he was deeply fascinated by the art of synesthesia between drama and body, and created a cross-art brand Wormhole Theater company. It explores life through diversified art forms and contemporary traditional drama, space, time, music and body, and takes immersive experiments as the core to make sound and shadow impromptu, flow and collision. Express "what you see is me" attitude towards life.
Wu Liu
(China)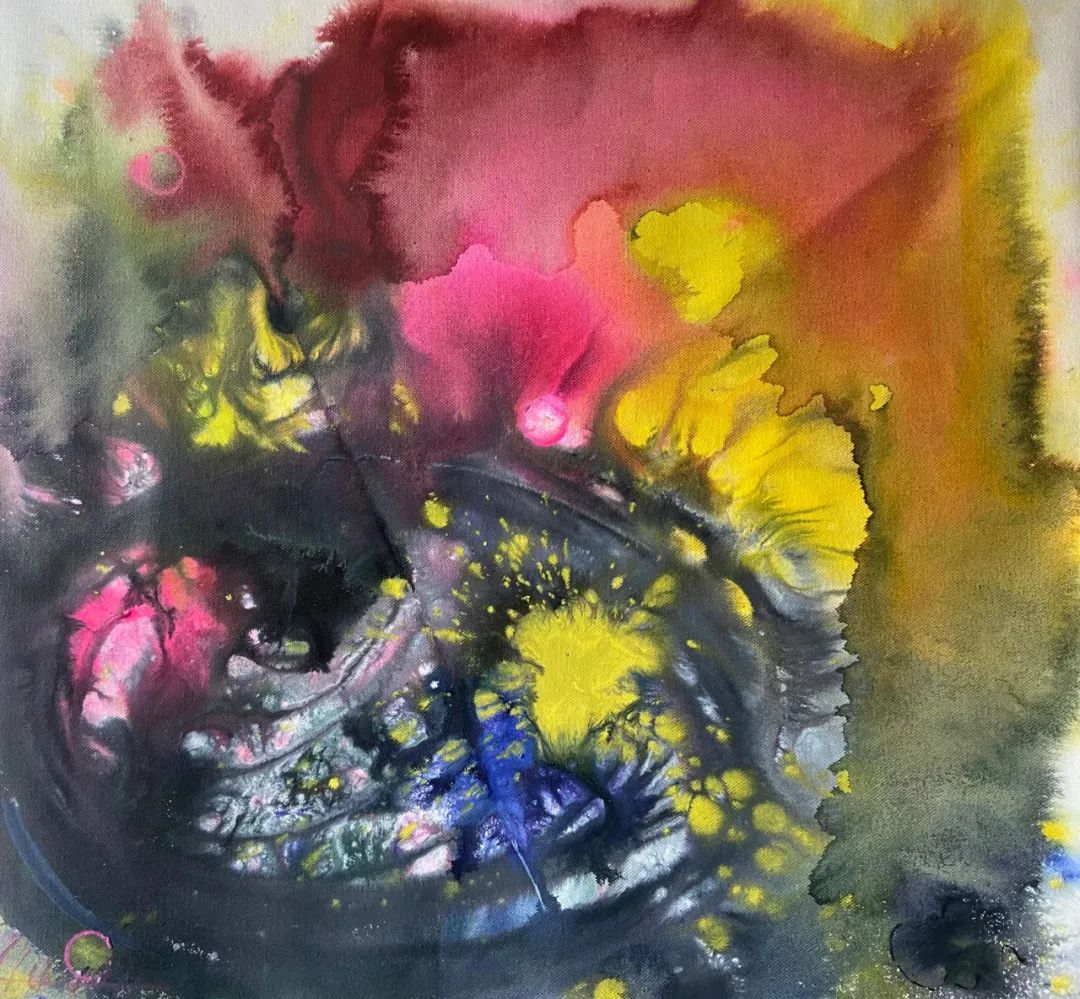 Nest Acrylic on Canvas 77x62cm 2021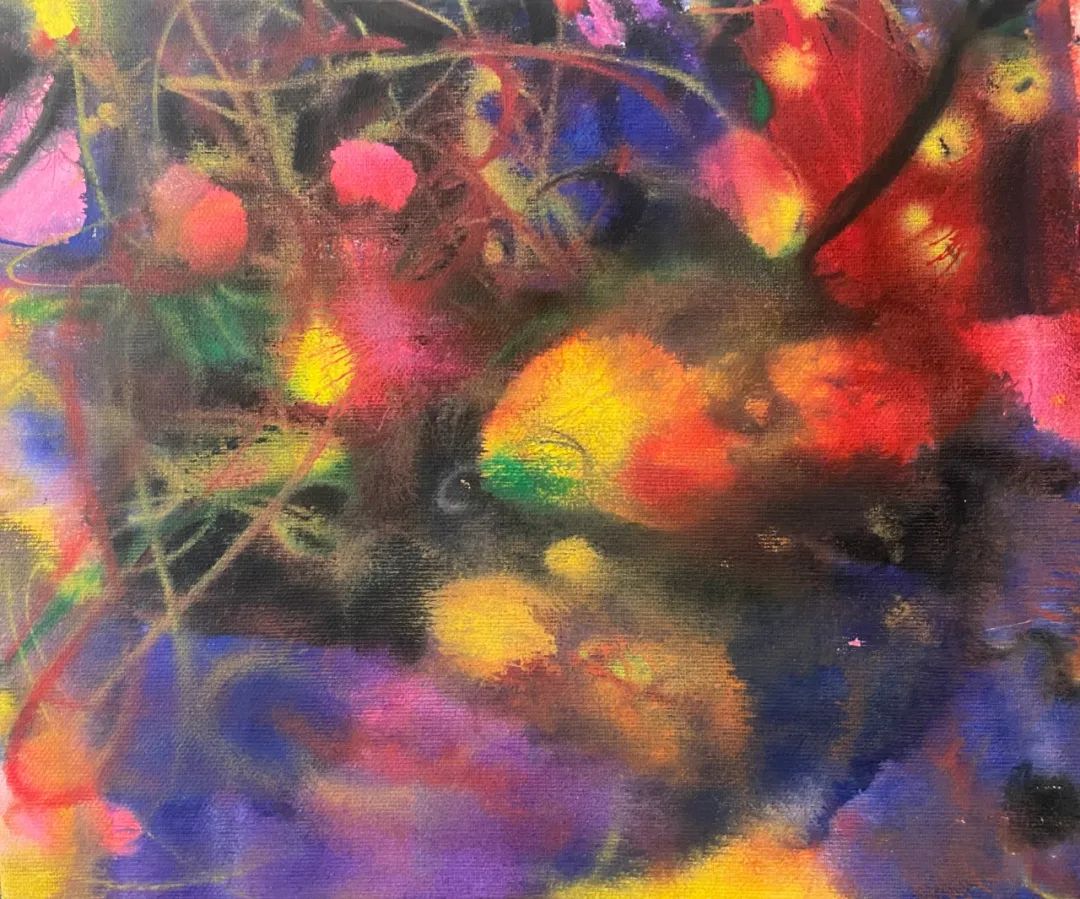 Solitary Shadow Acrylic on Canvas 49x59cm 2022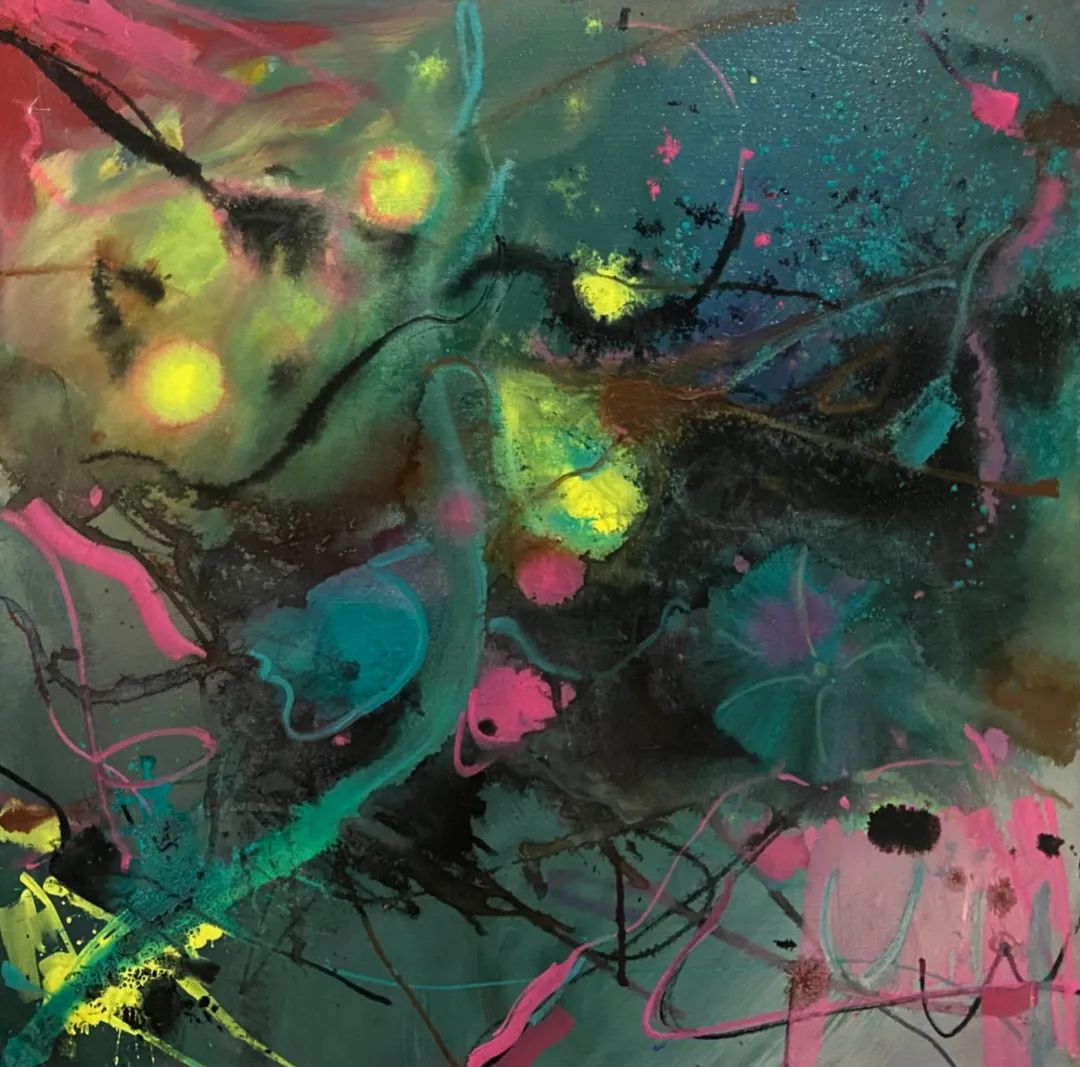 Floating Acrylic on Canvas 60x60cm 2022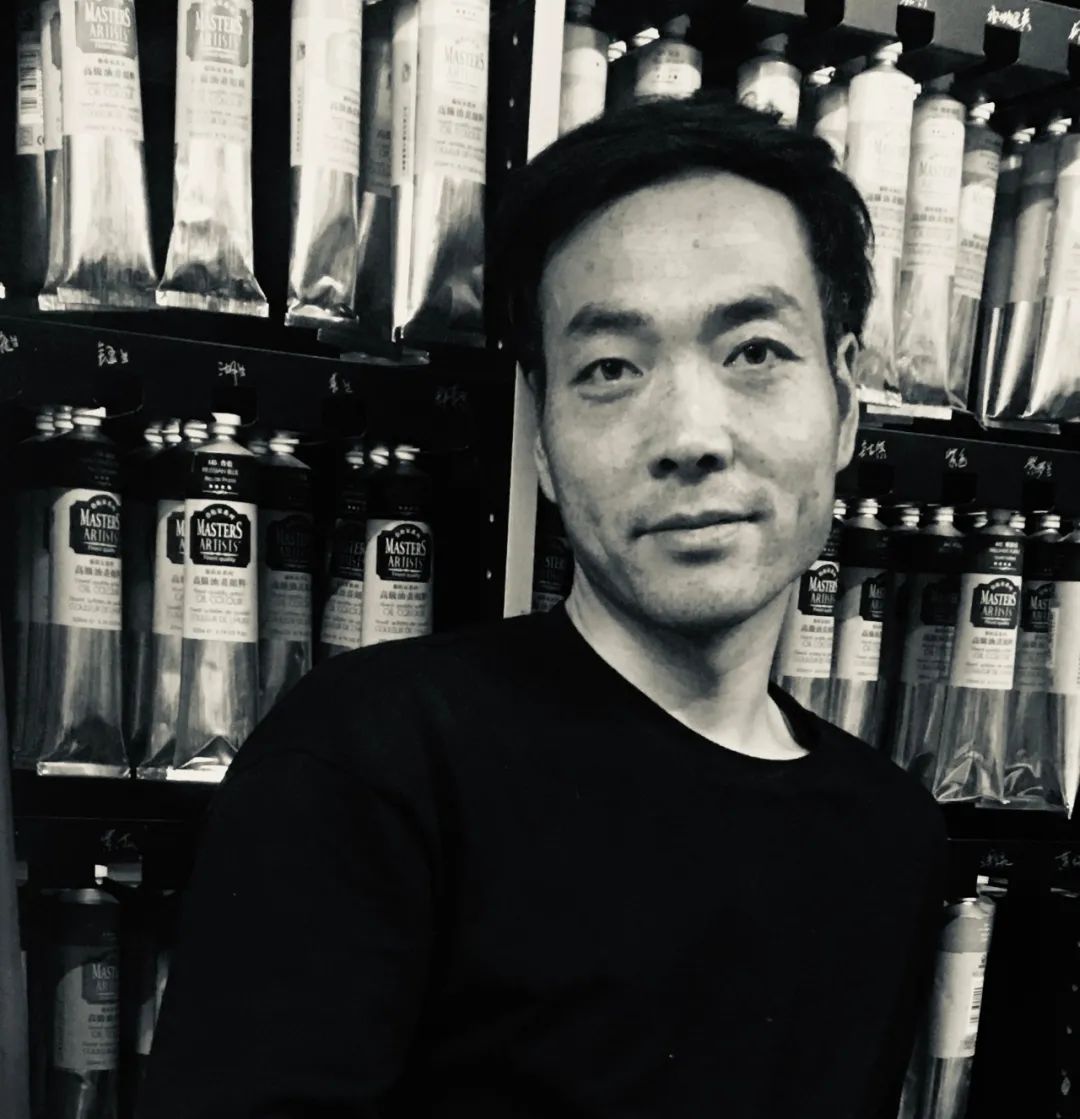 Wu Liu, Han nationality, was born in Xi'an, Shaanxi Province. Member of Chinese Art Platform China,Member of Sino French Art Exchange Association, member of Kunming Yuhua Art Salon. He is a freelance artist who manages painting materials and now lives in Kunming, Yunnan Province.

Exhibition

2022
"Making Voices – The Voice of Artists' Freedom" Global Art Online Exhibition culture Sower Global Culture Media Beijing, China
The Third "La Vita dell'Arte" International Theme Exhibition A60 Contemporary Art Space (Milan) Italy
2022 International Artists Oil Painting Acrylic Fine Art Exhibition – Chinese Art Platform China
"Age – back to the future" Contemporary Art Exhibition JUN Art 100 Artists Sichuan China
ASEAN International Contemporary Art Exhibition@dialoge with South Eastern, Art Ghost, what is art China
American International Painting Competition "blue tone", Sheng Xinyu art, USA
Secret action / spark can "seduce" Shi Jingjing 310 biological art, China

2021
Easacim regulating light (online) exhibition, IANGRRY official, China
Contemporary Exhibition of Dayijia, Shanghai, China
Boundless dream Building Exhibition: China contemporary art exhibition Contemporary Art Alliance China
2021″Fantasy Kingdom" – cultural China gift exhibition, Meisong Gallery, Beijing, China
Distinctive Abstract painting-2021 the third new abstract painting exhibition, China
Art recommendation – the third contemporary art exchange exhibition, official account art recommendation China"The Time is coming"
"The time is coming" annual online invitation exhibition of Chinese artists, ASFEA official account, Paris, France
"Open warehouse" visual art exchange exhibition No. 66 Art Warehouse Art Warehouse Shenyang China
Unbearable lightness in life International Art Exhibition Milan International Art Center Italy

"Touch" online invitation exhibition of Chinese and French artists, ASFEA official account, Paris, France
The fourth China (International) abstract art exhibition, abstraction and existence (online), Beijing, China"
"Wind direction" national oil painting exhibition, Yiyuan cultural media, Ningxia, China
The second Youth Art Carnival, Beijing times art space, Beijing, China.
The first "magic painting" Contemporary Art Exhibition (online), magic tree art space, Hebei, China."
"Easaci super personality" (online), easacim experiment, China.
The third international abstract art exhibition, abstraction and music, guolianzhang, Beijing, China.
Yijian leader's fourth "original horizon" uninterrupted theme art exhibition series / Yan · Sheng, canned art, China."
"Visual surfer" (online), easacim experiment, China
The second colorful flowers exhibition, guolianzhang, Beijing, China
The second annual exhibition of "great artists Summer Exhibition 20″, Yuefu Art Museum, Guangxi, China."
"Dream of abstraction", the second international abstract art exhibition, guolianzhang, Beijing, China. "
Exhibition of Chinese and foreign excellent works of art, Kunshan Art Palace, Suzhou, China "
"The intoxication of abstraction" the first international abstract art network exhibition, reading and listening to books in silence, official account, Beijing, China."
"Our freshness" (online), easacim experiment, China "Visual Arts"
"Visual arts" China (special) exhibition, art painting official account, Beijing, China
"Wujing" Kunming Yuhua Art Salon · New York invitation exhibition, Andy Gallery, New York, United States
China Abstract Art (Jinan) exhibition, city of time art, Jinan, China
"Self world" abstract art · New York invitational exhibition, Andy Gallery, New York, USA
"Wu Wen Xi Dong" Sino French contemporary art invitational exhibition, Hongcheng Pavilion, Shanghai, China"
"Face to face No.3" Kunming Yuhua Art Salon member works exhibition, Yuhua art space, Kunming, China
Long Dan Nan
(China)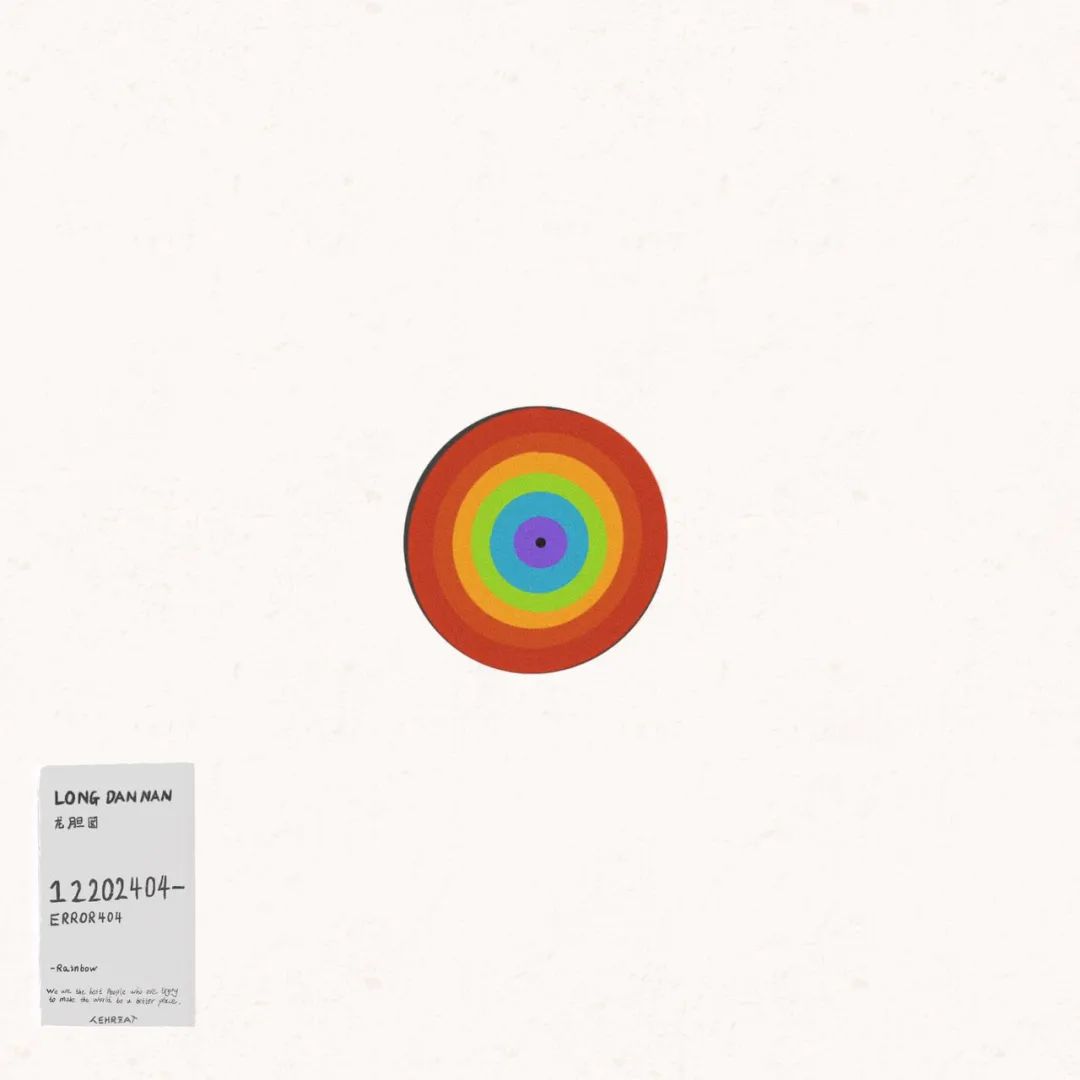 https://vimeo.com/manage/videos/784507279
12202-404 
[12202-404], also known as [ERROR 404], was created against the background of a representative suppression phenomenon in the process of social disclosure in the process of promoting the opening up of the epidemic at the end of the year. Later, there were "white paper protests" in colleges and universities and organized protests in the crowd. It is precisely because of these promotions that the epidemic management has now been released. However, the path of domestic literary and artistic creators still seems to be bound. [12202-404] was launched on the platform after six lyrics modifications. This is also a common environment and problem faced by most Chinese art creators. The title of the song also seems to be a special mark of the creation of literary and artistic works in this special era.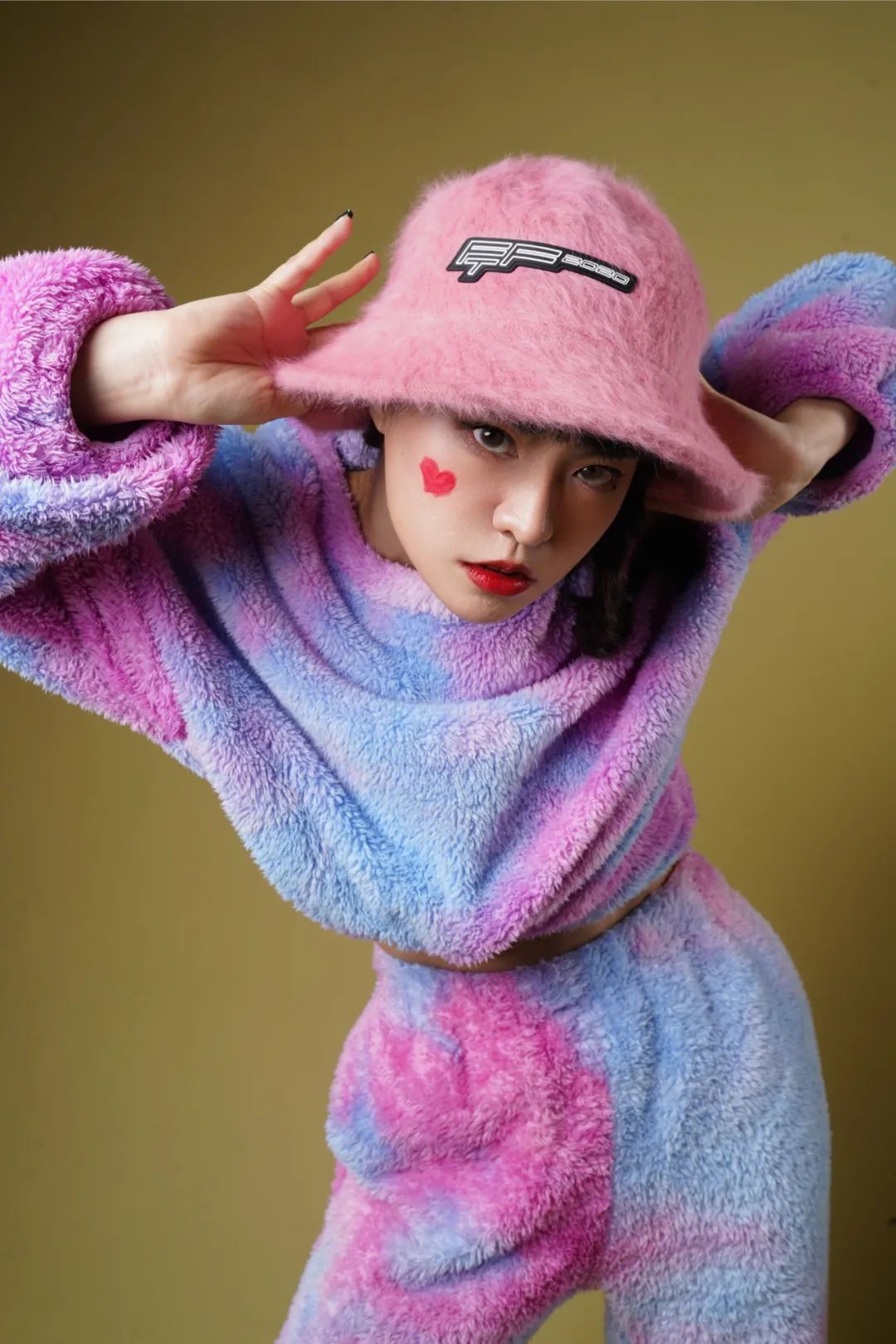 Long Dannan(AD), her real name is Wang Qingyi, an independent musician, songwriter, and social activist. She is now working as a people's teacher in domestic universities. Her representative works include Avoiding Attachment Personality, Du Dai, and the Additional Conditions of Love.
Exhibition
2020
Trans-Identity: Body Soul and Time ,No Space Art
2022
"Iris is Innocent" Female Psychological Portrait Public Welfare Creation Exhibition, Guangcheng Team
Awards
2019
"HOT OR NOT"best single for 4 weeks,the park music radio
2020
Singers Please Be in Place Top 12 in China, Shenzhen Hezong Culture Group
Haining Wang
(China)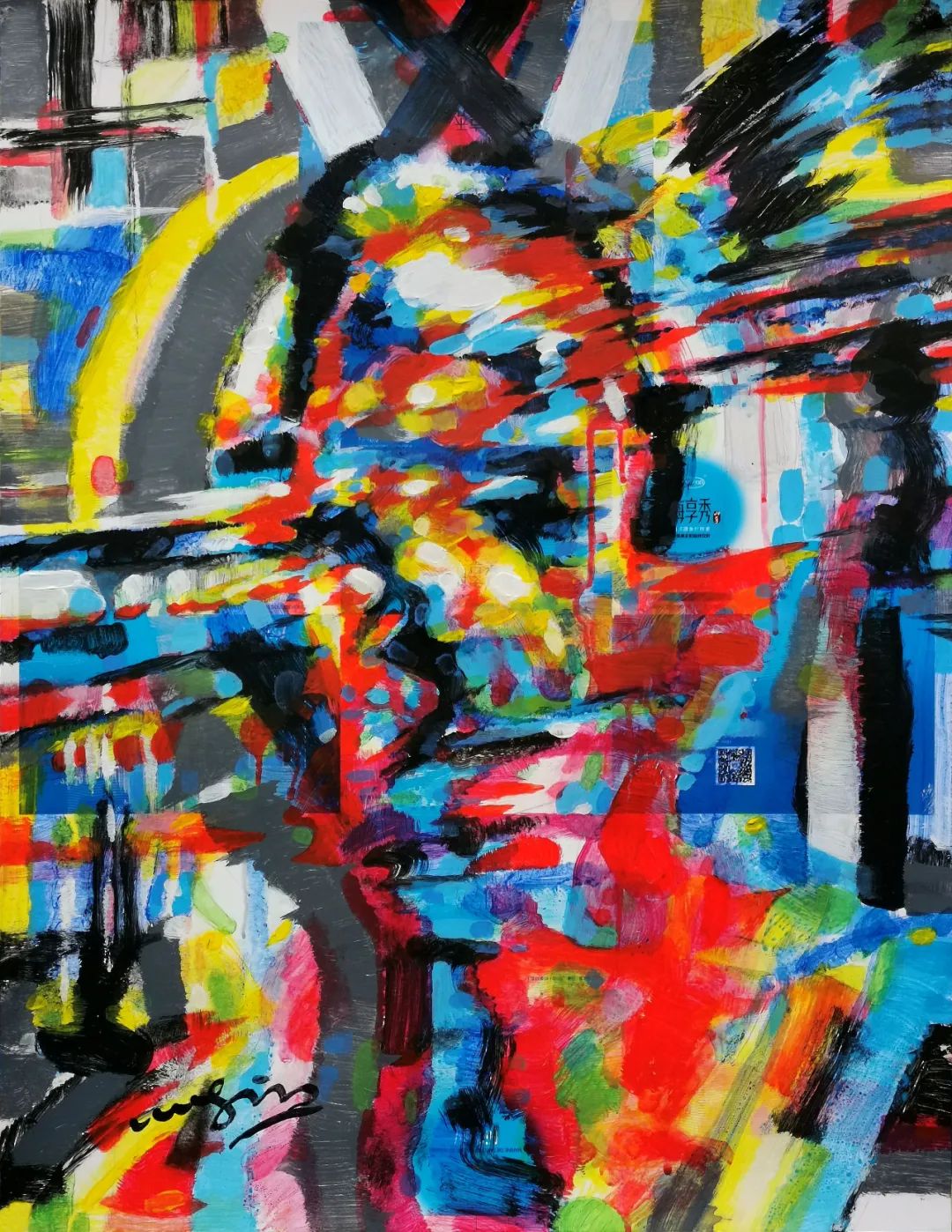 "Face – Cold Dew" acrylic painting 54x70cm 2021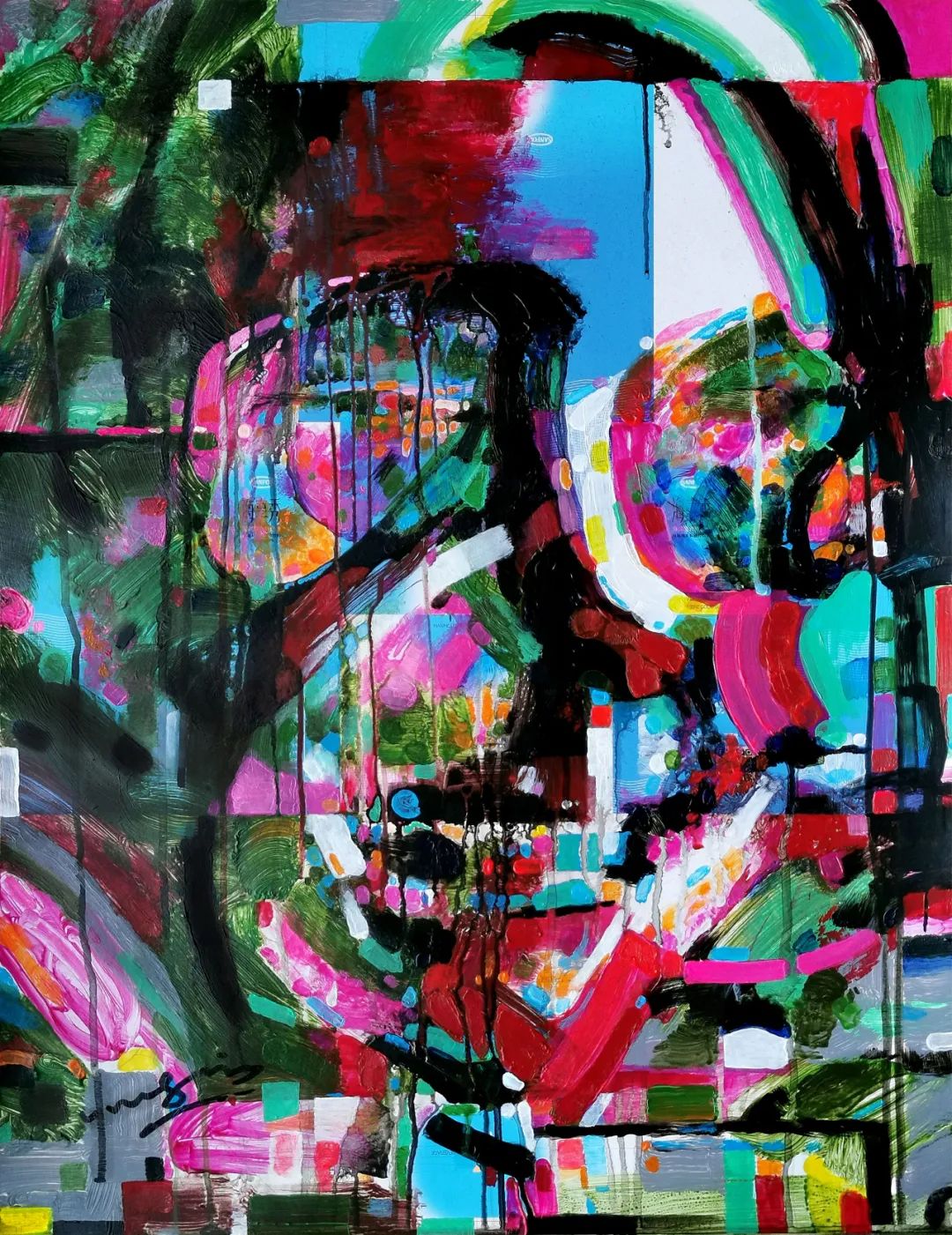 "Face – Waking Insects" acrylic painting 54x70cm 2022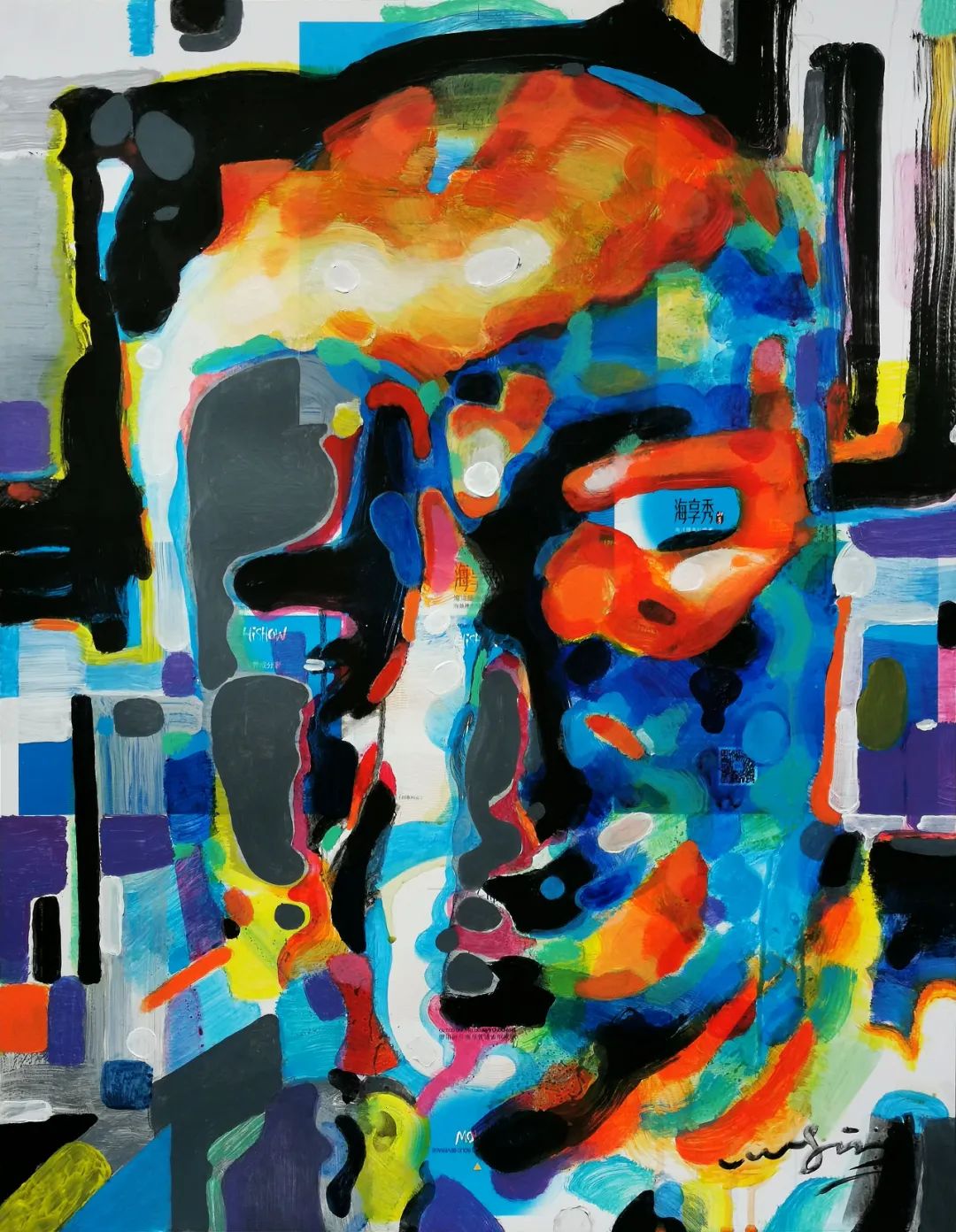 Face Autumn Equinox acrylic painting 54x70cm 2021
The "face" series questions the appearance of human beings. It is a dispelled face. It seeks to analyze the physical and divine nature of human beings. The simple and complex face is not the same as the normal path of human beings. The pictorialization of the image is separated from the face, and efforts are made to form an icon that is fuzzy in image recognition. It is no longer a face, and the object and spirit are integrated. The pattern is thus enlarged. The extension of the face is inherently recognized, and labeled – 24 solar terms, time, space, and the human world are trinity, so that interpretation can be based on, adapt to the procedures of time and changes in laws, and establish a new fuzzy image.
Face is a real and uncertain existence, which makes people's cognition look for coordinates again.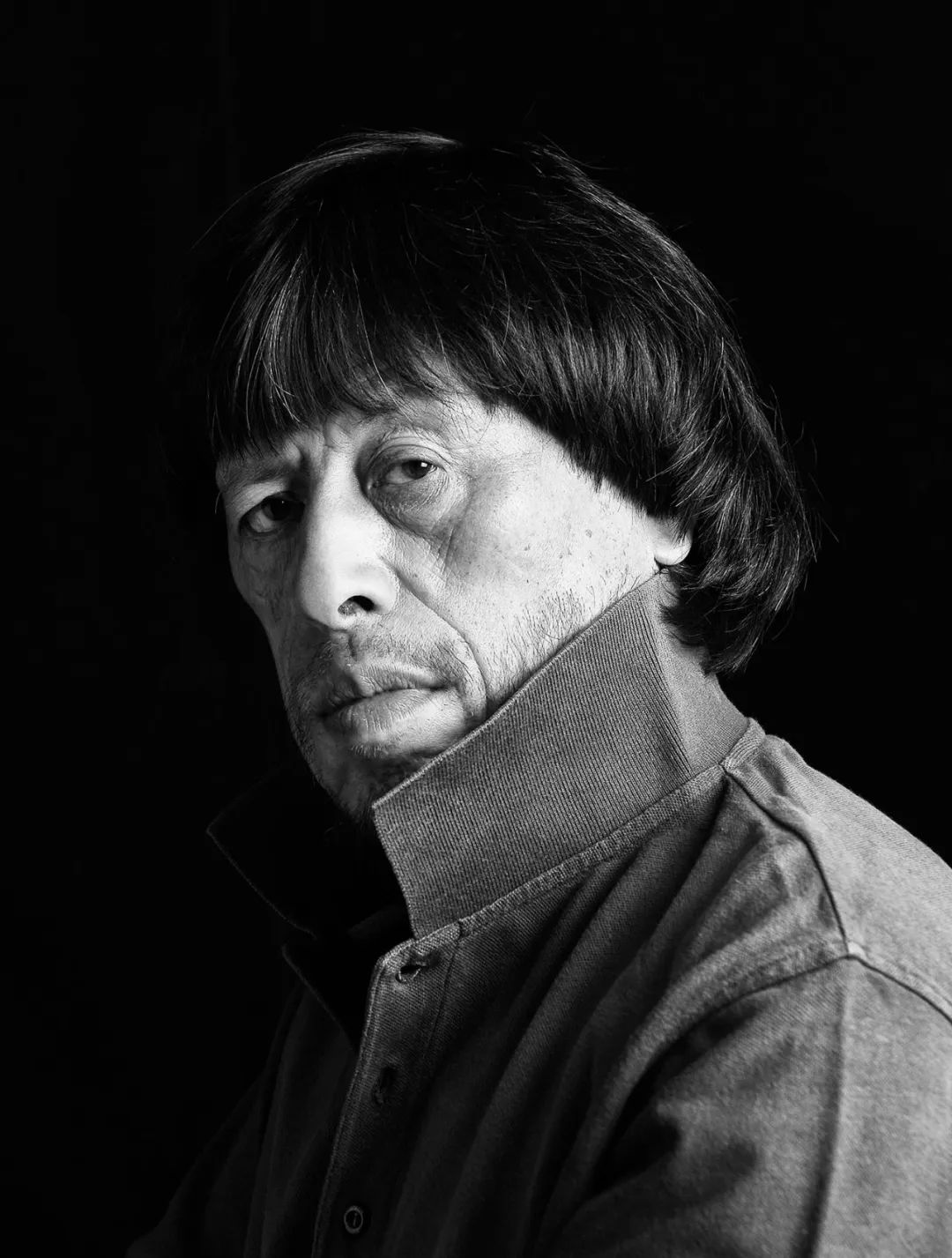 Haining Wang, male, is a freelance artist. He has been engaged in art and design for a long time. He is a member of the national oil painting acrylic painting association of the United States, the Canadian Oil Painting Association, the Japan International Academy of art, the Missouri Watercolor Painting Association of the United States, the Executive director of the international abstract artists Union, the China Abstract Artists Union, the Shandong Artists Association and the senior painter of the Shandong Painting Academy. The art study has been going on for more than 40 years, and has successively participated in more than 100 Chinese and foreign art exhibitions and won more than 30 awards. He has published a collection of works by wanghaining, a famous Chinese contemporary artist, and has compiled more than ten volumes of contemporary art paintings.
Rosa Viola
(China)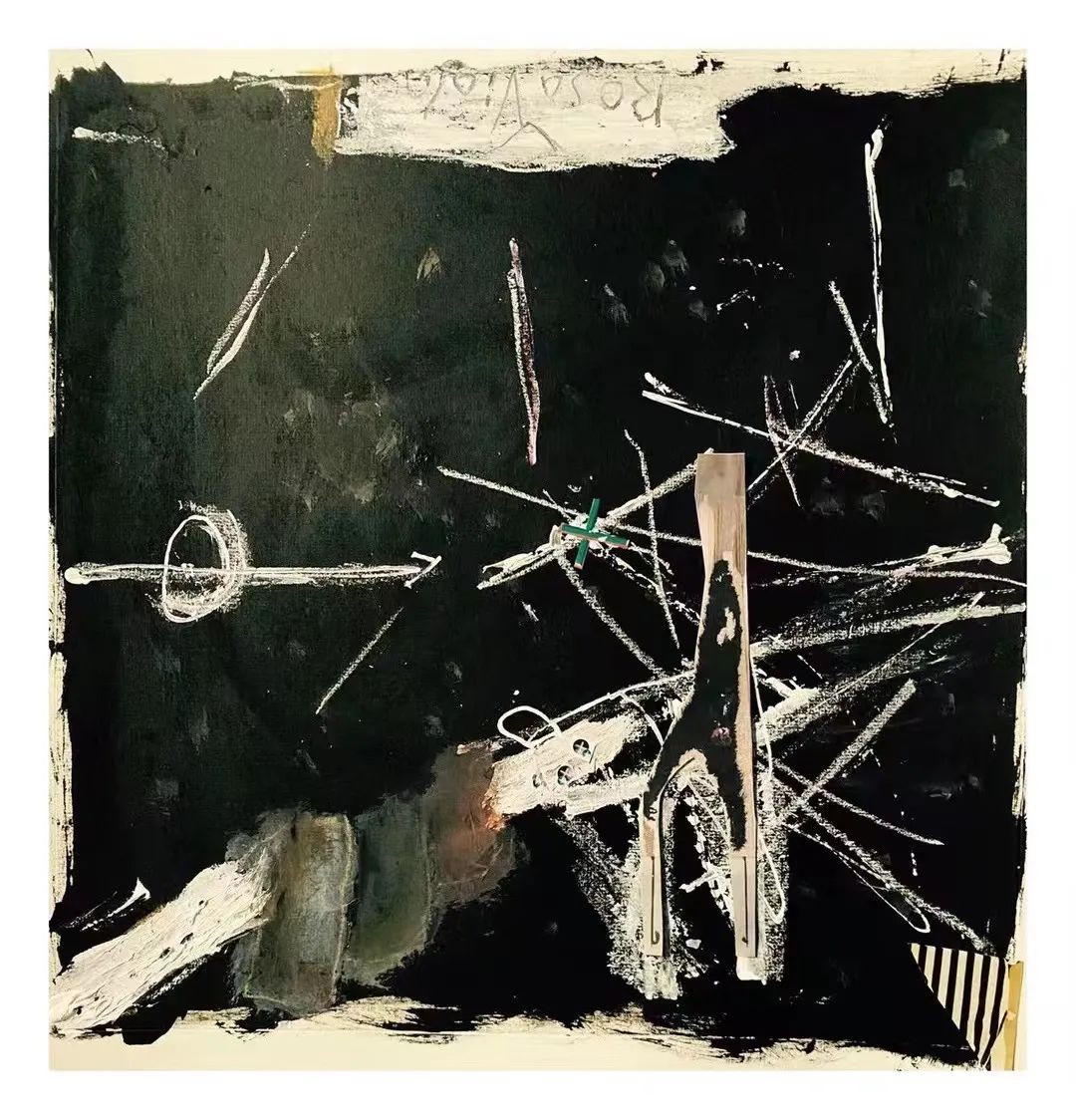 Rosa Viola No.02 Paper Synthesize 38x38cm 2022.11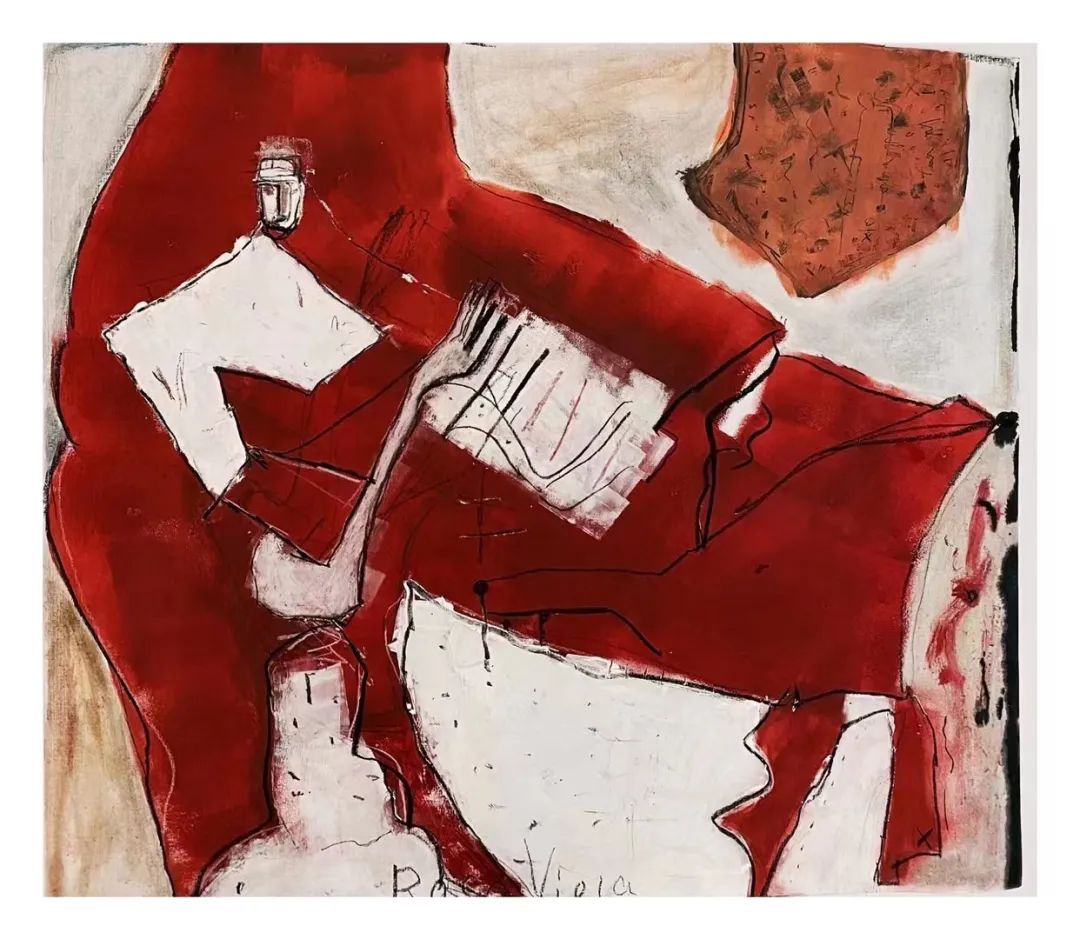 Rosa Viola No.05 Acrylic on Paper 74x74cm2022.11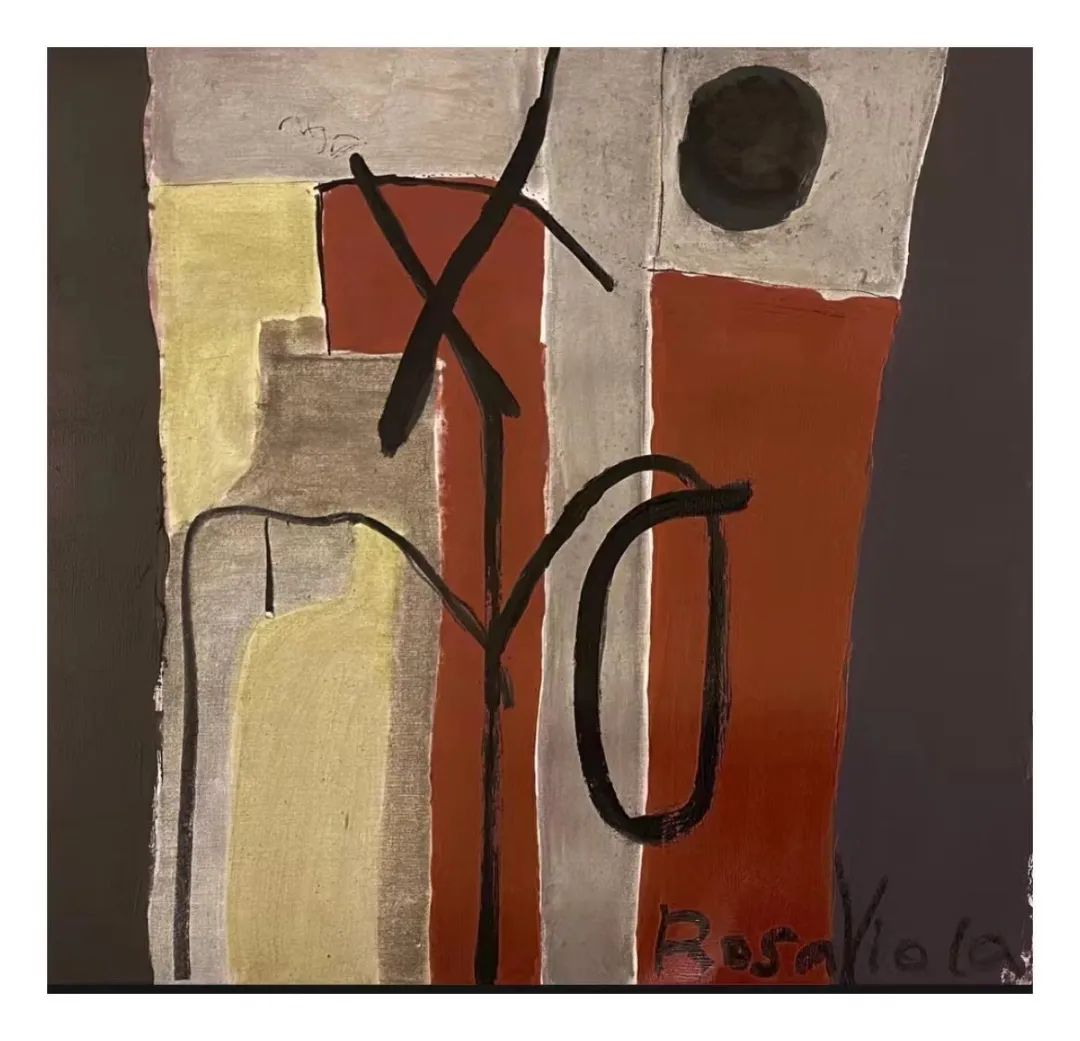 Rosa Viola No.06 Acrylic on Paper 74x74cm2022.11
Rosa Viola, Freelence artist. The co-founder of the "Infinite Alliance of Visual Arts", a membership of the Northern Abstract Arts Management Committee, and a resident artist of the CIAAA Abstract Arts Consortium, She graduated from the Advanced Research Class of Expression and Abstraction of the Central Academy of Fine Arts. Her works have been exhibited in many art institutions at home and abroad. Poetry was collected by Modern and Contemporary Poetry.
Xuewen Yao
(China)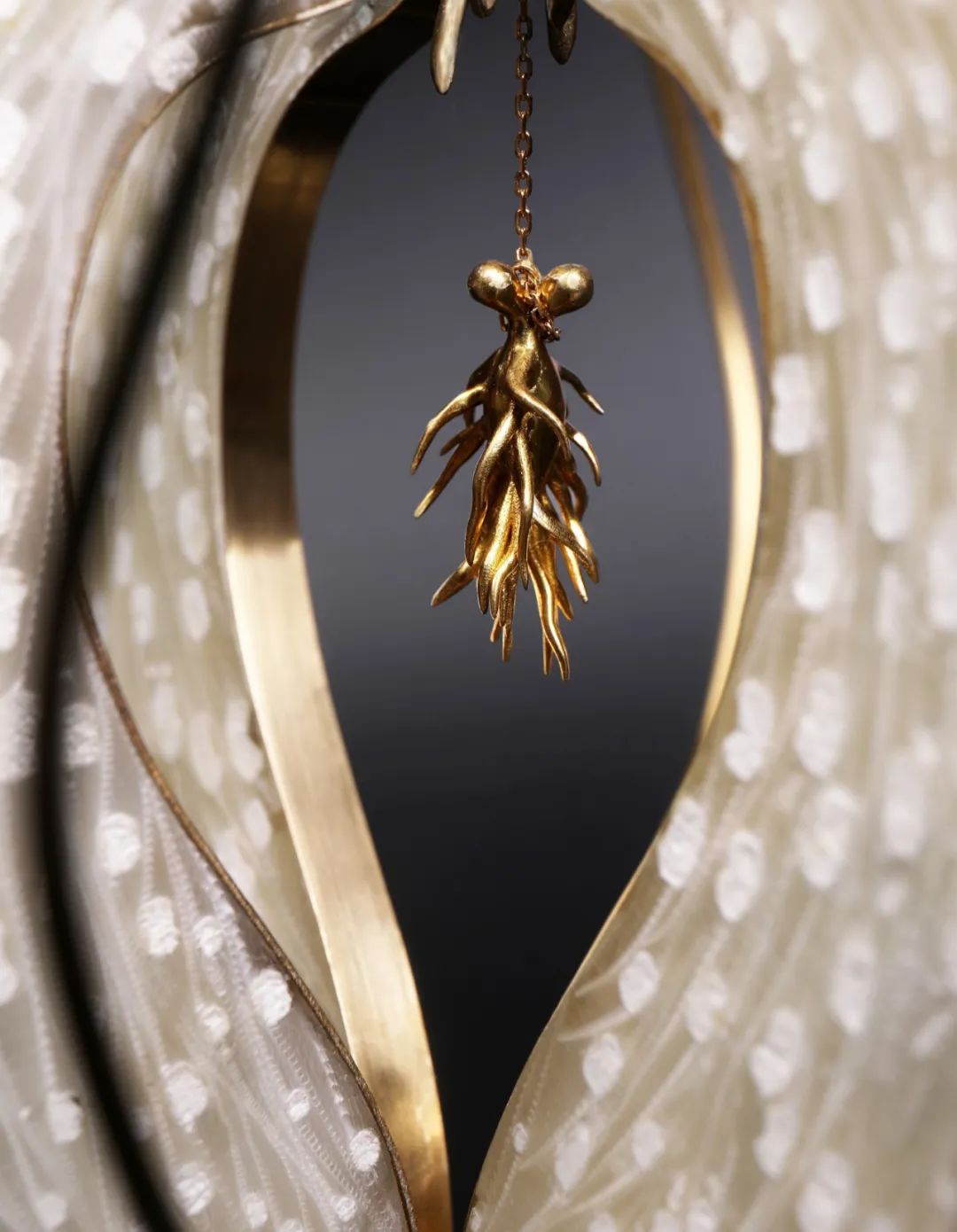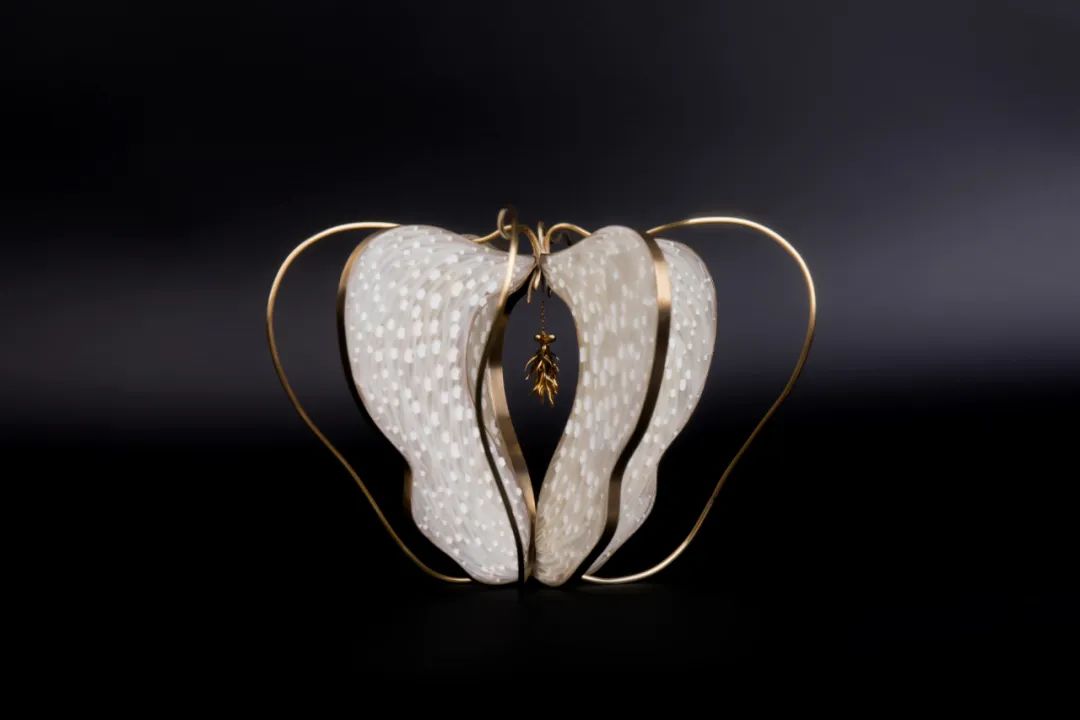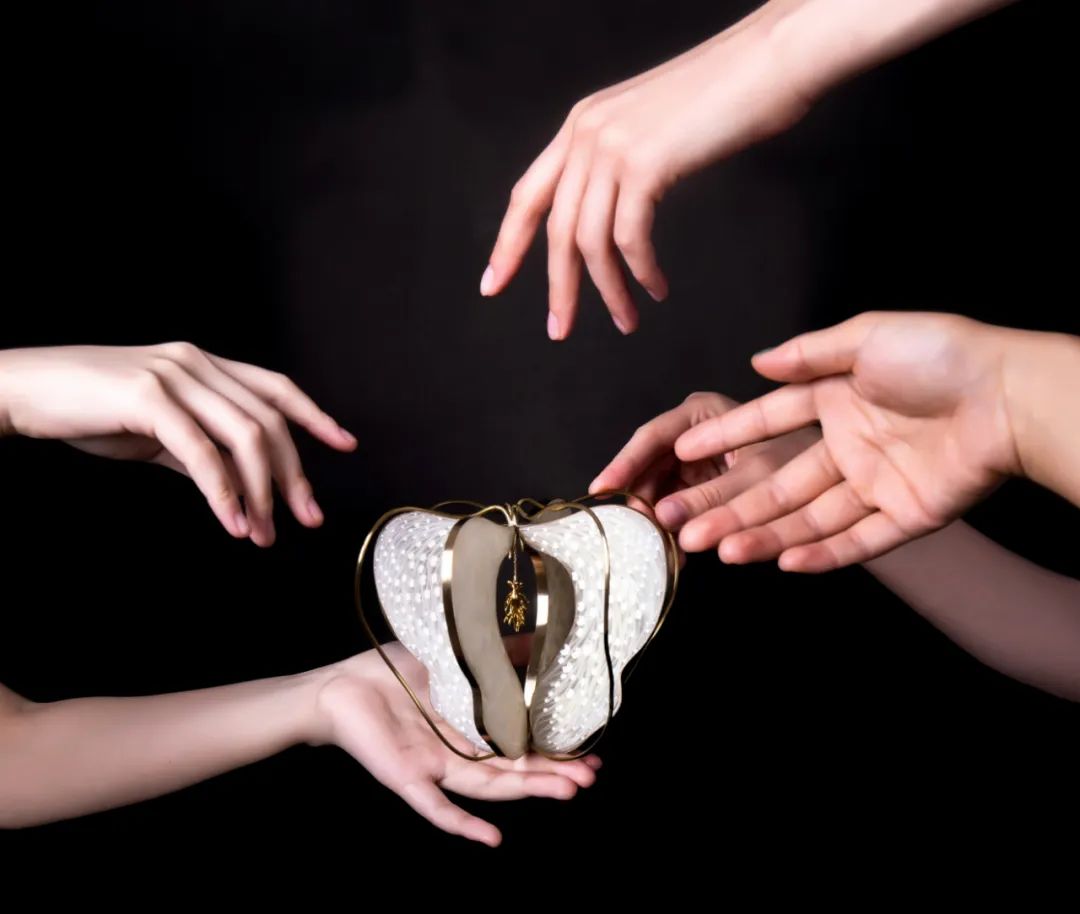 Apple of Eden 14×11.5x14cm necklace Feather, resin, metal 2021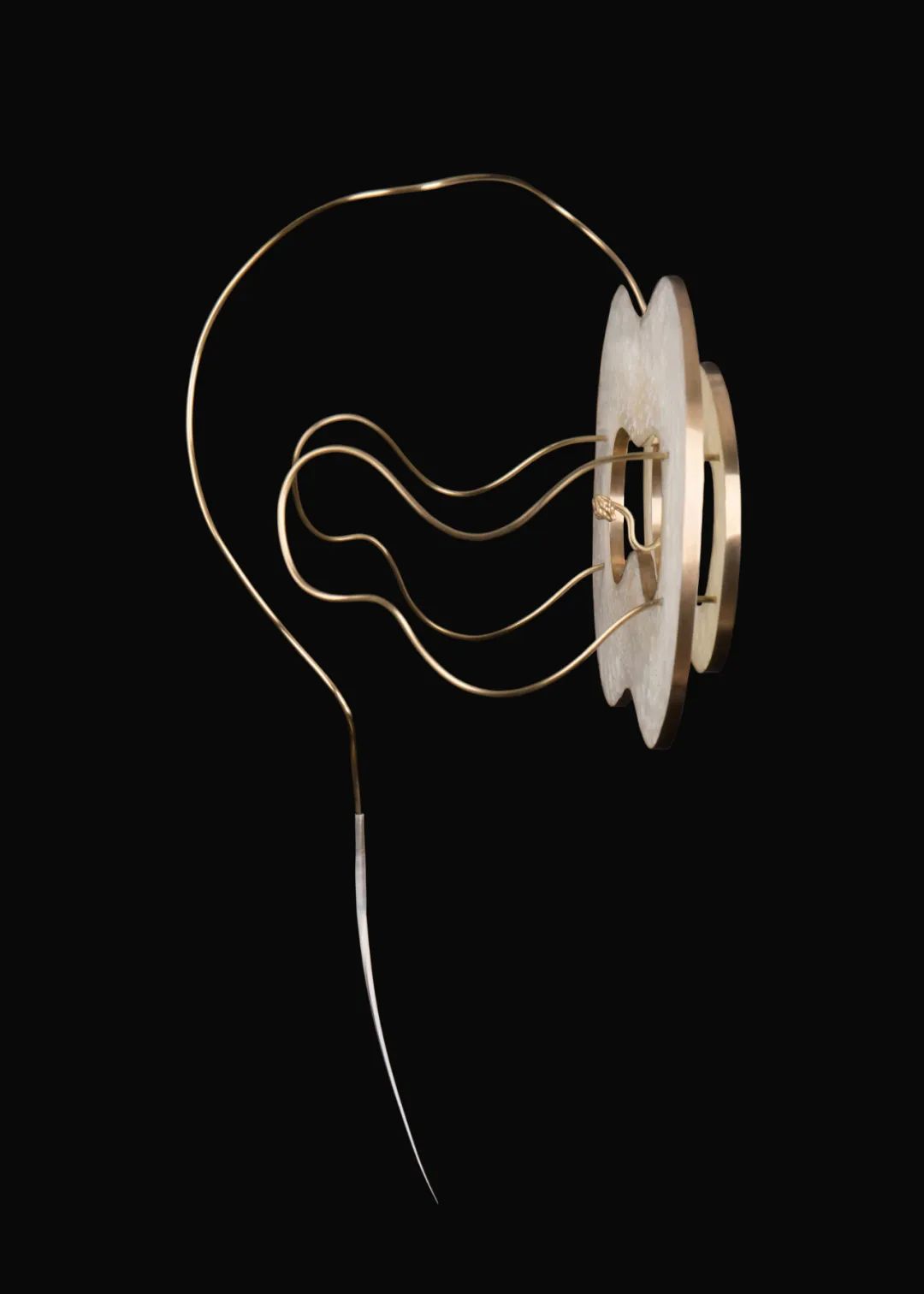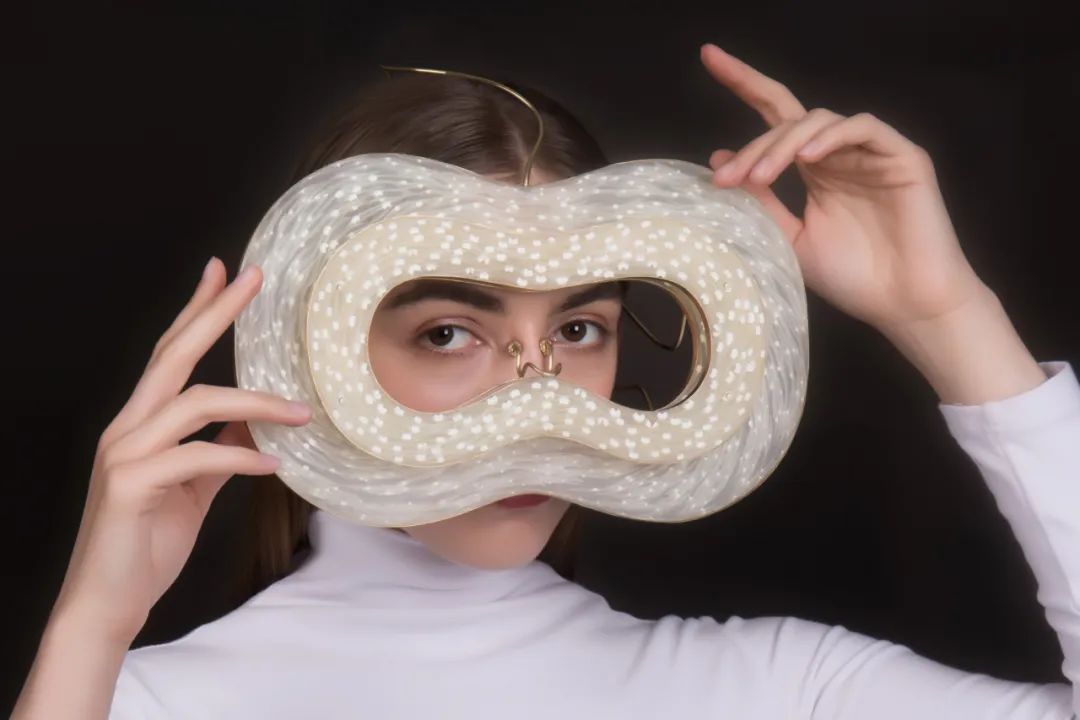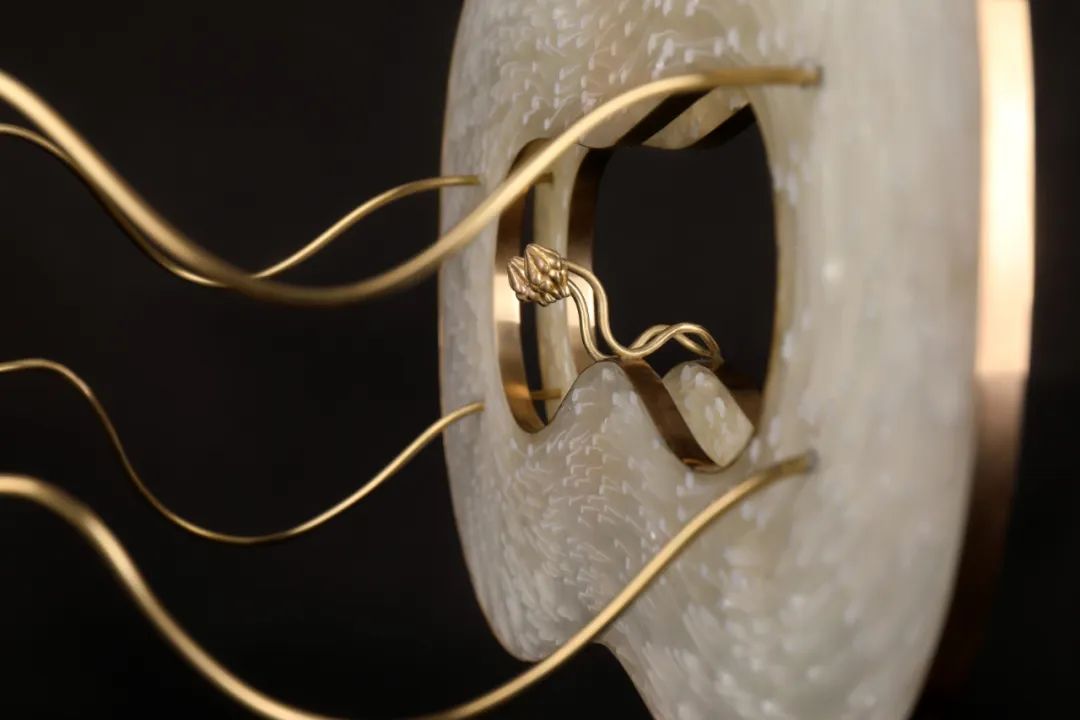 Mask of the Goddess of Justice Mask ornaments Copper, feathers, resin 38x28x20cm 2021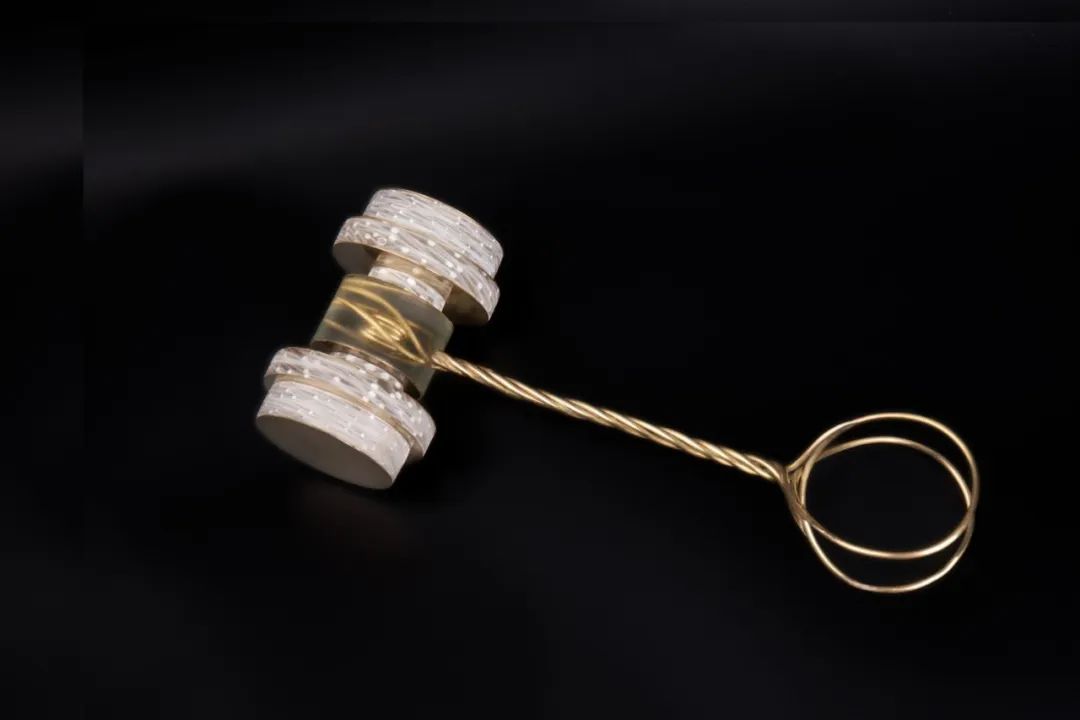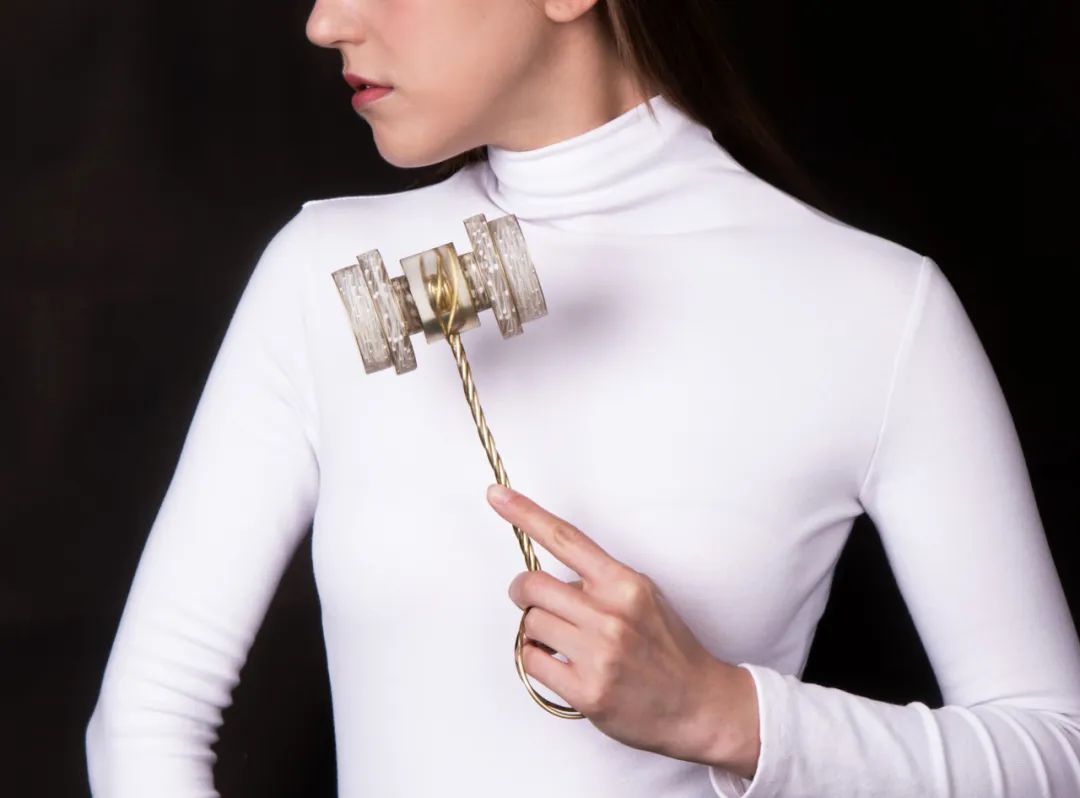 "The essential justice of the hammer" device Copper, feather, resin 10×6.5x27cm 2021
Being moved by the poetic justice, I use design to study the existence of justice and its value in reality. This is the origin of my collection. If functional law cannot evoke our sense of identity, then what does justice rely on to demonstrate its power? The conflict between justice and freedom is especially obvious in modern society. Any judicial case involving rights and morality can lead to public inappropriate comments or physical conflicts. Unrational groups will move towards democratic tyranny.
I always sit on a park bench, watching birds eating breadcrumb, or looking up to watch them flying in the sky. Their wings look gorgeous in the sunshine. It is feathers that give them the ability to fly freely. And I sometimes meet another scene, mud and blood covered wings, leaving broken and crushed feathers. It's a sign of death, the other extreme of freedom. What will happen to democracy out of control? The white feather texture looks beautiful and holy, but it is also easily broken and polluted. I cut the white feathers and seal them into the resin. Translucent resin is hazy, creating a peaceful world in which feathers representing freedom are imprisoned, and any anxiety, anger, corruption are forbidden. The metal variant seeds hidden in jewellery objects contain both the richness and darkness of life. All the seeds look quiet, waiting for a moment or someone to come and arouse them from deep sleep.
If the Goddess of Justice is not blindfolded, will her decision remain fair? If Adam and Eve didn't eat the apple of Eden, would you want it? If the government gave us the right to hold the gavel, will we use it properly? And where is the boundary between justice and freedom?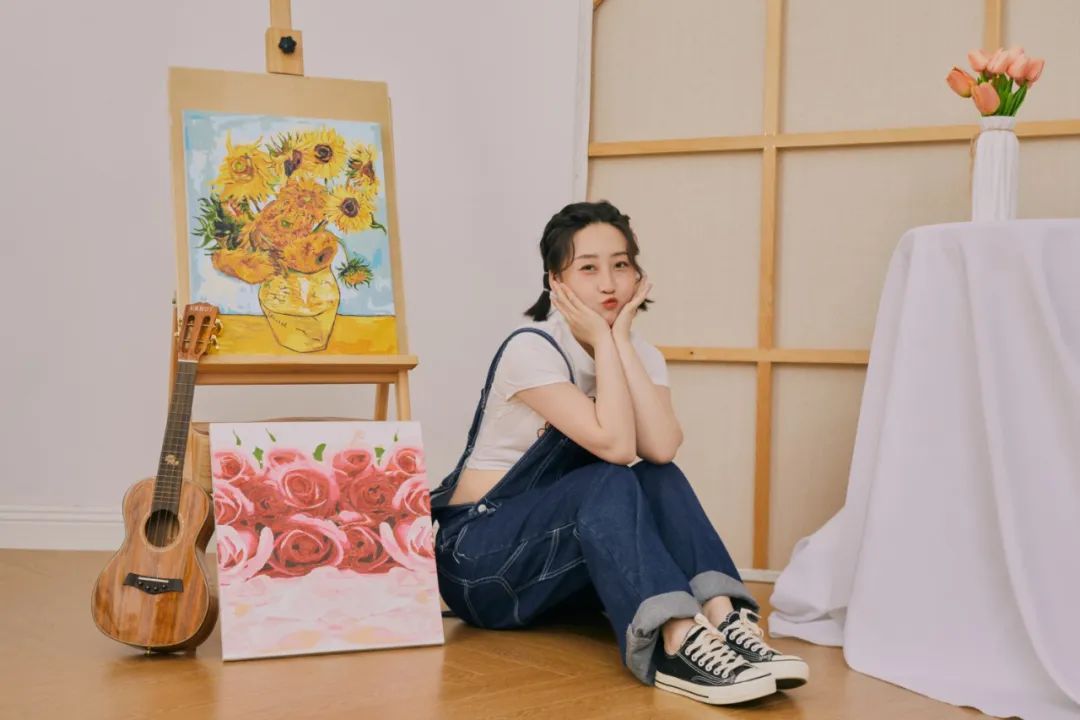 Xuewen Yao, an artist living in Shanghai, always using jewelry and installation as the medium to express. After graduating from Sheffield Hallam University in the United Kingdom, Yao has always insisted on exploring the integration of different disciplines in the contemporary art context. Her works are mostly based on the thinking of economic, medical, judicial fields. She is good at using non-traditional materials poetically to reflect the contradictions and dislocations existing in the real society. Yao firmly believes that no matter what discipline, its highest value is to leave traces on people, such as kindness, integrity, dignity and the desire for peace.
Tian Yang
(China)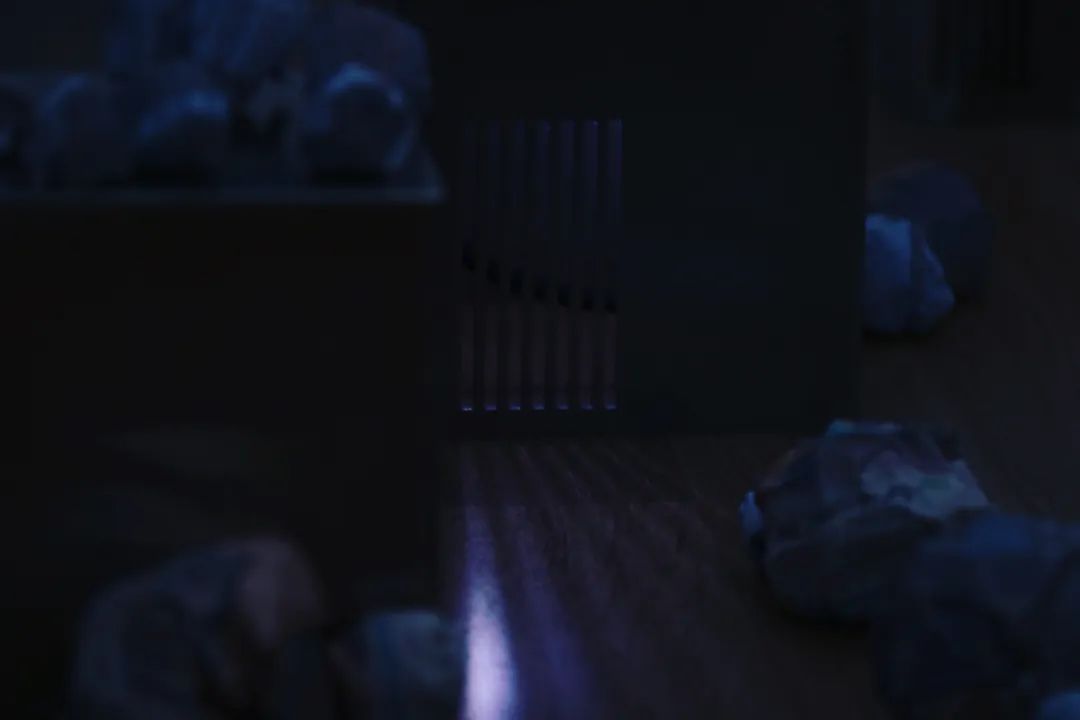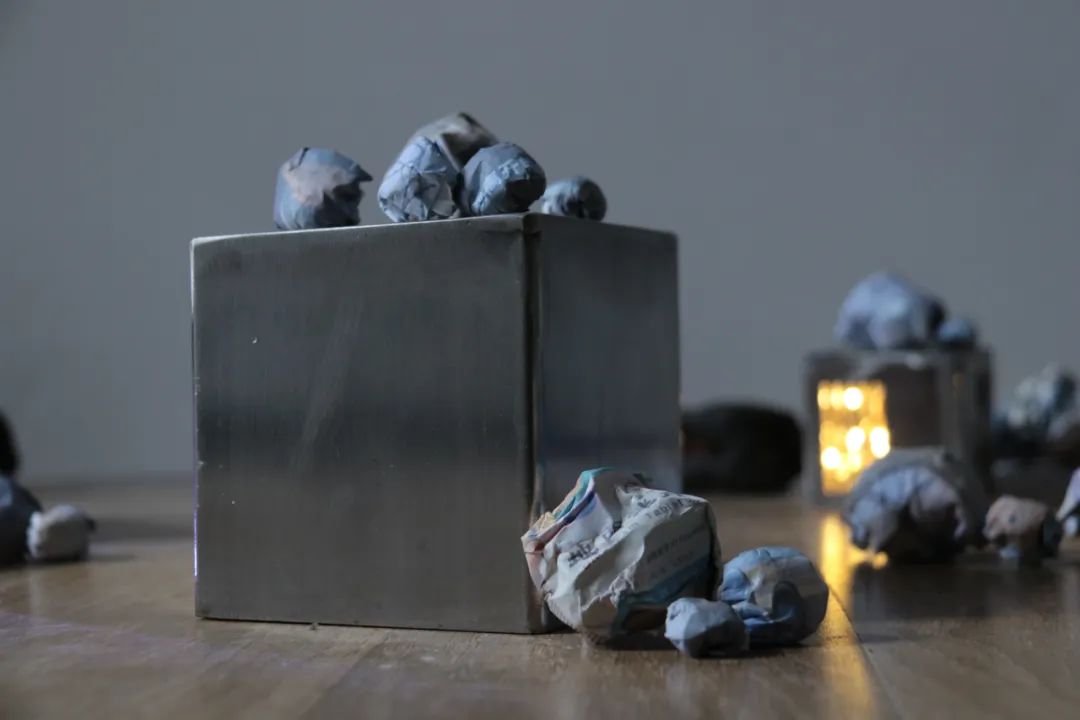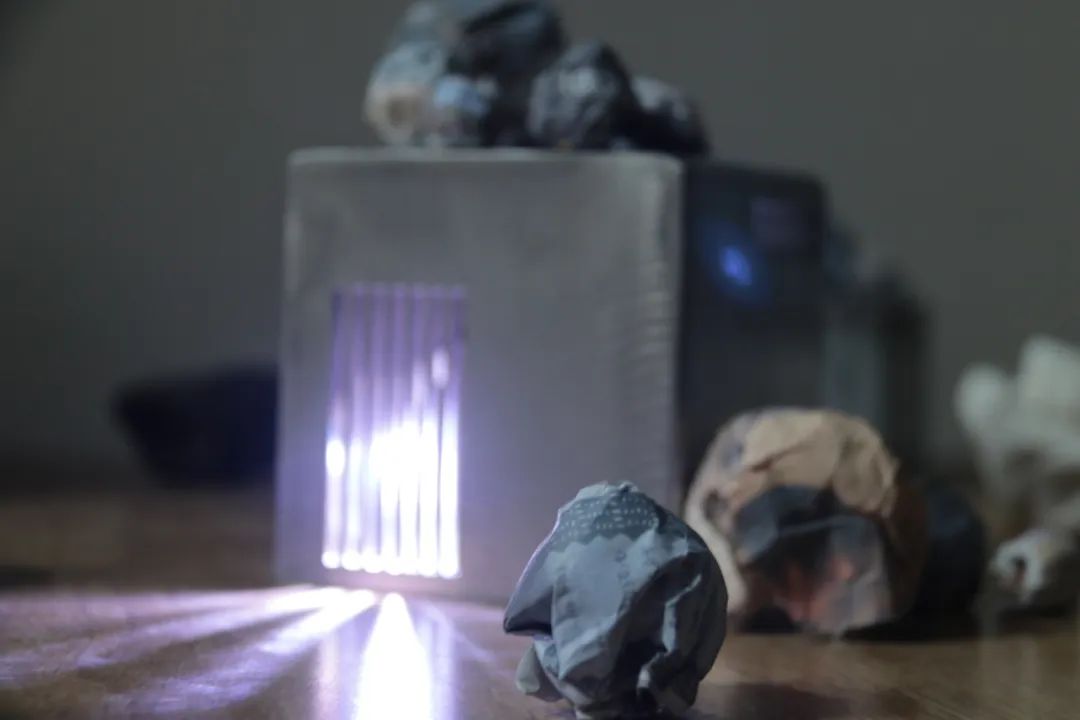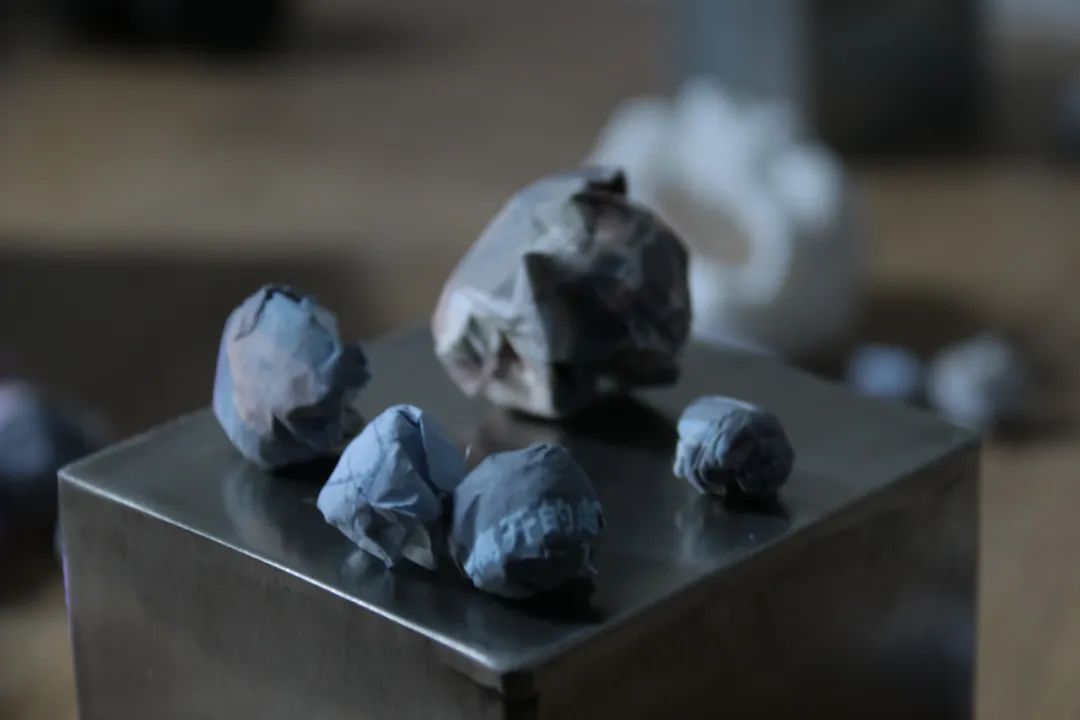 get locked away, Stainless Steel, Iron,Dimensions and Variations
Use the heavy cage to stimulate the heaviness of the project theme.The seven prison cells in the work are derived from Shakespeare's poem "Seven Stages of Life". In the poem, life is divided into seven stages.
With the projection of the cage, the tragic nature of the work is pushed to a climax, like an endless abyss, giving people a strong sense of swallowing. In the confined space of the cage, there is also an inner awakening space. I hope that the viewer can reconcile with all the sadness in life, and take a light look at the ups and downs in life, because perhaps people may find that how to be the true self after realizing the nature of life.
The cage is an internal awakening space, and the window is the only way to perceive the outside world. Therefore, the size of the window is designed to express the changes in our troubles at each stage and the degree of self-enclosure.
The big windows in the small cage imply that we want to get up and get out of the cage after experiencing a small setback, hoping that someone can listen and communicate with. The small window in the big cage implies that we have lost self-confidence and doubted the surroundings after going through more blows and failures. There are no windows in the big cage, which implies that after great pain and helplessness, we become completely disappointed at ourselves and the outside world. We closed ourselves and refuse to take with anyone.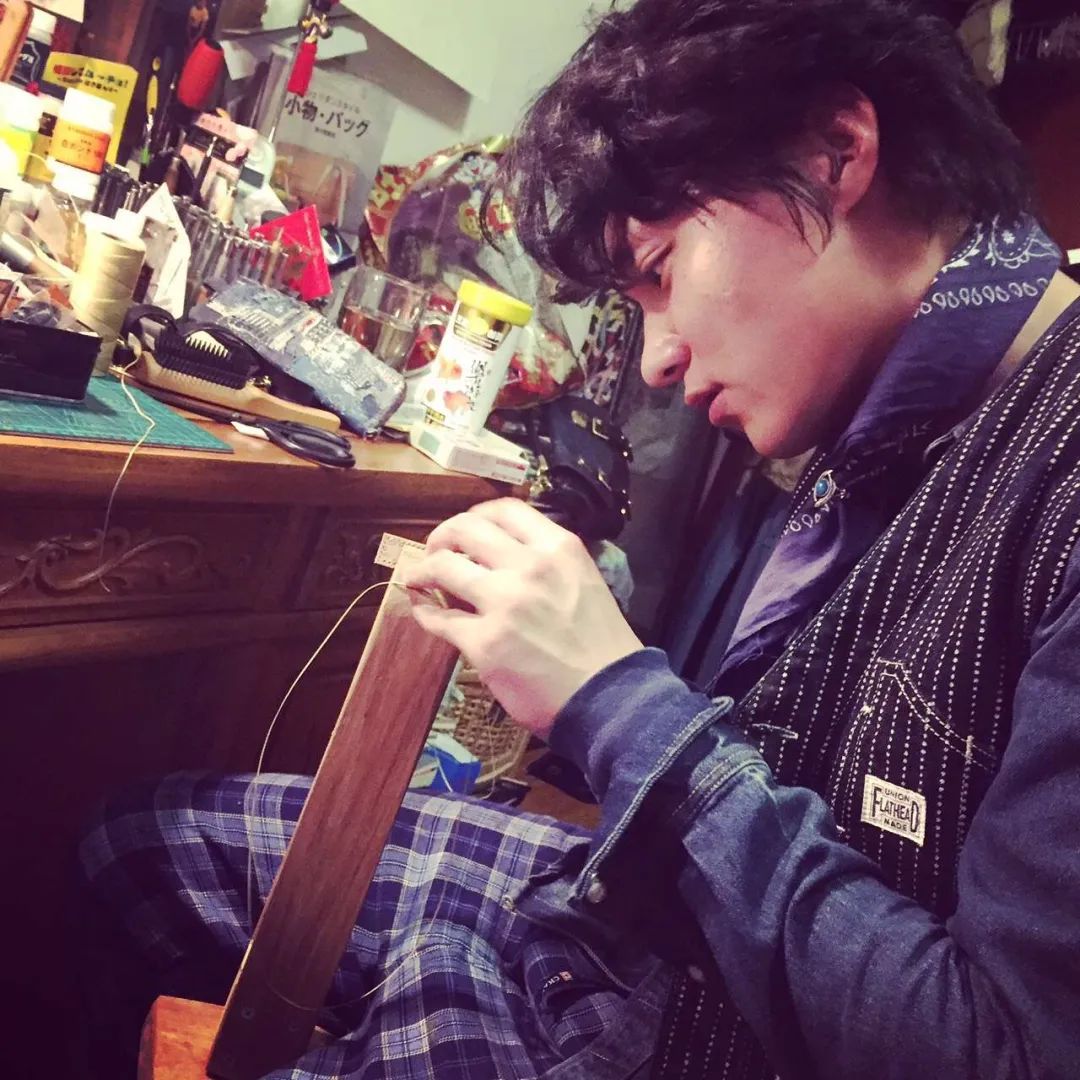 YangTian was born in Beijing and now lives in Tokyo, and Seoul.
He is a painter, a contemporary metal artist, and a critical thinker about traditional culture in East Asia.
He believes in what Zhuang Zi said – 'Be a useless person'. He praise the marginal and ignored groups, and expresses dissatisfaction and uncooperation with the authorities, by using the seemingly useless dead vine rotten wood, moss, fallen leaves, and mushrooms in daily life.

Exhibition
2022
"LEAP OF UTOPIA", exhibited at Espacio Gallery in London;
"Vogue 5th Edition Call For Artists",exhibited at Boomer Gallery in London ;
"A Beam of Light"-2021 Chinese Contemporary Art Exhibition, award in Beijing ;
2021
"get locked away", exhibited at BLUE SCREEN gallery in Seoul;
"Stretch contemporary art exhibition",exhibited at Seogwipo Art Center in Korea ;
2019
"MAKE SOMETHIG", exhibited at Tennozu Central Tower Art Hall 1F in Tokyo ;
2016
The mixed material work "Mushi Qianmeng",exhibited at Shungeng International Convention and Exhibition Center in Jinan.
Chaofeng Zhu
(China)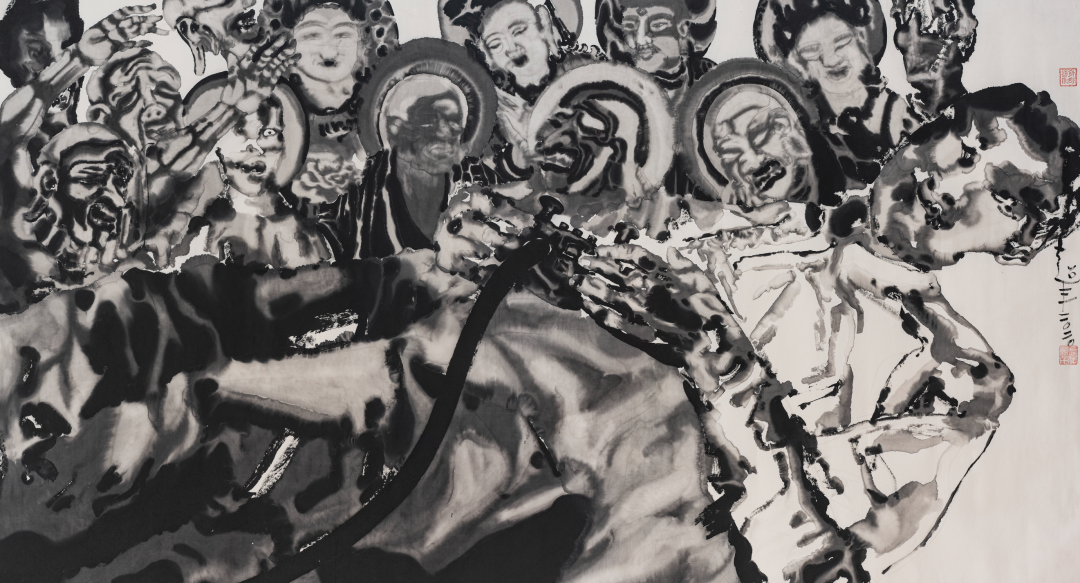 After lying flat Xuan Paper Ink 180x97cm 2020
A simple action can also be a modern symbol. Lying down can experience "all kinds of life", which can only be experienced in a virtual world or game.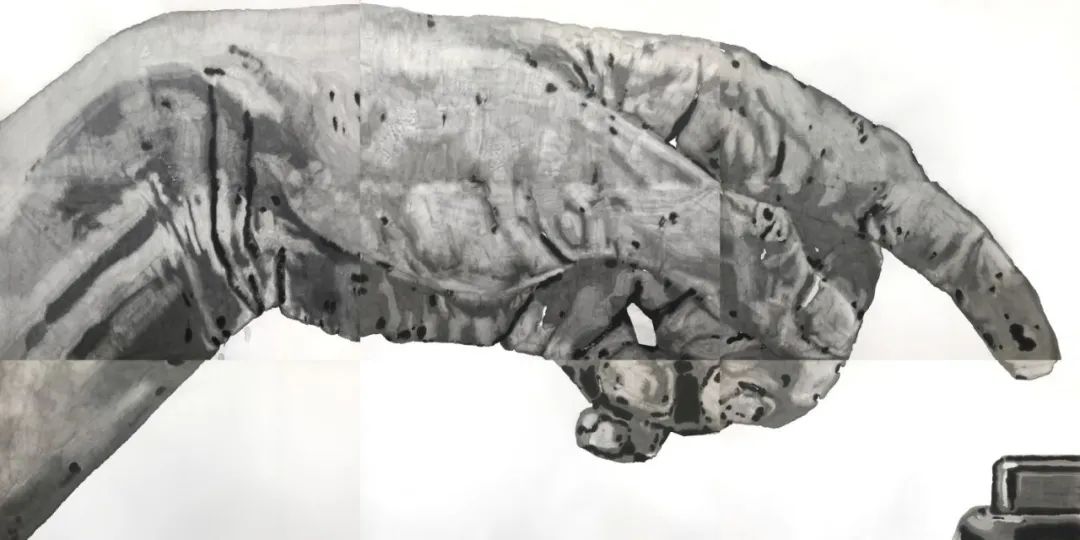 One click restore, Xuan Paper Ink, 414x207cm, 2022
One click restore is a capability that most people want in real life, because real life is too complicated, too many regrets, and not ideal… There is a world that can be restored by one click, that is, the virtual world. If the game is broken, you can restart it. If the word is wrong, you can restart it. If the system is broken, you can reinstall it… It's like heaven.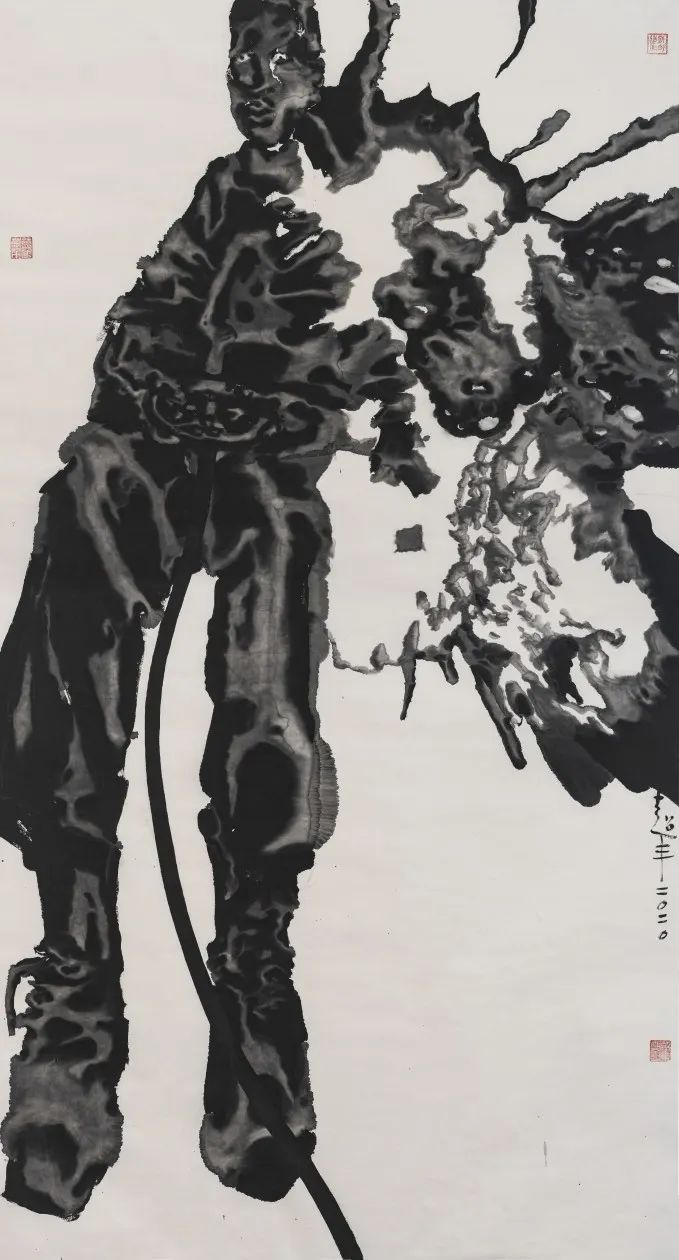 At that moment, Xuan Paper Ink, 180x97cm 2020
This is my impression of a wonderful moment when I played an action adventure game. I remember that in order to let the character pass the final level, I had to mobilize every sense and nerve in my body, only to have the explosive effect in the picture after the clearance. At that moment, like this picture, there was a sense of the divine origin of the world.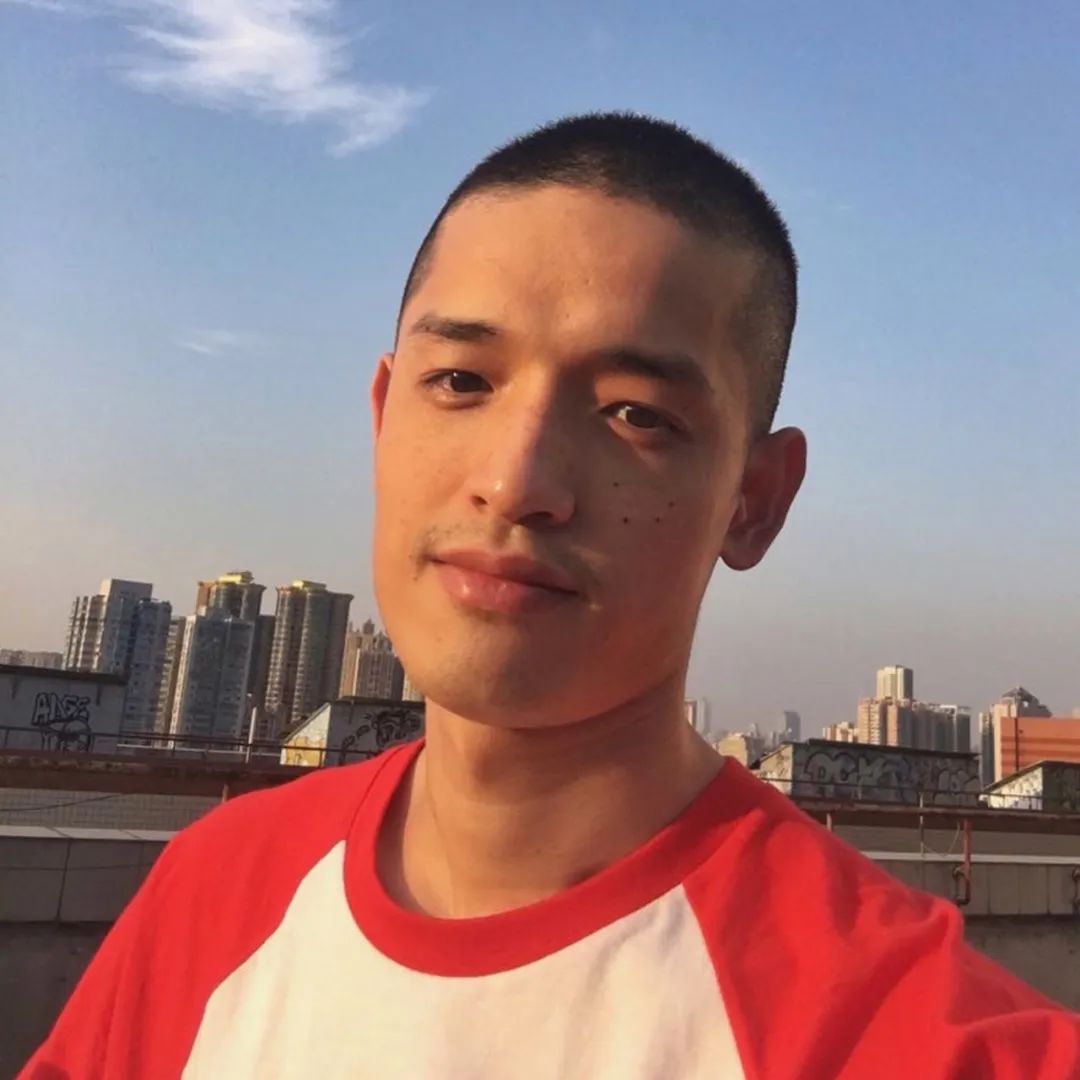 ChaoFeng Zhu
male
Born in Chenghai, Guangdong in 1989, now working and living in Guangzhou
Graduated from the Department of Traditional Chinese Painting of Guangzhou Academy of Fine Arts with a bachelor's degree in mural painting in 2014
Graduated from the Chinese Painting Department of Guangzhou Academy of Fine Arts with a master's degree in figure painting in 2020
Exhibition
2022
Echoes ,everyart
2022
Continuous: Contemporary Painting Exhibition | Chinese Painting ,Goya Art
2021
Academic Community Contemporary College Chinese Painting Figure Painting Teaching Research Exhibition ,Guangzhou Academy of Fine Arts
Image Inspection 2022 National Invitational Exhibition of Chinese Painting for Art Postgraduates in Colleges and Universities ,Nantong University
2020
Independent Space National College of Art Figure Painting Teaching Seminar and Exhibition of Teachers' and Students' Works, Xi'an Academy of Fine Arts